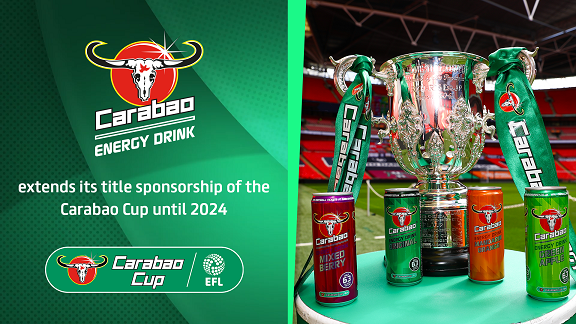 Carabao, the Thailand-based energy drinks brand, has today renewed its title sponsorship of the EFL Cup, English soccer's secondary knockout competition, for a further two years.
Under the renewal, the competition will continue to be known as the Carabao Cup through to the the end of the 2023-24 season.
The agreement is reported to be worth £6 million ($8.3 million) per year, in line with the current valuation.
Carabao's existing agreement was not due to expire until the end of next season after it signed an extension in 2019 in a deal described as biggest commercial sponsorship of the cup, which is organised by the lower-tier English Football League but features the clubs of the Premier League.
The brand first partnered with the competition in a three-year deal in 2017, succeeding Capital One, the international credit card company, which paid £5.5 million per annum in its four-year deal that expired after the 2015-16 campaign.
The 2016-17 competition was known as the EFL Cup as it was without a title sponsor that season.
Carabao will continue to have a prominent digital and in-stadia presence across all cup fixtures and a range of assets including tickets to share exclusively with their customers.
With its Thai base, the EFL said the partnership has provided it with a platform to develop the competition's presence globally.
The EFL claims last season's Carabao Cup matches were broadcast in 181 territories with a cumulative global audience of 103.4 million – a figure that has increased by 32 per cent since the 2019-20 season.
Ben Wright, EFL chief commercial officer, said: "The Carabao title sponsorship has been hugely successful for both parties and highlights the strength of the competition both domestically and internationally. The competition offers Carabao the unique opportunity to connect with millions of football supporters whilst helping us to showcase the competition at home and on a global stage.
David Butcher, managing director of Carabao in the UK & Ireland, added: "The competition has been a fantastic asset for the brand, giving us the opportunity to grow our customer base in the UK, at the same time raising awareness for Carabao among football fans all over the world."
There are doubts over the future of the EFL Cup beyond 2024 due to the expansion of the Uefa Champions League, the elite European clubs competition, set to take effect that year.
However, the EFL said the Carabao Cup "continues to form an important part of the English football landscape" and through sponsorship, broadcast and gate receipts provides vital income to EFL clubs.
Manchester City won this year's competition, defeating Tottenham Hotspur 1-0 in the final at Wembley Stadium in April.