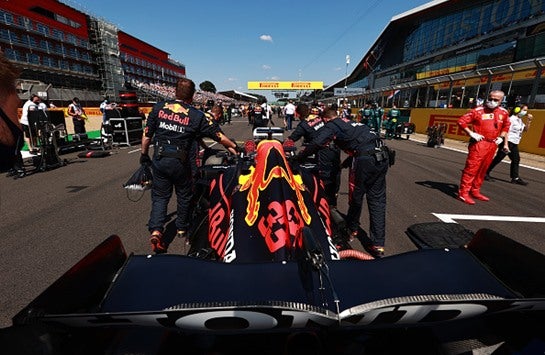 Red Bull, one of the dominant teams from motor racing's prestigious Formula 1 (F1), have brought on board Bybit, a growing cryptocurrency exchange platform, as a major commercial partner in a deal reportedly worth a world-record $150 million over three years.
The deal – said to be the largest sponsorship by a crypto firm in sport's history from a yearly value point of view – was announced earlier today, with the annual fees to be paid partly through crypto-based tokens.
It has been reported that Bybit will slide in as Red Bull's principal partner, a rank second only to Oracle, the US software giant that last week became the UK-based team's title partner in a deal worth $300 million over five years.
Red Bull represents an attractive sports franchise to partner with, with 2021 drivers champion Max Verstappen one of F1's most marketable assets, and crypto-based firms have in recent times been increasingly drawn to F1.
Bybit, founded in 2018 in Singapore and now with over six million registered users worldwide, has also become the UK-based team's cryptocurrency exchange partner, tech incubator partner, and fan token insurance partner.
The platform, through the $50-million-per-year deal, will help Red Bull distribute its various digital assets, as well as issue fan tokens, in an overall effort to broaden the outfit's fan engagement strategies.
In addition, Bybit will be involved in developing new talent at the Red Bull Technology Campus in the UK.
Christian Horner, Red Bull Racing's team principal, said: "It's fitting that, as we enter a new generation of competition of F1 in 2022, with an advanced and potentially game-changing new philosophy of cars taking to the track, Bybit also exists at the cutting edge of technology.
"Allied to that is Bybit's commitment to enlivening the fan experience in F1 through digital innovation."
Ben Zhou, Bybit's co-founder and chief executive, added: "Red Bull Racing's unique energy and creativity inspires us. The team has changed the game in the same way that digital assets have changed the global financial system."
Other F1 teams to have struck commercial partnerships with cryptocurrency platforms and similar sites include Aston Martin (Crypto.com), Alpine (Binance, earlier this week), AlphaTauri (Fantom), Mercedes (FTX, last September), McLaren (Bitci.com), and Ferrari (Velas Network).
Indeed, the Red Bull-Bybit deal means seven out of the 10 F1 teams with significant crypto-based partnerships in place.
Crypto.com also has a sponsorship deal in place with F1 itself, and last week was announced as the title sponsor of the Miami Grand Prix, set to take place for the first time in the US city on May 8, for the next nine editions.
Bybit, meanwhile, became the main commercial sponsor of the Argentine Football Association (AFA) in November, in a two-year deal.
The platform, through that deal, became the main sponsor of all representative national Argentine soccer teams, including the men's, women's, and various age groups.
The brand's logo has maximum visibility across all AFA assets, and its logo is present on the training apparel of all the representative national teams.
Bybit is a derivative exchange, meaning it deals with traders who want to buy and sell crypto for a set price in the future.