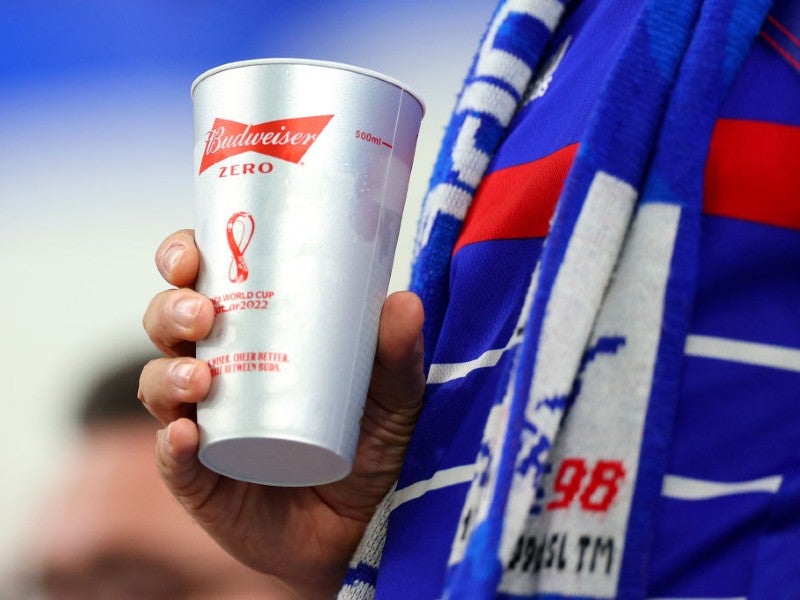 Beer brand Budweiser is reportedly seeking a $47.4-million reduction in its next deal with FIFA covering the next men's 2026 World Cup in the US, Canada, and Mexico after the governing body decided to ban alcohol at stadiums at the ongoing World Cup in Qatar.
Anheuser-Busch InBev's (AB InBev) Budweiser brand is the official beer of the 2022 World Cup through a $77-million deal struck in 2011 after hosting rights were awarded to Qatar.
It is illegal to drink in public or be drunk in public in the kingdom, but it was agreed with FIFA that the rules would be relaxed in the Muslim nation during the tournament.
However, on Friday (November 18), just two days before the start of the World Cup, FIFA announced an alcohol ban at stadiums after bowing to pressure from Qatari officials. The company's non-alcoholic brand, Bud Zero, is still available in stadiums, and alcohol is still available at fan zones and certain licensed premises.
Budweiser likely has legal grounds to sue FIFA, but it has been reported that it will show restraint so as not to damage its long-term relationship with FIFA, not least with it currently negotiating a deal that covers the 2026 World Cup in the US, Mexico, and Canada thought to be worth around $112 million.
If a compensation deal cannot be reached between the two parties, it could lead to AB InBev taking legal action against FIFA for breach of contract – a move that could cost the world governing body much more.
Budweiser is one of FIFA's longest-serving partners, having sponsored the men's World Cup since the 1986 edition in Mexico. The move by FIFA has massively impacted sales for the company during the tournament.
Due to the kingdom's lack of breweries and intense heat, the company had to ship its beer products via ocean freight and store it in refrigerated warehouses.
At the time, the company did not comment officially about FIFA's decision, but a now-deleted tweet from Budweiser said: "Well, this is awkward."
However, today (November 23), the brand took to Twitter to announce that the alcoholic beer it cannot sell in stadiums in Qatar will go to the winning country of the tournament.
New Day, New Tweet. Winning Country gets the Buds. Who will get them? pic.twitter.com/Vv2YFxIZa1

— Budweiser (@Budweiser) November 19, 2022
The report comes after Rewe, the German supermarket chain, terminated its sponsorship agreement with the Germany Football Association (DFB) in reaction to the decision by FIFA to ban national team players from wearing the OneLove armband, a symbol of support for LGBTQ+ rights, at the World Cup.
The chain said it had terminated its deal with the governing body with immediate effect and waived its advertising right under the sponsorship agreement to distance itself from FIFA's position.
The 2022 FIFA World Cup in Qatar started on Sunday (November 20) and will end on December 18.
Image: Elsa/Getty Images