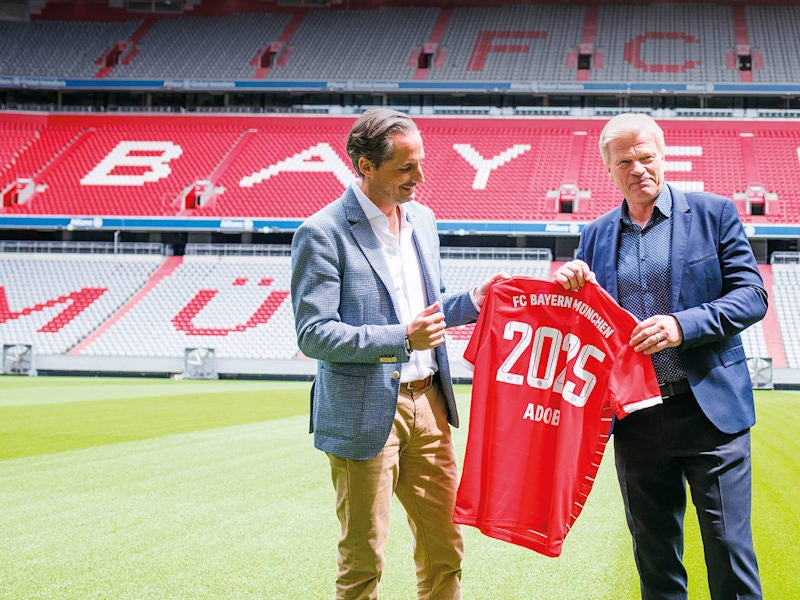 German soccer giants Bayern Munich have struck a multi-year technology agreement with US software firm Adobe to accelerate the club's digital transformation and grow their fanbase.
Under the agreement, the Bundesliga champions will use a range of Adobe's creative and customer management software to create personalized experiences and allow fans to receive content on their preferred platform, including goal notifications and post-match highlights.
Adobe's Experience Cloud and customer data platform will provide Bayern with more in-depth fan profiles and allow the club to manage relationships with its global fanbase.
The technology, meanwhile, will also allow Bayern to offer fans notifications and experiences tailored to whether they regularly attend matches at the Allianz Arena or if they live overseas.
Local fans will be notified about last-minute ticket availability and merchandising offers, while overseas fans will receive real-time goal alerts and post-match highlights featuring their favorite player.
The club will also use Adobe Document Cloud and Adobe Acrobat Sign software across its internal and customer-facing operations, which will see membership agreements and player contracts sent and signed digitally.
Oliver Kahn, chief executive of Bayern Munich, said: "Today's FC Bayern fan is digitally savvy and craves new ways to get closer to our club and players, which is why we aim to create sustainable and lasting interactions that bring matchday excitement to our millions of passionate fans across the world.
"We're investing in a long-term digital strategy with Adobe's breadth of enterprise applications at the core of our technology, to deepen how our fans engage with the club and to inspire the next generation for years to come."
Adobe entered a similar partnership with European soccer's governing body UEFA, as well as Spanish soccer giants Real Madrid last year. It also has a long-running technology partnership with Major League Baseball.
Anil Chakravarthy, president of Adobe's digital experience business, said: "FC Bayern has millions of fans around the world, and they are at the forefront of revolutionizing fan experiences.
"With this partnership, FC Bayern will create more personalized experiences to enable fans to celebrate the passion and heart of the club wherever they may be."
Adobe joins Bayern Munich's portfolio of sponsors, which includes a top 'main partner and shareholder' level comprising T-Mobile, Adidas, Audi, and Allianz, while its platinum partner' tier includes Hylo, HypoVereinsbank, Konami, Paulaner, Qatar Airways, SAP, Siemens Tipico, and Viessmann.
Meanwhile, Italian giants AC Milan have signed a regional sponsorship deal with Asian betting company M88 Mansion.
Under the agreement, M88 becomes the club's regional poker and casino partner in Asia and will launch an online gaming portal – 'AC Milan Studio' – that will offer access to several games themed around the club.
The deal comes as the Serie A champions look to increase their presence in the region after opening an office in Shanghai, China last year and striking a regional sponsorship deal with Asian betting company Yabo Sports ahead of the 2020-21 season. It also has active accounts on popular local social media platforms.
The Italian outfit claim to have the second largest fanbase of any Italian club in China.
The club is currently going through a transition period after being taken over by US-based private equity firm RedBird Capital Partners in a deal that values the club at €1.2 billion ($1.28 billion) in late June.
At the time, RedBird said the new ownership structure would be in place by no later than September this year, in time for the start of the 2022-23 season. Previous owners Elliott Advisors have retained a "minority financial interest" in the club post-takeover, as well as seats on the board of directors.