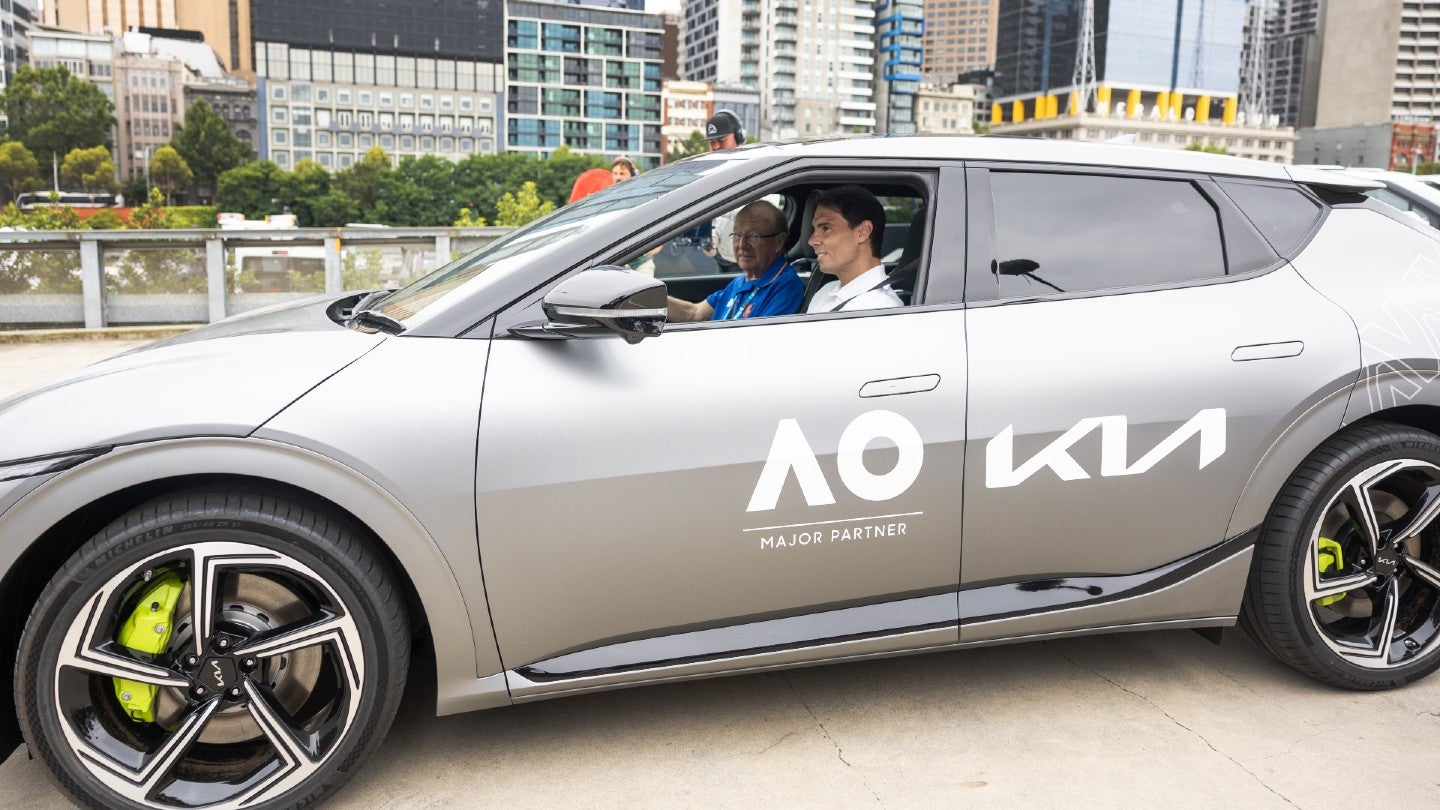 Kia, the Korean car manufacturer, will continue as a major partner of the Australian Open grand slam tennis tournament after extending its long-standing sponsorship agreement with governing body Tennis Australia for another five years.
The deal, which runs through 2028, sees Kia become the tournament's longest-serving sponsor, having held the major partner position since 2002.
Under the extension, Kia will continue to provide a fleet of 130 vehicles to transport players, officials, and VIPs around Melbourne during the tournament, which starts next week (January 16) at Melbourne Park.
Kia will also activate its partnership by hosting Kia Sunday on day seven of the tournament (January 22) and through its Kia Wave program, which will promote the brand's new EV6 GT electric vehicle at the Grand Slam Oval.
Kia Arena will also stage an event where fans can copy the tennis moves of legend Rafael Nadal to produce energy that will be used to power some of Kia's electric vehicle fleet at the tournament.
Damien Meredith, Kia Australia chief operating officer, said: "It's been a pleasure to be involved in our own backyard with a world-class spectacle like the Australian Open for such a long period of time. Both brands have grown and evolved over the course of the partnership and have shared synergies focusing on innovation, technology, and sustainability.
"We're very proud of our partnership and excited at the prospect of collectively reaching new heights over the next five years."
The extension builds on Kia's expanded presence at the Australian Open, having secured naming rights to a new 5,000-seat show court at Melbourne Park in January 2022, which was renamed Kia Arena.
This year, the inaugural 'Finals Festival' will be staged at the arena during the final three days of the tournament and will see several music acts perform and the 'Glam Slam' presented by fashion house Ralph Lauren, an LGBTQI+ tennis event.
Craig Tiley, Australian Open tournament director, said: "We could not be more delighted that Kia is extending what is already one of the longest partnerships in Australian sport for another five years. We deeply value our partnership with Kia which has helped the Australian Open to grow and evolve into the globally recognized sport and entertainment event it is today."
Kia has a strong presence in global sports sponsorship, announcing a new three-year deal with Australia's National Rugby League in December.
In October 2021, it also extended its long-running exclusive marketing agreement with North American basketball's NBA which will take the relationship between the two parties to nearly two decades. Kia has a strong overall presence in the NBA as it also holds partnerships with 14 franchises.
The Australian Open, meanwhile, also features brands such as Peroni, ANZ, Toshiba, Uber Eats, and Marriott Bonvoy among its commercial partners.
Underneath Kia sits Emirates, Rolex, and Luzhou Laojiao as associate, second-tier partners.
Tennis Australia's new deal with Kia comes a day after it extended its sponsorship agreement with Chubb for another three years which will see the insurance firm continue as the official insurance partner of the tournament through 2025.
Under the deal, which first started in 2020, the brand will retain client hospitality rights, on-court signage, on-the-ground consumer activations, and sponsorship of the tournament's daily digital highlights.
The global company has a presence in 54 countries and provides commercial and personal property and casualty insurance, personal accident, and reinsurance solutions.
Chubb also sponsors the US Open grand slam through an agreement with the US Tennis Association and Spanish soccer's top-tier LaLiga in Latin America as part of a regional sponsorship deal.