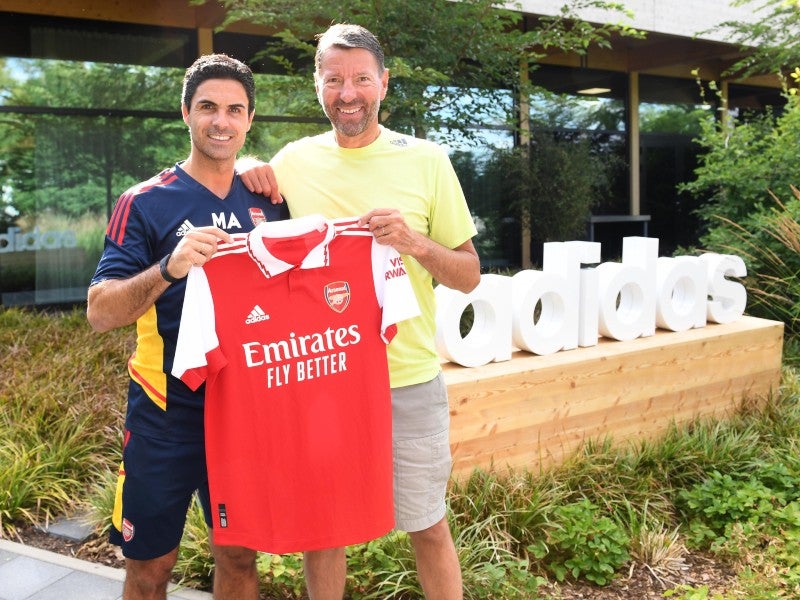 Arsenal, of English soccer's top-tier Premier League, and major German sportswear brand Adidas have today (September 30) announced an extended kit supply deal until 2030.
The existing contract between the two parties came into effect at the start of the 2019-20 season and was understood to be a five-year deal that was not due to expire until 2023-24.
It was valued at £60 million (then $78.2 million) per annum and doubled the amount rival German brand Puma had paid before Adidas took over.
The Puma deal put Arsenal on a financial par with London rivals Chelsea, whose deal with Nike is also worth £60 million per year, but behind Manchester City's £65-million-per-year deal with Puma and Manchester United, who take £75 million annually from Adidas.
In the Premier League, only Chelsa and Tottenham have longer contracts in place as they have signed renewed deals with Nike until 2032 and 2033, respectively.
Arsenal's agreement with Adidas in 2019 reunited them with the sportswear giant after it kitted out the Gunners from 1986 to 1994, after which Nike took over the contract and remained on board for two decades.
Arsenal said the extended partnership will have an increased focus on Arsenal Women with "enhanced marketing rights that will bring greater global exposure for the team and players."
As part of the new agreement, Adidas will also work with the North London club on their sustainability strategy and will continue to collaborate on community initiatives.
Juliet Slot, Arsenal's chief commercial officer, said: "The long-term nature of our extension means there's a real commitment to build on this collaboration, with a strong focus on growing women's football and developing our sustainability strategy.
"Since we've been reunited, we've driven initiatives and investment in our local communities, and developed exciting and bold product ranges for our players and supporters alike. We're proud of the progress we've made together and we're excited to take our partnership forward.
Kasper Rorsted, Adidas chief executive, added: "The work we have done with Arsenal has broken new ground in football partnerships and both on and off the pitch Arsenal continues to be at the forefront of the sport. We're truly excited to continue to support both the men's and women's teams.
"We believe in helping the local community in London, investing in the causes and issues that matter most to them, and through exciting products and authentic storytelling, we're looking forward to celebrating the rich and diverse Arsenal fanbase globally in the years ahead."
Adidas also has deals in the Premier League with Leicester City and Leeds United.
Jake Kemp, GlobalData Sport analyst, commented: "The extension between Arsenal and Adidas is likely to remain in the same ballpark of £60 million a year, with less pressure to secure an improved seasonal rate because of the long-term nature of the deal, which highlights the commitment of both parties to one another.
"For Adidas it cements its strong position in the Premier League kit supplier market, where it currently covers 25% of the league, making it the most visible in top-flight English soccer. So, not only does the deal retain the brand's rights across two of the 'big six' English clubs, but it also strengthens its position in the league over rivals Nike, which currently holds only four deals.
"The reality of the Premier League kit supplier market and the high seasonal costs attached to deals with the biggest clubs means that Adidas was only really ever one of three serious contenders for the rights. Nike has already spent big in the market and already ranks as the biggest spending kit supplier brand in the league, whereas Puma seems content with its solitary deal with defending champions, Manchester City.
"The new deal extension with Arsenal is likely to have been buoyed on by the club's recent successful start to the 2022-23 season, offering optimism for its future despite not currently having UEFA Champions League soccer. Not only have results on the pitch been great for the club, which sees them sitting top of the table, but the club have also reportedly enjoyed record-breaking first-day kit sales this season for their away shirts."
Meanwhile, Liverpool have announced a new partnership with major soft drinks brand Coca-Cola.
As an official partner of the Merseyside club, Coca-Cola products will be available throughout the team's Anfield stadium on matchdays.
Through the long-term deal, Liverpool and Coca-Cola will provide fans with "matchday experiences" and limited-edition merchandise prizes.
Coca-Cola joins a host of second-tier sponsors of the Premier League club alongside the likes of Carlsberg, Vista, Sonos, EA Sports, Nivea Men, Cadbury, and the recently announced Sorare.
They sit under top-tier partners Nike, Standard Chartered, AXA, and Expedia.
Coca-Cola, which has a strong presence in soccer, this week also partnered with Tottenham Hotspur and renewed its relationship with Italian giants Juventus earlier this month.
The brand is also a sponsor of the upcoming 2022 FIFA World Cup.
Elsewhere, Newcastle United have become the latest Premier League club to agree a partnership with Parimatch, the Ukraine-based online betting firm.
The team joins Leicester City, Chelsea, and Aston Villa in partnering with the company.
Like its deal with Villa, Parimatch's agreement with Newcastle will focus on media rights while the tie-ups with Leicester and Chelsea cover offline and digital rights, tickets and hospitality, club products, and exclusive access to club assets.
Newcastle already have several partners in the betting market including front-of-shirt sponsor FUN88 and BoyleSports.
Last week, the Tyneside-based club also renewed its sponsorship agreement with Tomket Tyres for the remainder of the season.
In its retained role as the team's official tire partner, the company will continue to have a digital presence at St. James' Park with pitchside visibility across LED boards as well as numerous digital assets.
Tomket Tyres will additionally offer discounts and promotional offers for supporters whilst also sponsoring the social media 'heat map' graphics which highlight the ground covered by players during matches.