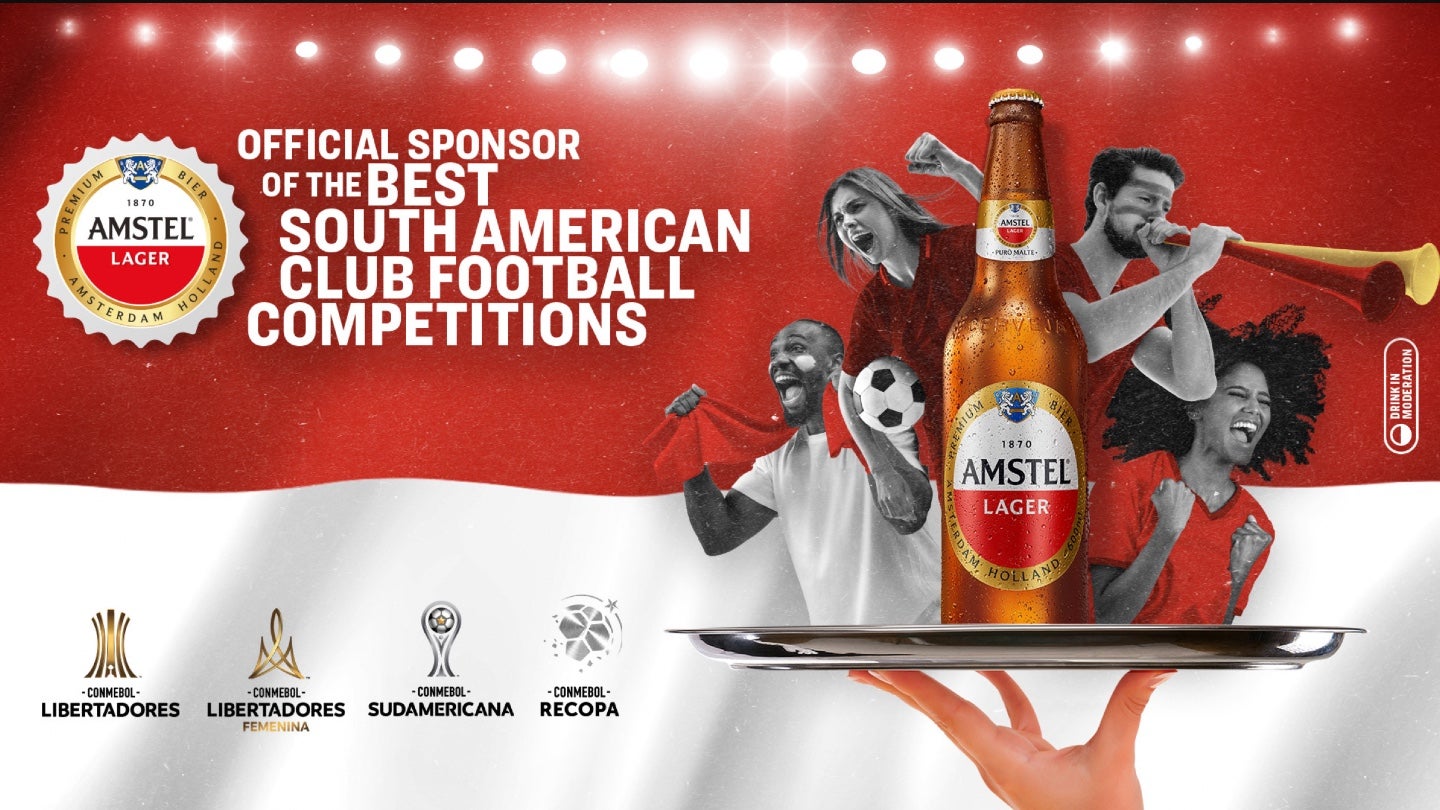 Amstel, the Dutch beer brand of renowned brewer Heineken, has expanded and extended its commercial relationship with South America's Conmebol soccer governing body for the men's and women's editions of the annual Copa Libertadores clubs' cup competition.
It will remain an official sponsor of the men's competition until 2026 and has broadened the tie-up to cover sponsorship of the Copa Libertadores Femenina women's edition for the first time, starting this year and also lasting for the next four seasons.
Amstel first entered into a Libertadores partnership with Conmebol in 2017, and then renewed that deal in 2019. That latter agreement was due to run until the end of 2024, meaning this latest tie-up represents a two-year extension for the men's tournament.
This extension also applies to the second-tier men's Copa Sudamericana tournament, which was included for the first time in the deal in 2019.
Over the next three years, Amstel will benefit from in-stadium visibility, broadcast sponsorship, branded content, and ticket giveaways. Activations such as integrated campaigns and consumer promotions will continue too, helping to "showcase the partnership and further establish [Amstel's] position in the region."
As part of its inaugural Copa Libertadores Femenina sponsorship, meanwhile, Amstel will be awarding a player each tournament with a 'most socially impactful player' accolade.
The Dutch brand has said it will also be "providing opportunities, promoting values and technical skills, and improving incentives" for women and girls involved in soccer.
Jules Macken, Amstel's global marketing director, said: "The extension of our sponsorship to run to 2026 and the important inclusion of Conmebol Libertadores Femenina is another step for us in championing equality in sport. We look forward to continuing to strengthen our relationship with Conmebol and working together to build even more diversity within the sport that South America loves."The women's edition of the pan-South American tournament began in 2009 and this year will contain 16 sides.
Alejandro Dominguez, president of Conmebol, added: "We are firmly committed to moving towards greater equity in South American soccer, supporting women's tournaments, ranking their competitions, and reaching alliances with companies that have this same vision. This is the case of Amstel, a renowned firm with global reach, with which we are pleased to expand our agreement."
The 2023 men's Copa Libertadores season will get underway in early February with the initial qualifying rounds and will involve 47 teams in total. The final will be held on November 11.
During the 2022 edition, tournament sponsors included Nike, Gatorade, Santander, and Bridgestone.
Crypto.com, the fan engagement blockchain firm, is also a competition partner until 2026.
Elsewhere in soccer sponsorships, Heineken is a partner of European club soccer's prestigious UEFA Champions League.