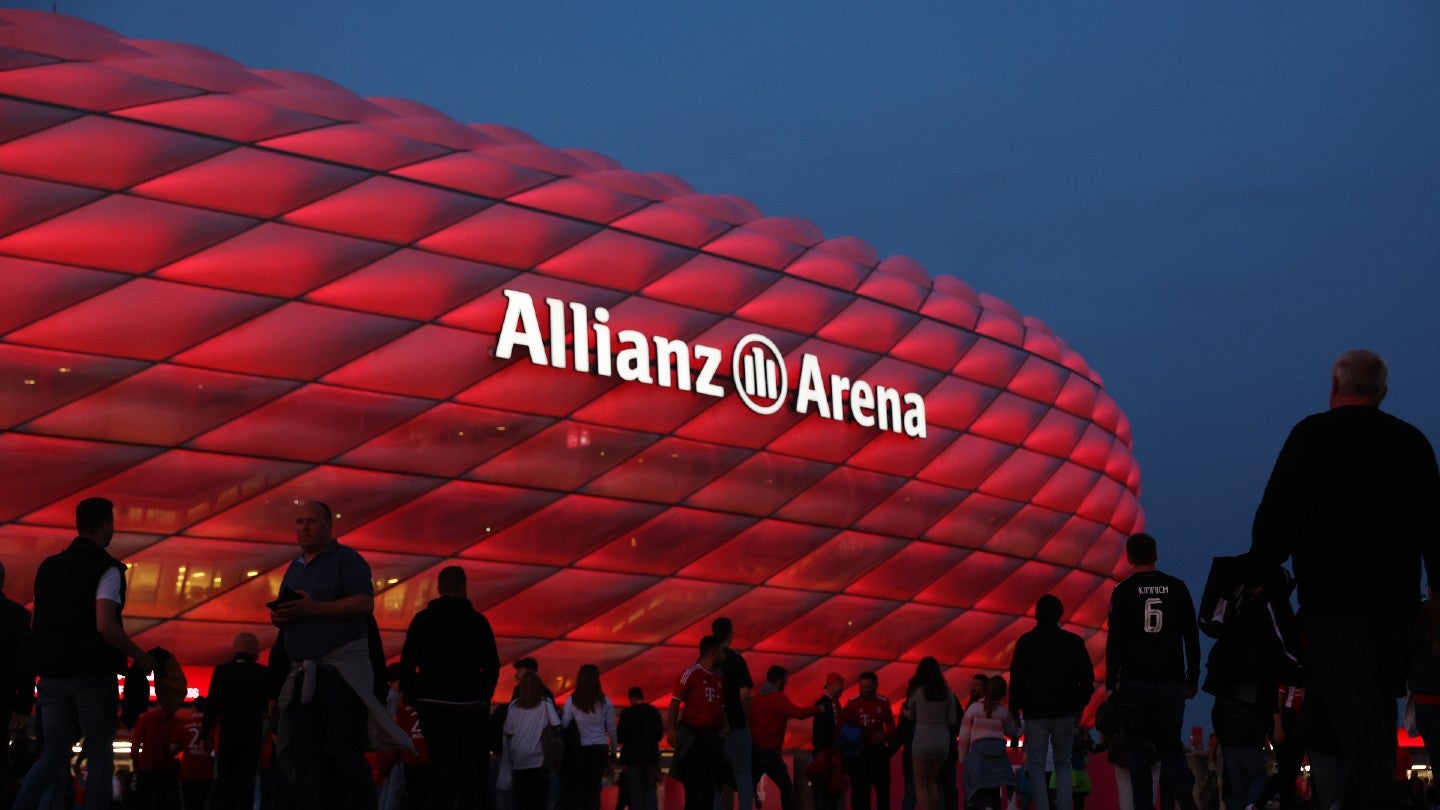 Allianz, the German financial services company, has extended its high-profile stadium naming rights deal with domestic soccer giants Bayern Munich by a further 10 years.
Through the renewal, the Bundesliga club's home stadium will continue to be known as Allianz Arena until 2033.
The financial services heavyweight has held naming rights to the venue since it opened in 2005.
According to reports in Germany, the extended deal will be worth €13 million ($14 million) per year for a total of €130 million over the next decade. The previous agreement was valued at €8 million annually.
Through the renewal, Allianz will also continue to sponsor the Bayern men's, women's, and youth teams, while it will retain a presence on the club's digital and social media channels.
The firm is notably a shareholder of Bayern after purchasing an 8.33% stake in the Bundesliga champions in 2014.
Allianz also holds naming rights to Italian giants Juventus' Allianz Stadium. The two parties agreed an extension in 2020 worth €103.1 million per year that will commence next season and run through 2030.
The Munich-based company additionally sponsors Juventus' training and warm-up shirts.
Andreas Jung, FC Bayern's executive board member for marketing, said: "Allianz is an internationally active Munich-based company that people around the world associate with FC Bayern's stadium.
"In the future, we will work together to drive forward the expansion of the partnership with our women's team, implement projects to promote young talent, and more."
Meanwhile, Bayern Munich's basketball team has renewed its sponsorship agreement with Bernd Siegmund, the machinery manufacturing company, until 2025.
The renewal will see Siegmund continue to serve as FC Bayern Basketball's primary jersey sponsor, while its logo will additionally feature on the front of the team's shooting shirts.
The company will also be visible in all club media, carry out campaigns on match days, and create content with players.
Siegmund will continue to have high visibility in the Audi Dome and in the new SAP Garden arena that will be Bayern's new home when it opens in spring 2024.
Image: Alexander Hassenstein/Getty Images