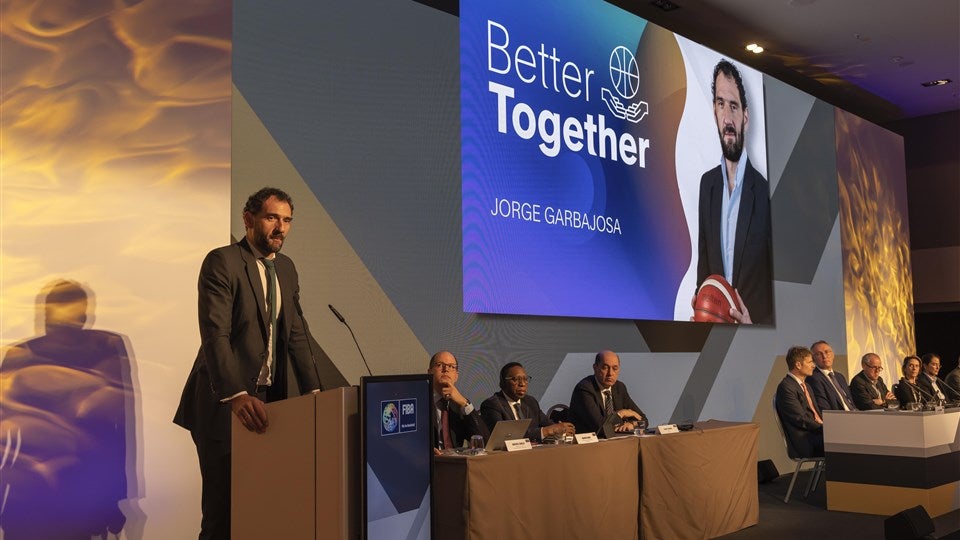 Jorge Garbajosa, president of the Spanish Basketball Federation (FEB) has been elected the new president of FIBA Europe, the regional division of basketball's international governing body.
The former Spanish basketball player and FIBA Basketball World Cup winner was elected at FIBA's general assembly in Munich, Germany, on Saturday (May 20) after receiving 35 of the 50 votes against Jean-Pierre Siutat, president of the French Basketball Federation.
Garbajosa succeeds FIBA Europe honorary president Turgay Demirel, who served two terms in office, 2014-19 and 2019-23.
Kamil Novak, FIBA executive director Europe, said: "This is an exciting time for European basketball, and we look forward to working with our new board to ensure that progress continues to be made."
Garbsjoda added: "Firstly I would like to thank president Turgay Demirel. Having been on your team on the board for the past seven years, you have been an inspiration for me ahead of the next four years.
"I also want to thank all the 50 federations. It is important for us now to work together because we are betting together. I will fight and work for the growth of basketball in Europe."
Garbajosa has led the FEB since 2016 and has overseen the federation during a period of considerable on-court success, with the men's national team triumphing in the Basketball World Cup and the female side winning the EuroBasket Women in 2019.
Now elected, Garbajosa will step down from his role at FEB and must call for elections within three months to choose a new president for the Spanish federation. Current FEB director of competitions Elisa Aguilar, who was voted in to join the FIBA Europe board for the upcoming cycle, has been heavily tipped by Spanish media as the favorite to succeed Garbajosa as FEB president.
As the new president, Garbajosa will have to address the ongoing conflict between FIBA and the Euroleague Commercial Assets, the company that runs the top-tier Euroleague competition.
The pair have been in dispute over the issue of clubs releasing players so they can compete for their countries.
Garbajosa comes in ahead of the 2023 FIBA Women's EuroBasket national teams competition, which is being held in Israel and Slovenia from June 15 to June 25. The men's edition in 2025 will be hosted by Latvia, Cyprus, Finland, and Poland.
His term will also cover the women's 2026 Basketball World Cup, which Germany will host. The event is scheduled for September, with Arena Berlin and Max-Schemling Halle featured as premium venues for the tournament.
Aside from Garbajosa's election, Poland's Grzegorz was elected as the new FIBA Europe treasurer unopposed after Austria's Gerald Martens withdrew his candidacy shortly before the election.
The new election comes after Fabian Borro, president of the Argentine Basketball Federation, was elected as the new president of FIBA's Americas division earlier this month (May 13).