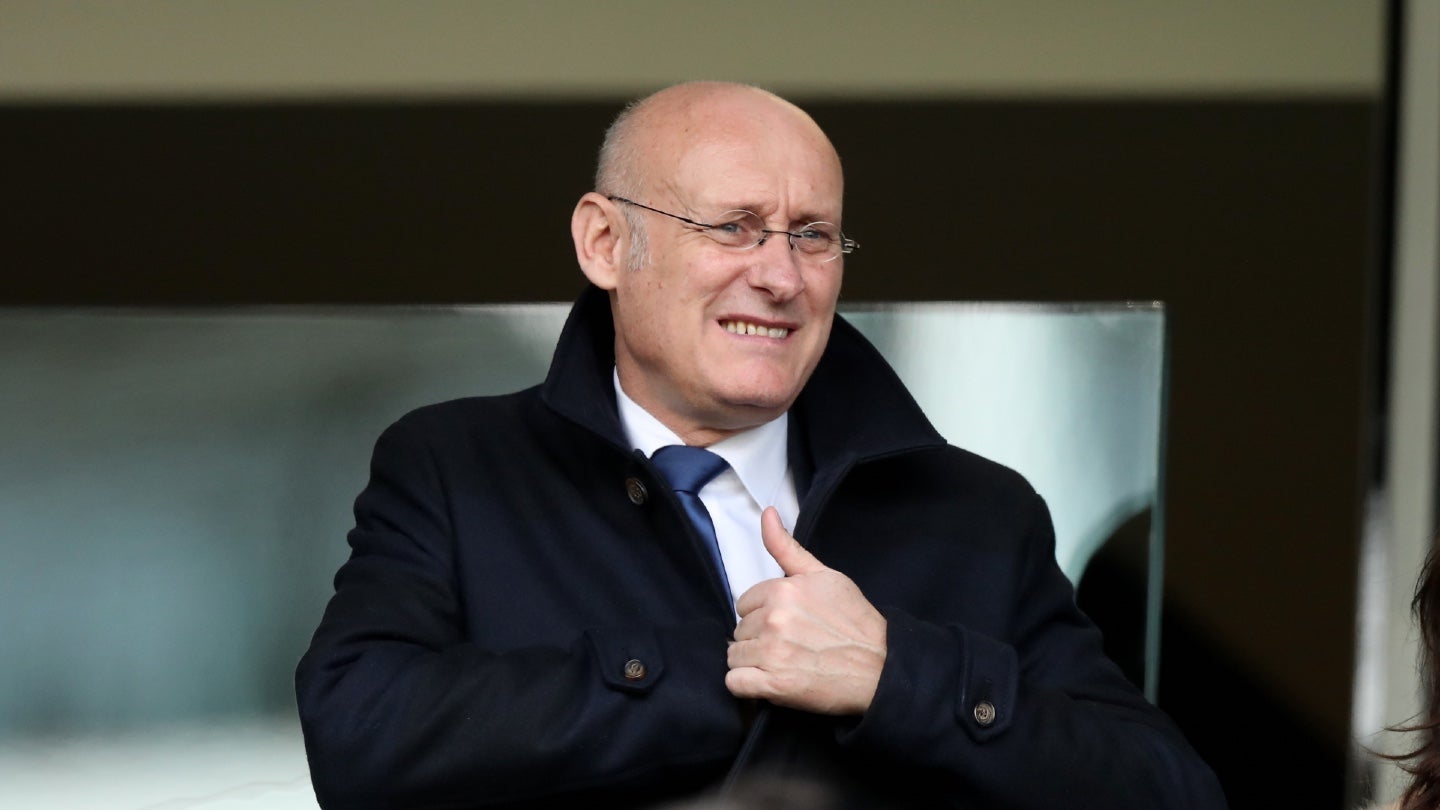 Two prominent figures at the helms of the French and Welsh rugby union governing bodies have resigned.
Bernard Laporte (pictured), president of the French rugby federation (FFR), stepped down officially on Friday (January 27) after being handed a suspended prison sentence in December, while the Welsh Rugby Union's (WRU) chief executive (CEO) Steve Phillips did so over the weekend.
Laporte stepped aside in terms of day-to-day operations last month after being found guilty of corruption by French authorities last month but was still technically in charge of the body until Friday. His departure comes with less than eight months to go until France hosts the men's Rugby World Cup showpiece event.
Phillips, meanwhile, was forced to stand down after an investigative program by BBC Wales raised serious claims of misogyny, racism, and sexism at the WRU.
The four Welsh rugby regional bodies all supported an initial call from a director at Cardiff Rugby for Phillips to hand in his notice.
Nigel Walker, the WRU's performance director (and a former Wales international and Olympic athlete), will take over as acting CEO with immediate effect, while the governing body searches for Phillips' permanent successor.
Phillips said in his official announcement: "It is with a huge amount of regret that I have decided to hand in my resignation.
"I have always had the best interests of Welsh rugby at the heart of my every action and thought, but have come to the conclusion that it is now time for someone else to lead the way."
The BBC Wales investigation found two women who alleged a toxic workplace culture at the WRU, while one former employee said he heard a racist term used at a work meeting.
Initially, Phillips apologized for the issues while saying he was still the best person to lead the WRU. He was also backed – at first – by the body's chair Ieuan Evans, who said Phillips would continue.
However, after Hayley Parsons, a director at Cardiff, called in an open letter for Phillips and the rest of the WRU board to all leave their posts, his position gradually became untenable.
Principality and Admiral, two key sponsors of the WRU, both expressed displeasure with Phillips' original belief he could stay in the role.
The letter by Parsons was supported by all of the Welsh regional governing bodies for the sport.
Phillips, who was appointed as the permanent CEO in March 2021 after taking the role on an interim basis the year before, has now said: "This is a sport I love and is so admired around the world and I wish everyone involved in the game every success and my heartfelt best wishes.
"I am on record already saying how much I hugely regret the feelings and emotions expressed recently by former members of staff."
Evans has added: "I thank Steve for his dedication and support for Welsh rugby. He has made a significant contribution to our progress on the world stage in that time …
"He successfully guided Welsh rugby through the coronavirus pandemic and has secured a new six-year verbal agreement with the Professional Rugby Board and a signed 'heads of terms' designed to ensure a sustainable future for our professional game."
Walker, who since retiring has held various senior roles within Welsh sport, also commented: "There is no doubt that Welsh rugby is facing an existential crisis.
"This has been a wake-up call. Perhaps it is a call that has been overdue. The first step to any recovery is admitting the problem.
"We must now listen intently to what people from outside our organization are telling us. We care and are committed to equality, diversity, and inclusion and we work hard in this space with dedicated resources and investment."
Evans has said that in March, there will be an extraordinary general meeting at which "defined governance changes" will be voted through.
Laporte's departure, meanwhile, was confirmed by French sports minister Amelie Oudea Castera.
She told reporters: "I can confirm Bernard Laporte's resignation. I welcome this decision … which is a good thing for French rugby, for its values, and for the future."
In late December, the 59-year-old Laporte was handed a two-year suspended prison sentence and a €75,000 ($81,800) fine over influence peddling and illegally acquiring assets, including a €1.8-million shirt sponsorship agreement with construction firm Altrad for the French national team.
In March 2017, Laporte awarded the contract to the firm's billionaire owner and close friend Mohed Altrad, who is also the owner of Top 14 champions Montpellier.
Laporte has been under "self-suspension" since the verdict in December, with his official departure now confirmed.
He has also had to resign from a position as vice-president of World Rugby – with this incident a major stumbling block during the preparations for the 2023 World Cup, which will run from September 8 to October 28 this year.
After an eight-year spell as head coach in the 2000s, Laporte took over as president of the FFR In 2016 and was re-elected in 2020.
The World Cup later this year is still without a CEO for its organizing body. Iin October, Claude Atcher was sacked from that position after a French report found he oversaw an "extremely degraded social environment" at the organizing committee.
The France 2023 headquarters have also been searched by French financial prosecutors.
Image: David Rogers/Getty Images