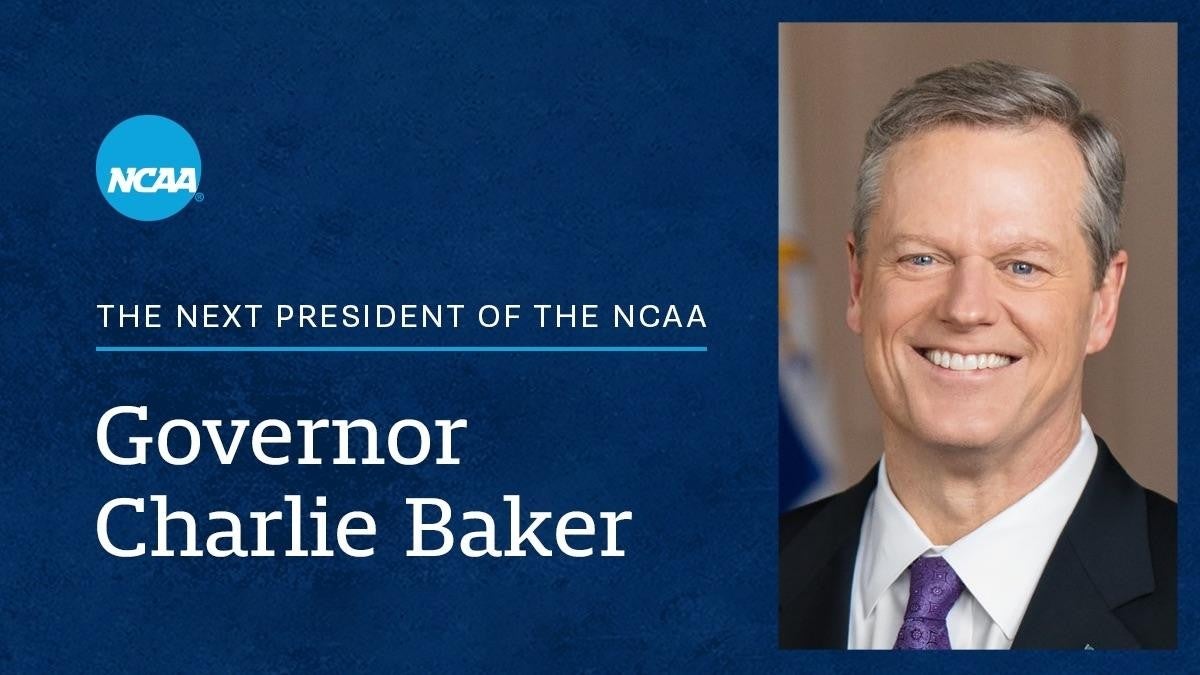 The National Collegiate Athletic Association (NCAA), the main US university sports organizer and regulator, has named Charlie Baker, the governor of the state of Massachusetts, as its new president.
He will assume the role in March 2023 and replace president Mark Emmert, who announced in April that he was stepping down after 12 years.
Emmert will continue to serve the NCAA as a consultant through June 2023.
He became the fifth president of the NCAA in 2010, having previously spent five years as president of the University of Washington.
The NCAA said Baker's appointment marks the culmination of a "comprehensive and inclusive" national search process, led by a subcommittee of the NCAA board of governors and search firm TurnkeyZRG.
Baker's term as governor of Massachusetts ends on January 5, 2023.
As NCAA president, he will be tasked with "building on the NCAA's ongoing transformation efforts."
Last January, NCAA member schools adopted a new constitution, while the organization conducts ongoing work to transform its "structure and mission to meet future needs."
Prior to his tenure as governor, Baker had a career in both business, non-profit, and government administration.
Linda Livingstone, chair of the NCAA board of governors, who helmed the presidential search committee, said: "We are excited to welcome governor Charlie Baker to the NCAA and eager for him to begin his work with our organization.
"Governor Baker has shown a remarkable ability to bridge divides and build bipartisan consensus, taking on complex challenges in innovative and effective ways. As a former student-athlete himself, he is deeply committed to our student-athletes and enhancing their collegiate experience. These skills and perspective will be invaluable as we work with policymakers to build a sustainable model for the future of college athletics."
Baker added: "The NCAA is confronting complex and significant challenges, but I am excited to get to work as the awesome opportunity college athletics provides to so many students is more than worth the challenge. And for the fans that faithfully fill stadiums, stands, and gyms from coast to coast, I am eager to ensure the competitions we all love to follow are there for generations to come.
"Over the coming months, I will begin working with student-athletes and NCAA members as we modernize college sports to suit today's world, while preserving its essential value."
Meanwhile, a US labor board has sided with student athletes at the University of Southern California (USC) seeking a designation as employees.
The National Labor Relations Board (NLRB) director of the agency's Region 31 office in Los Angeles issued a finding of merit in an unfair labor practice charge brought by the student athletes against USC, the National Collegiate Athletic Association (NCAA), and the Pac-12 athletic conference.
It marks the first such ruling since the NLRB's general counsel Jennifer Abruzzo issued a legal opinion in September 2021 asserting that college athletes should be classified as employees, and thus protected by US labor law, when providing services that generate profits through athletic activities their schools control.
The 2021 memo by Abruzzo put colleges and universities on notice that the NLRB's 32 regions would support college players' valid organizing efforts, effectively inviting athletes to unionize.
USC issued a statement suggesting it would contest the ruling, saying the "matter remains at an initial stage," and that "no final ruling will be issued until there has been a full hearing based on all the relevant facts of law."
The university said: "We look forward to presenting those facts, along with 75 years of favorable legal precedent."