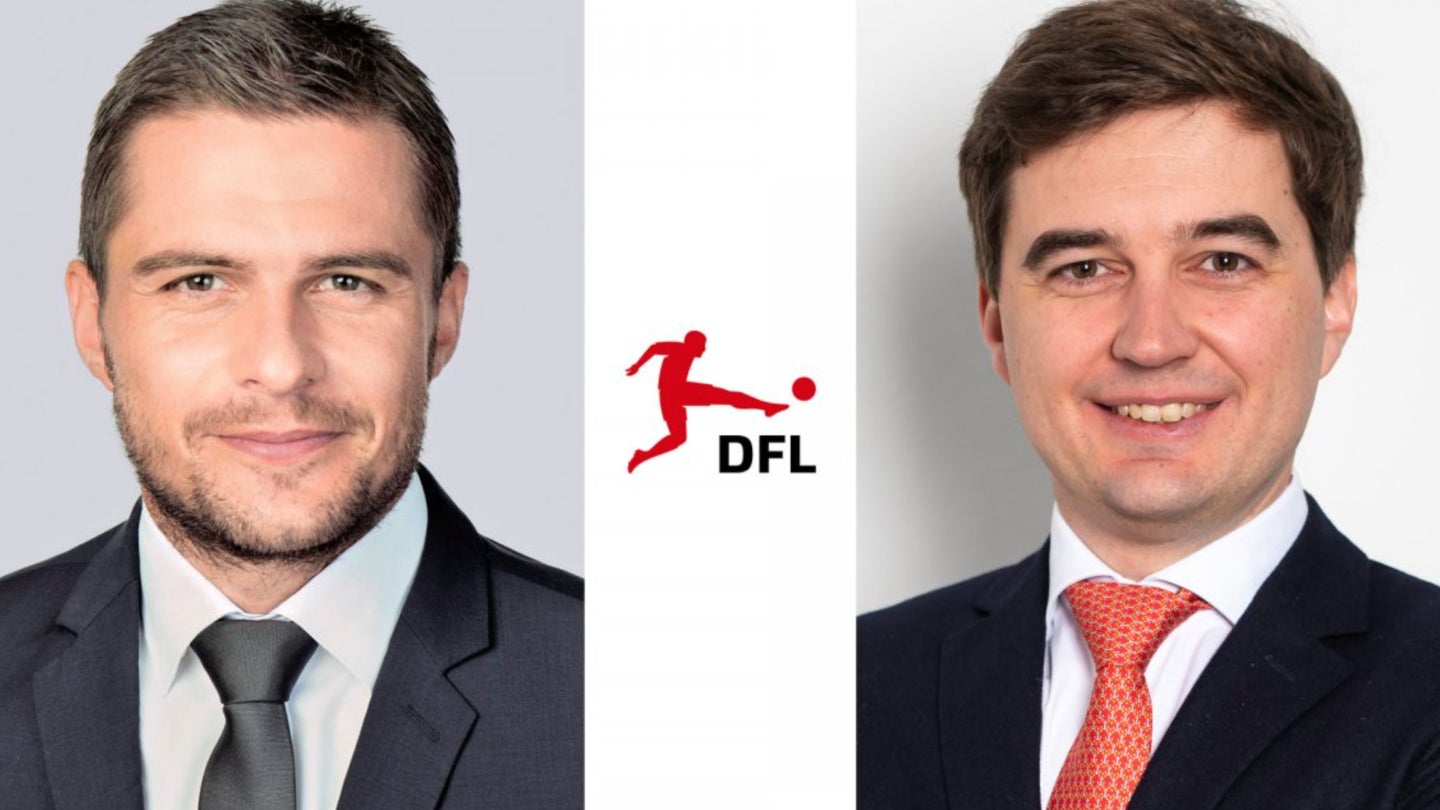 German soccer's Deutsche Fussball Liga (DFL) body has appointed Marc Lenz and Steffen Merkel as joint chief executives.
They will officially start the positions on July 1, with the DFL's supervisory board having unanimously decided on this course of action at a meeting yesterday (June 7).
Merkel (right) has been with the DFL since 2014, most recently as vice president for German-language media rights while Lenz (left) was first hired by the body in 2019 and is currently executive vice president of corporate strategy and international affairs. Before joining the DFL, he worked for European soccer's UEFA, while Merkel was employed by the Boston Consulting Group.
They will replace the current joint chairs, Axel Hellmann and Oliver Leki, who are both stepping down as part of the fallout from the DFL's recent failure to convince the 36 clubs across the top two German soccer divisions to proceed with talks around private equity investment.
The incumbent pair "will perform their roles until June 30 as planned, allowing for an optimal handover period."
The DFL said that, over the last few years, Lenz has "managed various projects with economic and social relevance to the Bundesliga" and that Merkel "previously worked on the preparation and implementation of tender processes in 2016 and 2020 and managed and promoted DFL projects in strategically relevant areas for the future."
Hans-Joachim Watzke, chairman of the DFL supervisory board, commented: "Marc Lenz and Steffen Merkel have been doing excellent work for the DFL for many years. Both enjoy the highest respect within the organization and at the clubs. They are familiar with all matters and future projects of the DFL Group, were already part of the management group, and have excellent networks.
"I am convinced that their fresh, creative thinking – coupled with long-standing experience and expertise, both externally as well as in-house – will provide a very good basis for successfully managing the current challenges.
"I am incredibly grateful to Axel Hellmann and Oliver Leki, as well as their clubs Eintracht Frankfurt and Sport-Club Freiburg, for making themselves available at a time of great change. I would also like to thank them for their outstanding work in the interests of all of German soccer."
At an extraordinary DFL meeting in late May, fewer than the required two-thirds of the 36 top-tier Bundesliga and second-tier 2.Bundesliga clubs voted for discussions around private equity investment into the DFL's media rights business to continue.
The DFL's plan for private investment into a media rights sales subsidiary would have seen €2 billion ($2.15 billion) paid for a 12.5% stake in the vehicle, which would have been called DFL MediaCo. The entity would have managed and sold the league's broadcast rights for a 20-year period – and taken 12.5% of the profits from those sales.
The proponents of a private equity investment agreement have argued that German soccer is being left behind by other major European soccer competitions in terms of overseas media rights values.
Watzke confirmed after the vote that a new DFL supervisory board would be put in place in July.
Watzke, Leki, and Hellmann had spent several months attempting to secure enough votes for the motion to move forward.
The Bundesliga has been evaluating and internally debating the merits of private equity investment in its media rights business for the last couple of seasons.
The issue contributed to the resignation in early December of DFL chief executive Donata Hopfen, who had been in situ since August 2021.