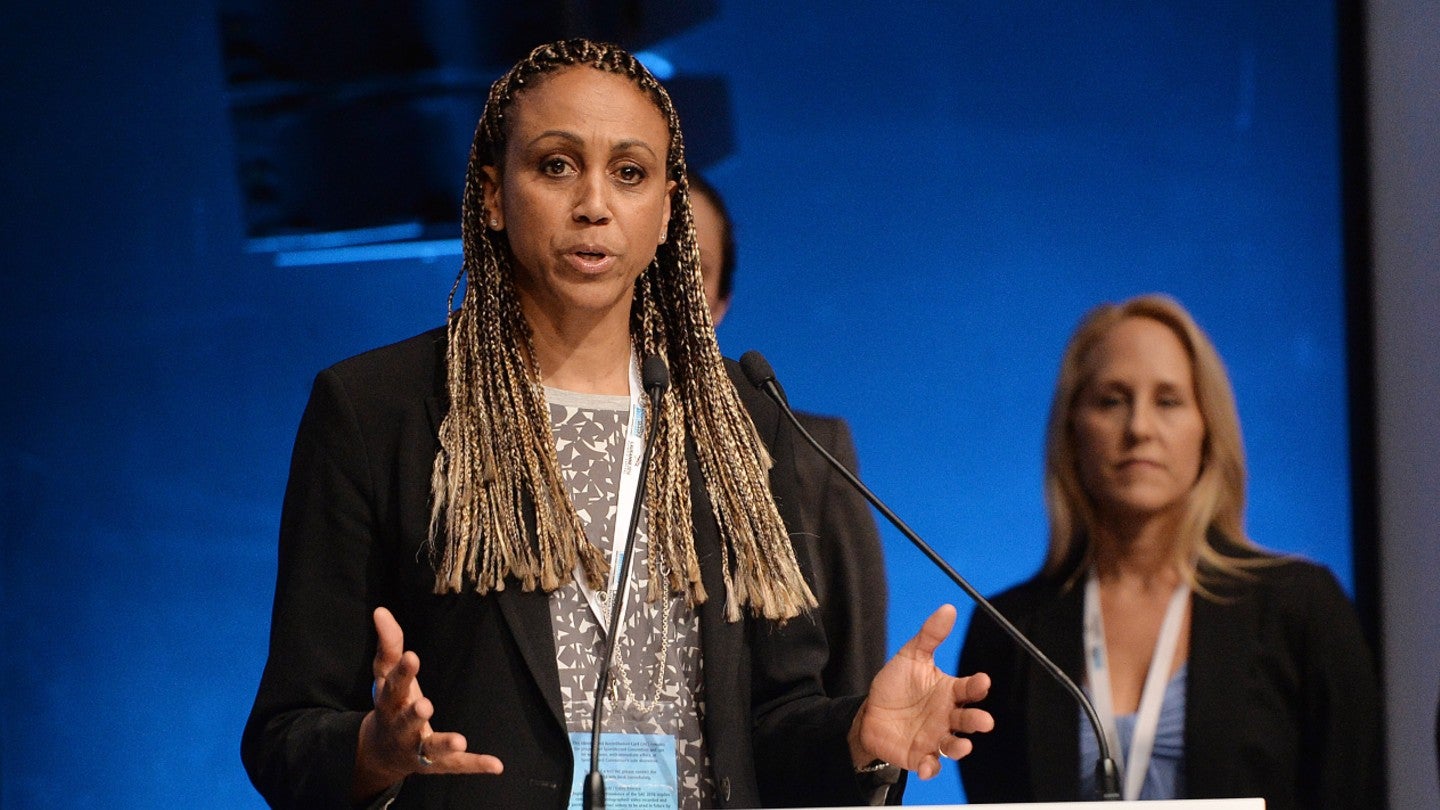 Charmaine Crooks, the former Canadian Olympic track star, has been elected president of Canada Soccer for one year as the beleaguered national body continues to rebuild its leadership team.
Crooks, a five-time Olympic athlete and silver relay medalist during the 1984 Los Angeles Games, has served as interim president since February and will now complete the term of Nick Bontis, who stepped down from the role to expedite peace talks between Canada Soccer and its national teams amid a fractious labor dispute.
She beat former Canada Soccer vice president Rob Newman for the role at the governing body's annual meeting in Saint John on Saturday (May 6). There will be another presidential election a year from now for the next four-year term.
Crooks takes on the role having been on the Canada Soccer board since the 2012-13 season and served as vice president of the governing body since January 2021.
Crooks said: "I heard consistently how trust, transparency, and building better communication was one of the paths forward to ensure that we have a stable strong organization that all Canadians can be proud of.
"I want to help bring people together to unite and to really modernize our organization to take it to the next level."
Crook joins amid a leadership overhaul, which last month saw Jason deVos, the former Canadian men's national team captain, appointed interim general secretary to replace Earl Cochrane, who became the latest official to leave the governing body amid the prolonged dispute with the men's and women's national teams.
Other members of the organization's "transition leadership team" include interim vice president Kelly Brown, chief operating officer Mathieu Chamberland, chief financial officer Sean Heffernan, and Paulo Senra, head of public relations and communications.
Dave Nutt, meanwhile, has become interim director of development in place of deVos.
During her year in office, Crooks will have to win over the players, who recently urged provincial federation leaders to vote for change within the governing body. She is expected to appear at a parliamentary Heritage Committee hearing on Thursday (May 11), which is probing Canada Soccer's dispute with its national teams.
Bontis, Cochrane, chief financial officer Sean Heffernan, and former president Steven Reed have already testified before the parliamentary committee, as have Canada captains Christine Sinclair and fellow national team players Sophie Schmid, Janine Beckie, and Quinn (who goes by one name).
Canada's sports minister Pascale St-Onge, meanwhile, has said the federal government is looking to further investigate the governing body and raised the prospect of auditing the organization's finances over its controversial 10-year deal with Canadian Soccer Business (CSB), a new entity set up to represent the commercial assets, including sponsorship and broadcast deals, for the national teams.
Canada Soccer does not hold an ownership stake in CSB but is paid a set amount each year, with the rest used by CSB to help fund the top-tier Canadian Premier League. The players have stated they were never formally told about the initial deal or details of its financial arrangements.
Meanwhile, during the meeting electing Crooks, the federation also sanctioned the proposed 'Project 8' women's professional league set to launch in 2025.
The new league has been spearheaded by former Canadian international Diana Matheson and franchises in Calgary, Toronto, and Vancouver have already signed up to participate.
In a statement, Project 8 said: "This is a historic moment for women and girls at all levels of soccer in Canada, both on and off the field.
"This has been a long and heartfelt journey, and we are excited about what is next for Canadians. Excited about the genuine pathways for women and girls in sports – whether that's as players, coaches, referees, or professionals.
"We know there's a lot of work ahead of us to establish a professional infrastructure and ecosystem, and the next few years will be crucial to our success, but today we secured our destination."
The sanctioning of the new league comes after the Canadian Men's National Soccer Team Players Association demanded the development of a women's domestic league as part of its first collective bargaining agreement with the governing body, which is still being negotiated.
Image: Charles McQuillan/Getty Images