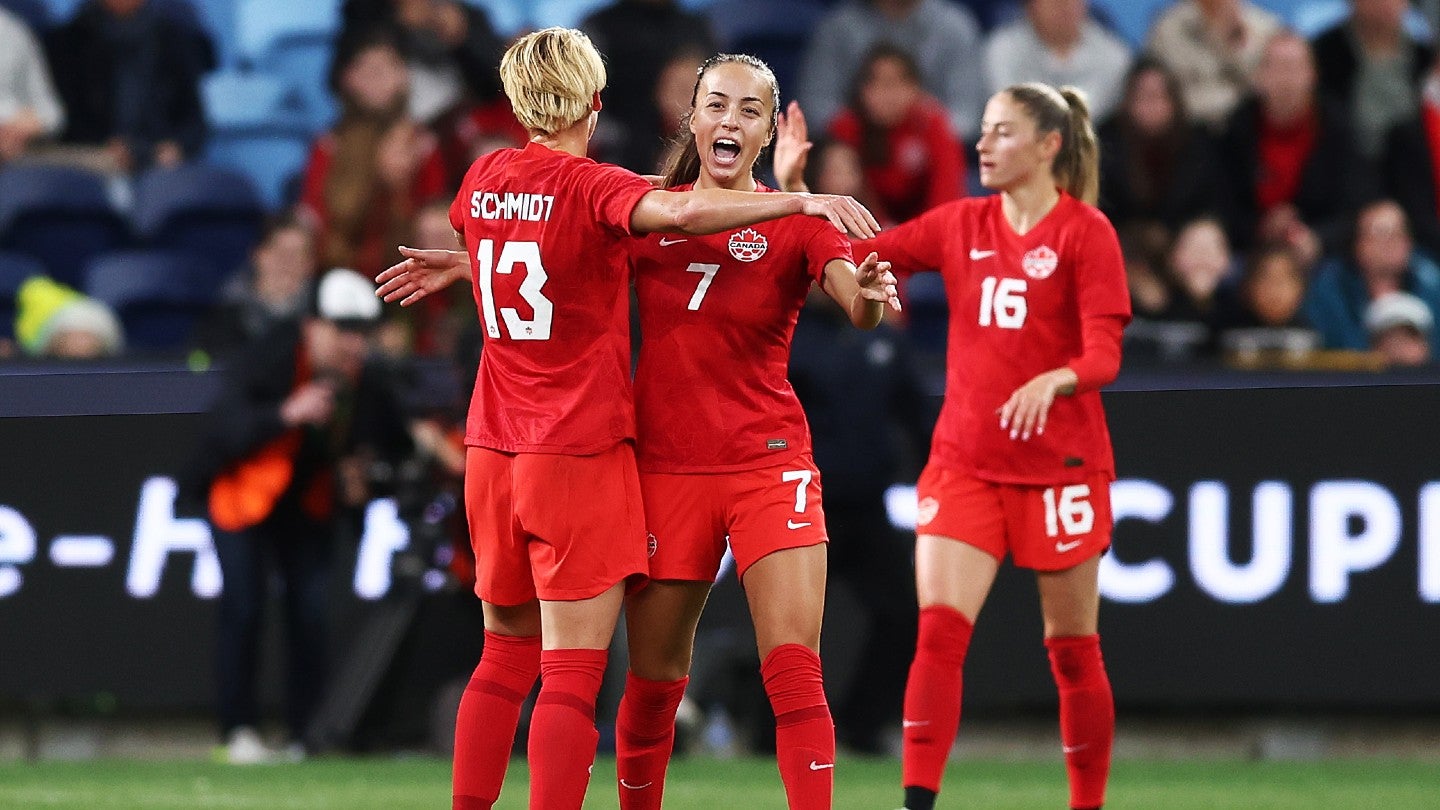 Canada Soccer has reached an interim funding agreement with its women's national team amid a bitter labor dispute that saw Nick Bontis resign as president of the national governing body earlier this week.
Canada Soccer said the terms of the interim agreement mirror its deal with the men's national team, including per-game incentives and results-based compensation.
Negotiations over a final new collective bargaining agreement (CBA) are still ongoing.
The women's team is ranked sixth in the world and won the gold medal at the rescheduled 2020 Tokyo Olympics in 2021. The team is also due to take part in the 2023 FIFA Women's World Cup, which is being co-hosted by Australia and New Zealand from July 20 to August 20.
The women's national team's last collective bargaining agreement with Canada Soccer expired in 2021, and the team has been seeking the same financial backing ahead of this year's World Cup as the men received during their participation in last year's World Cup in Qatar.
Canada Soccer general secretary Earl Cochrane said: "This is about respect, this about dignity, and this is about equalizing the competitive environment in a world that is fundamentally unequal.
"We have been consistent and public about the need to have fairness and equal pay by pillars of any new agreements with our players, and we are delivering on that today."
With an agreement in place, details of the federation's funding are being finalized by legal counsel from both sides.
The new agreement is a step forward in Canada Soccer repairing its relationship with its national teams amid a turbulent year, which has seen it publicly clash with both sides over cuts to their programs.
The women's team's grievances, which include not being compensated for 2022 and being forced to cut training camp days and full camp windows, as well as trim the number of players and staff invited into camps, have particularly overshadowed its run-up to the World Cup just five months before the tournament kicks off.
They were also told there would be no home games scheduled before the Women's World Cup.
The dispute came to a head last month when, ahead of the SheBelieves Cup annual invitational tournament featuring four national teams, the women's team said they would go on strike due to budget cuts, equal pay issues, and an overall lack of support from Canada Soccer.
The strike was eventually called off when Canada Soccer threatened to take legal action against the players.
The team then said they would boycott an upcoming team camp in April if their demands over funding cuts and pay inequality were not met.
The escalation led to Bontis resigning earlier this week (February 28). An election is due to be held in May to determine who will step in to finish his term, which runs through the summer of 2024.
The men's team is also currently negotiating the first formal deal after forming their own players' association last August. The new body, the Canadian Men's National Soccer Team Players Association, covers players who have been called into any men's national team camp in January 2021.
An impasse with Canada Soccer last year led the men's national team to boycott a planned friendly against Panama in June in the run-up to the World Cup.
At the time, players said they wanted 40% of World Cup prize money, a friends and family travel package, and an "equitable structure with our women's national team that shares the same player match fees, percentage of prize money earned at our respective FIFA World Cups, and the development of a women's domestic league."
The overall labor dispute also centers around Canada Soccer's controversial 10-year deal with Canadian Soccer Business (CSB), a new entity set up in March 2018 to represent the commercial assets, including sponsorship and broadcast deals, for the national teams.
Canada Soccer does not hold an ownership stake in CSB but is paid a set amount each year, with the rest used by CSB to help fund the top-tier Canadian Premier League. The players have stated they were never formally told about the initial deal or details of its financial arrangements.
During their respective CBA negotiations, the teams have demanded Canada Soccer make its partnership and financial agreements with CSB transparent, and yesterday, ahead of the new funding agreement being announced, both national teams issued a statement reiterating their call for the governing body to open its books.
The statement said: "Canada Soccer must also respond to the players associations' requests for proper, transparent, and comprehensive access to its financial record, particularly in light of recent budget cuts to the very programs that have generated unprecedented sponsor interest in supporting the national teams.
"It needs to address the unauthorized use still being made of national team player images. It needs to take immediate action to address the untenable financial constraints imposed by its agreement with Canadian Soccer Business, once and for all."
Details on the deal with CSB are expected to come out in parliamentary Heritage Committee hearings later this month. The committee has asked to see the agreement in addition to Canada Soccer board minutes dating back to 2017.
The committee is scheduled to hear representatives from the women's team on March 9 and Canada Soccer on March 20.
Image: Mark Metcalfe/Getty Images