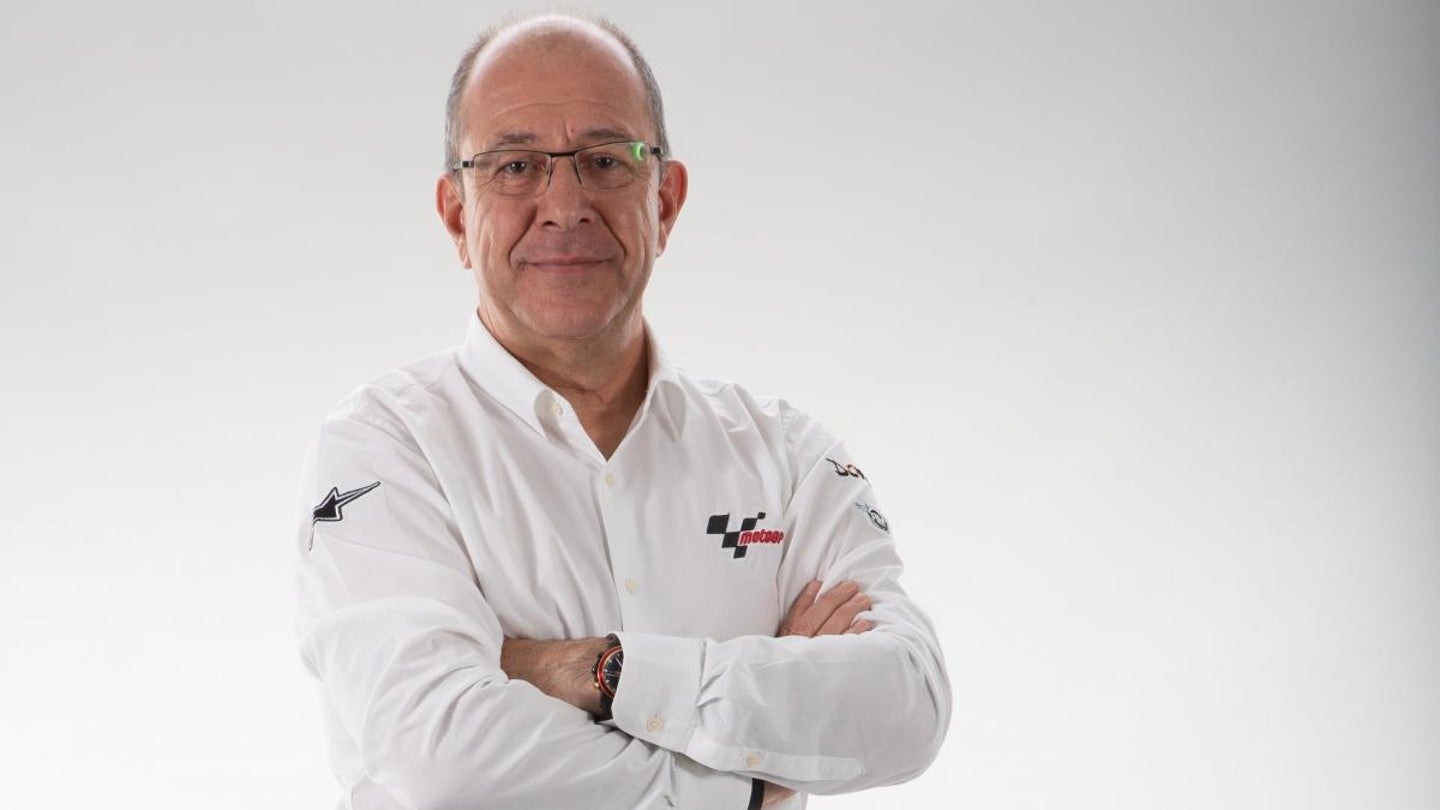 Dorna Sports, the promoter of motorcycling's MotoGP World Championship, has announced its chief commercial officer Manel Arroyo will leave his role to take up a new position as a strategic advisor to the organization.
Under his new role, Arroyo will advise Dorna chief executive Carmelo Ezpeleta, with whom he has worked for over 30 years, and the executive committee. He will also support Dorna in finding a new chief commercial officer and assist during the transition period.
Arroyo said: "My time at Dorna has been the best that any professional could dream of. I have been privileged enough to be part of a uniquely inspired team under the leadership of Carmelo Ezpeleta, my boss, and friend, who has been the driving force propelling constant improvements to the sport – bringing MotoGP to its most competitive era and making the championship a gold standard point of reference for the sports entertainment industry.
"I'm very proud of the team that we have put together, leading the way to reimagining the sport and being fearlessly innovative in content creation. I'm also very proud of the long-standing relationships developed with our partners, who have become truly committed friends along the journey. I want to thank the FIM, the riders and teams, as well as our broadcasters and partners for the incredible relationship we have enjoyed.
"In my new role, I hope to continue to help MotoGP and Dorna grow, and at the same time use my knowledge and experience in assisting third parties with new ventures in the sports industry, entertainment, and media, and to make our world more sustainable."
Arroyo stepped into the role of chief commercial officer in May 2021 as part of an executive shuffle brought about by the departure of long-serving Dorna director and partner Pau Serracanta.
Before that, he had served as Dorna's media managing director, a role he assumed in 1992, which saw him take responsibility for all media activities across content, sales, distribution, and production.
After taking up the role of chief commercial officer, he continued to oversee Dorna's media operations as head of a wider global commercial department.
Ezpeleta said: "Manel is an incredible asset to the company and an even better friend, with whom I personally started working in 1988, prior to Dorna. Not only Dorna but the entire MotoGP family is fortunate and thankful to Manel for his years of hard work which have provided incredible growth to our sport.
"I thank Manel for his determination and devotion, both of which have led us to be pioneers in the sports entertainment business with projects like in-house TV production, our over-the-top service, and our digital platform, all of which were innovations and have helped us bring our sport closer to the fans.
"I'm sure that Manel will continue to provide very valuable insights in his new role. Thank you, my friend."
Before joining Dorna, Arroyo was appointed communications director and press manager of the regional motor association Real Automovil Club de Catalunya in 1998. While there, he helped design and build the Circuit of Barcelona-Cataluya and assisted in organizing the first Formula 1 grand prix at the circuit.
While at Dorna, he also served as a board member at Spanish soccer giants Barcelona from 2010 to 2018, acting as vice president of the club from 2014 to 2018. His responsibilities at the club covered sales, marketing, and communication.
Last year, Dorna entered into a multi-year, online, retail-focused strategic partnership with sportswear and equipment retailer Fanatics in a deal that saw the retailer acquire a license to create MotoGP apparel and global e-commerce rights for the series.
In October, it also struck a rights renewal with streaming platform DAZN in Spain that will see the platform continue to broadcast all practice, qualifying, and race sessions of the series, as well as the Moto2 and Moto3 categories, across the country until 2027.
The 2023 MotoGP season will begin in Portugal in late March and conclude at the end of November in Spain.
Two new circuits will make their MotoGP debuts – in Kazakhstan and India.