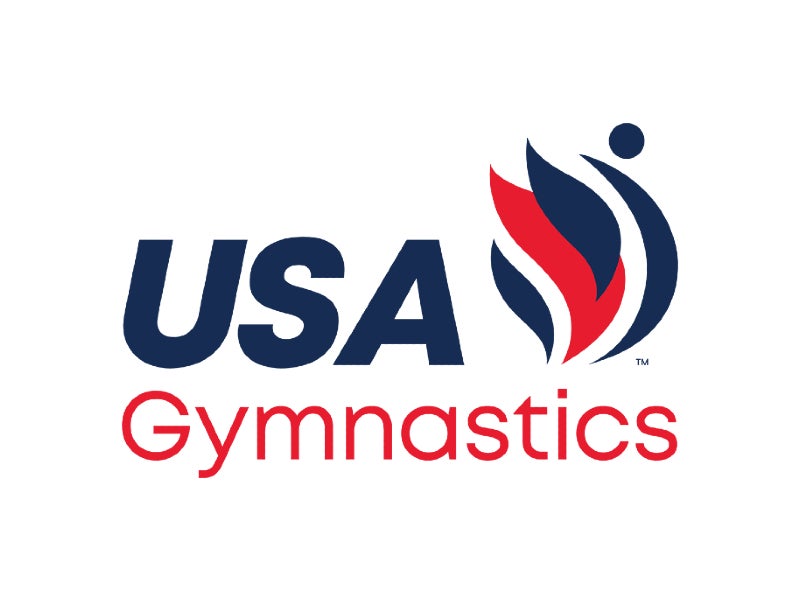 USA Gymnastics (USAG) has unveiled a new logo as it looks to move on from the Larry Nassar sexual abuse scandal that has engulfed the troubled national governing body since 2016.
The rebrand, which was revealed on the first day of the governing body's National Congress yesterday (August 18), is part of a cultural transformation of the organization that has been underway since a new board of directors was put in place in 2018.
Li Li Leung, president and chief executive of USAG, said: "The rebuild of our organization, and our brand, began several years ago when we adopted a new organizational mission statement: to build a community and culture of health, safety, and excellence, where athletes can thrive in sport and life.
"This brand begins with who we are and who we are aspiring to be as part of our cultural transformation."
Leung added that the logo's tagline 'The movement starts here' will embody the "physical movement of gymnastics that is so central to almost every sport, the movement to a better future for all participants and for the entire community, and the movement together from grassroots to the Olympic movement."
The logo includes a flame in the national colors red and dark blue. The previous logo which resembled the letter X was in place since 2003.
Leung was hired by USAG in 2019 as its fourth president in two years, succeeding former congresswoman Mary Bono who resigned after just four days in the job following criticism that she had worked for the law firm that advised USAG during the period in which it was accused of having covered up the scandal.
Leung's hiring also came shortly after USAG filed for Chapter 11 bankruptcy following numerous lawsuits being filed in the wake of the Nassar scandal and the organization's alleged complicity and failure to act over it.
Nassar, the former team doctor, was sentenced to up to 300 years in prison for offenses including sexual assault and possession of child pornography in two separate trials in Michigan in 2018 after more than 350 women testified about abuse at his hands.
Last year, USAG and the United States Olympic and Paralympic Committee reached a $380-million settlement with survivors, while Michigan State University also reached a $500 million agreement with 332 survivors of Nassar's crimes in 2018.
A group of around 90 gymnasts has opened a lawsuit seeking more than $1 billion in damages from the Federal Bureau of Investigation over the mishandling of its investigation into Nassar.
Last year, the organization yet again courted controversy after announcing a five-year digital streaming deal with US-based subscription streaming service FloSports running from the 2021 to 2025 seasons.
A petition was set up calling on the governing body to revoke the contract due to an incident in 2014 when Gymnastike, a website owned and operated by FloSports, then known as FloCast, shared a link to nude photos of Olympic champion McKayla Maroney, who was 18 at the time the images were posted but was a minor when the pictures were taken.
Flocast later removed the link and apologized to Maroney.
At the time, USA Gymnastics said: "The organization [USA Gymnastics] and FloSports are both committed to learning from past mistakes and implementing necessary changes to ensure those mistakes are not repeated."
In February 2022, USAG launched its wholly owned and operated streaming service, FlipNow.