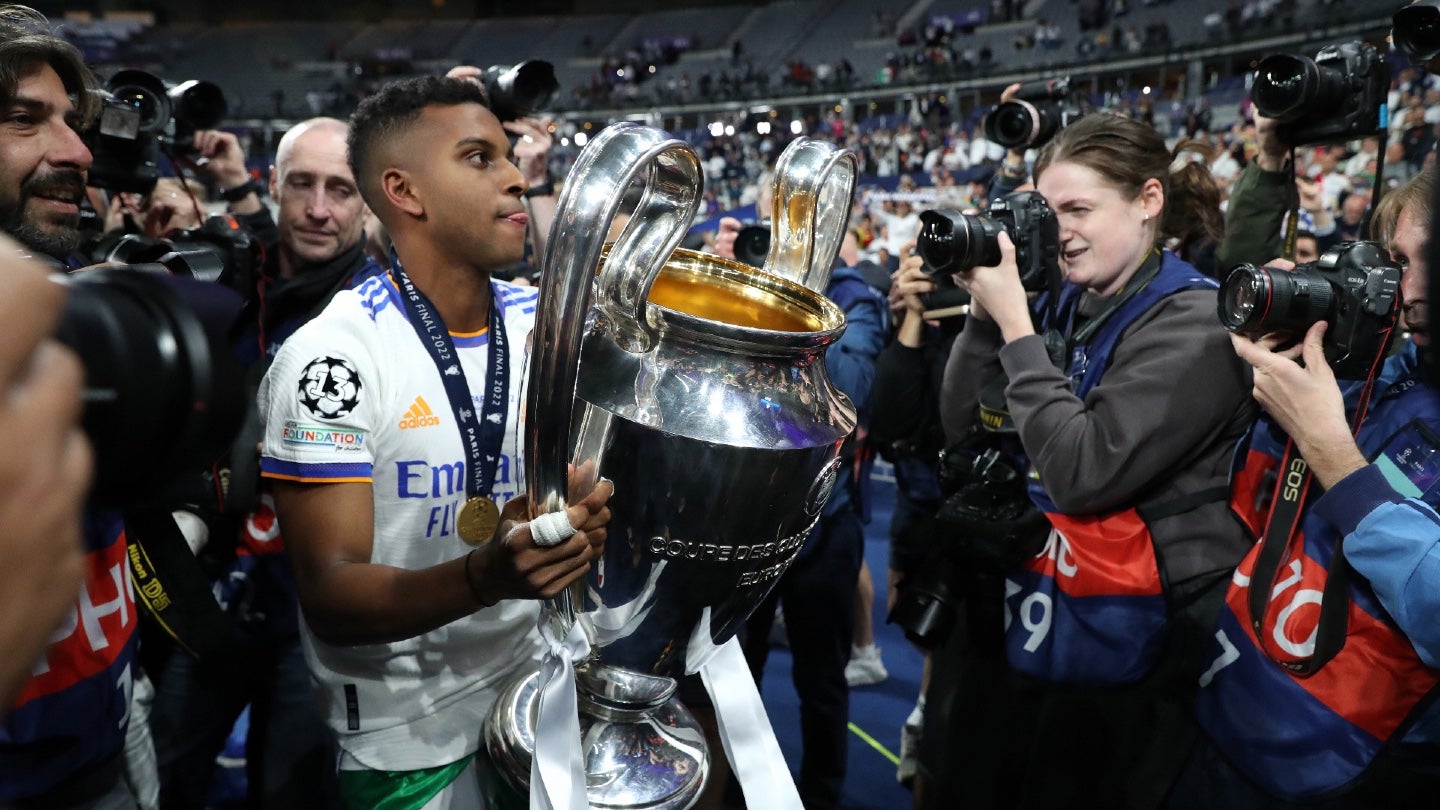 This story has been updated to include information on UEFA's branded watch supplier tender.
UEFA, European soccer's governing body, has begun the process of selecting host cities for the finals of its various club competitions in 2026 and 2027.
The Swiss-based body has sent national member associations a letter outlining that the process is now live for the finals of the top-tier men's Champions League and Women's Champions League, second-tier men's Europa League, and third-tier men's Europa Conference League.
The deadline for associations to confirm their intention to bid is July 17, with bid requirements to be provided to interested parties on July 26.
The final bid submission deadline is February 21 next year, with a preliminary deadline this November.
UEFA has said it will confirm the host associations for each final in May next year.
In total, eight events are involved in the tender, with UEFA saying it encourages member associations to bid for both years of the same event final, although they can only be appointed for one.
It has also confirmed that national associations may only submit one bid dossier (meaning for one venue) per competition final.
National associations can only be appointed for one competition final across both years.
UEFA has outlined various key criteria for bids. The playing surface at the proposed stadium must measure 105m in length and 68m in width, and there are also minimum capacities that must be adhered to.
For the Champions League, UEFA has said there should be a minimum capacity of 70,000 but with a 10% tolerance. For the Europa League that drops to 40,000, while for the Women's Champions League and Europa Conference League the number is 30,000.
This season, the finals of the aforementioned quartet of competitions are taking place in Istanbul (men's Champions League), Budapest (Europa League), Prague (Europa Conference League), and Eindhoven (Women's Champions League).
Istanbul's Ataturk Olympic Stadium, with a seated capacity of over 75,000, opened in 2002 and previously hosted the Champions League final in 2005.
It was recently due to host the competition's final in 2020 only to be replaced by Lisbon due to complications to do with the Covid-19 pandemic.
The Phillips Stadium in Eindhoven, meanwhile, has a capacity of just over 35,000 and hosted the Europa League final in 2006.
Wembley, in London, will stage the 2024 men's Champions League final, while Dublin in Ireland will put on the finale of next season's Europa League.
The Greek capital Athens will do the same for the Europa Conference League final, with the 2024 Women's Champions League final to be hosted by Bilbao in Spain.
In late April, UEFA president Aleksander Čeferin revealed that his organization had discussed the possibility of staging a Champions League final in the US to capitalize on the sport's growing popularity in the market.
But, in an interview with US outlet Men In Blazers, the Slovenian admitted that talks about holding it in the US prior to the 2026 FIFA World Cup (to be co-hosted by the US, Canada, and Mexico) have taken place.
The showpiece game in European club soccer has never been held outside of the continent since the competition's inception in 1955, but UEFA officials are open to the idea.
Elsewhere, UEFA has opened a tender process for suppliers of branded watches across its club competitions in the 2024-27 cycle.
Bids are invited for official timekeeper rights, with a request for proposal (RFP) to launch on June 6.
The RFP will then close on June 27 at 12:00 Central European Time.
Interested parties should contact Team Marketing, UEFA's partner agency for its club competitions, at uccpartners@team.ch. In their email, they should include a company profile, details about any similar contracts held, and examples of products developed under any such contracts.
Image: Catherine Ivill/Getty Images