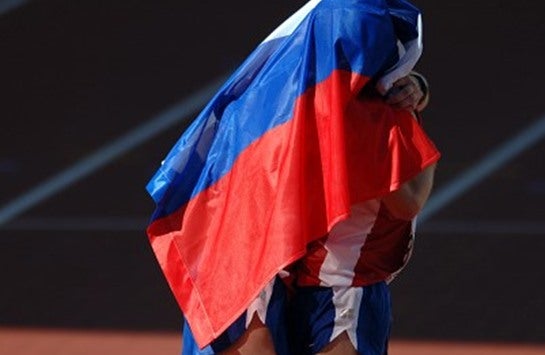 The world's sporting governing bodies have during the last 24 hours collectively moved to severely punish Russian and Belarusian associations and athletes following the International Olympic Committee's (IOC) urging yesterday for the countries to receive sporting pariah status as a punishment for Russia's invasion – with Belarusian assistance – of Ukraine.
Following the IOC's statement yesterday (February 28), in which it went further than its previous comments on the issue and urged governing bodies to strip Russian and Belarusian teams, athletes, and national associations of the right to compete at tournaments for the foreseeable future, numerous international federations have come out with punishments and sanctions for teams and athletes which more or less closely adhere to the IOC's suggestions.
Federations from the following sports have all moved to distance themselves from Russian (and in some cases Belarusian) participating in the last 24 hours: Rugby union, badminton, table tennis, volleyball, sailing, canoeing, swimming, field hockey, ice hockey, curling, modern pentathlon, equestrian, taekwondo, skiing, rowing, ice-skating, and luge.
Federations to have opted for the full suspension of their members from Russia and the removal of teams and athletes from international competitions, as per the IOC's updated statement, include World Rugby, modern pentathlon's UIPM, baseball and softball's WBSC, skating's ISU, ice hockey's IIHF, World Curling (which is attempting to draft new internal legislation to make this possible), World Rowing, skiing's FIS, and canoeing's ICF.
In the case of the IIHF, this also sees Russia stripped of hosting rights to the IIHF World Junior Championships in 2023, while the ISU decision strips Russians of the right to compete (internationally) in one of the country's traditionally most successful sports.
Various governing bodies, on the other hand, such as the Badminton World Federation, the international volleyball federation (FIVB), swimming's FINA, equestrianism's FEI, and World Taekwondo, have adopted the IOC's initial approach of simply banning Russia and Belarus from hosting all events and/or making Russian teams and athletes compete at tournaments without their national flag or anthem present.
Out of the latter category, the FIVB move is of particular note, with that federation moving to relocate the 2022 Men's World Championships, which would have taken place in August and September this year, while World Taekwondo has withdrawn the honorary 9th dan black belt it gave to Russian President Vladimir Putin in 2013.
Federations to have so far issued a simple condemnation, with no tangible punishment for their Russian members as yet, include the International Table Tennis Federation, field hockey's FIH, and the International Luge Federation (which has an executive board meeting planned for March 2), as well as a number of the international federations to have issued earlier statements on the matter but not yet publicly acted on the IOCs latest recommendations.
Indeed, a large number of governing bodies immediately made statements of condemnation – and in a few cases, such as with World Athletics, put immediate sanctions into action – in the first few days of the Russian invasion, which so far has left around 400,000 Ukrainians displaced and killed in the region of 350 civilians, according to several independent estimates.
The governing bodies to have taken a stance on the issue before yesterday's announcement include those from the following sports: judo, boxing, archery, triathlon, cycling, tennis, athletics, climbing, gymnastics, and biathlon.
Out of those, biathlon's IBU, World Archery, climbing's IFSC, gymnastics' FIG, and tennis' ITF, have all taken action against Russia over the last few days.
The IOC's recommendations of sanctions are in part because Russia broke the Olympic Truce – a period around each Summer and Winter Olympic Games during which a theoretical truce is in place, as per a recent United Nations charter.
The IOC has said that for any tournaments and events where a full ban is not practical – which could end up applying to the Beijing Winter Paralympics, set to start on March 4 – a ban on anthems and clothing (as reported above) is recommended, and Russian and Belarusian athletes should compete at neutral venues.
In the case of the Paralympics, the International Paralympic Committee is due to meet tomorrow (March 2) to discuss the issue.
The IOC added that, ordinarily, it would not punish athletes for the decisions of their government but that the Ukraine war represents an exceptional circumstance and that the decision has been made to "protect the integrity of global sports competitions and for the safety of all participants."
The governing body has also removed the Olympic Order award it bestowed on Russian President Vladimir Putin in 2001, as well as taking back similar awards from the country's deputy prime minister and deputy chief of staff of the Presidential Office.
Yesterday (February 28) also saw FIFA, global soccer's governing body, suspend Russia from playing in all FIFA-organised tournaments and competitions, in a joint announcement with UEFA, which has taken the same measures (the latter resolution also applies to club competitions).
These actions will mean that Russian national and club teams are – at the moment – suspended from taking part in the FIFA 2022 World Cup, the UEFA 2022 Women's European Championships, and the latter stages of the ongoing UEFA Champions League and Europa League.