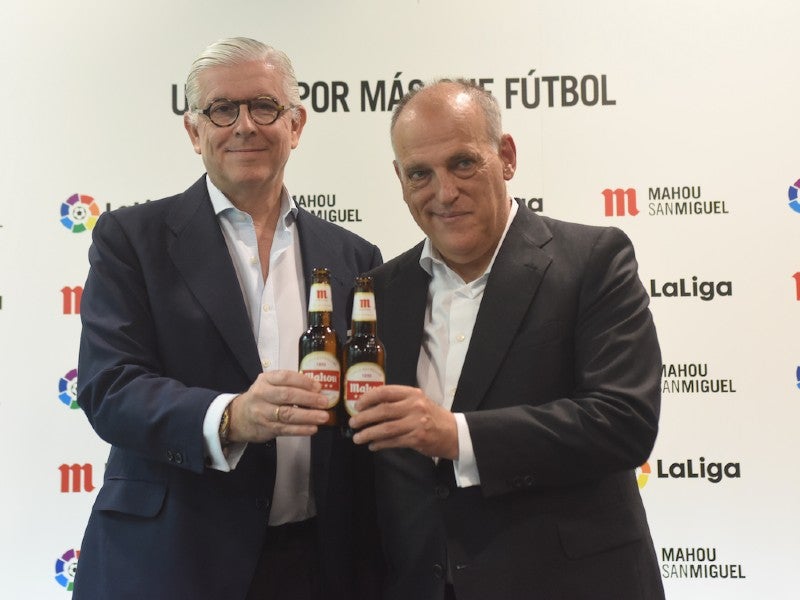 Spanish soccer's top-flight LaLiga has unveiled beer brand Mahou San Miguel as a new global sponsor until 2027.
Under the five-year agreement, the Spanish brewer will serve as a sponsor of the league both in Spain and internationally.
Mahou will replace US brewing giant Budweiser as a global sponsor of LaLiga in the beer category.
The company will use the LaLiga sponsorship to promote its Mahou, San Miguel, Alhambra, and Founders brands.
The league will "contribute to the brand's international visibility" through its network of delegates and offices around the world.
Mahou is keen to use the partnership to grow its footing in global markets such as the UK, Germany, Portugal, Italy, and the US.
The brand already has a strong presence in Spanish soccer as it sponsors 15 teams in different categories.
LaLiga's global sponsorship portfolio also includes Puma, Microsoft, Sorare, BKT, Dapper Labs, LiveScore, and Socios.com.
Spanish bank Santander is the league's main sponsor and naming rights partner.
LaLiga recently agreed a two-and-a-half-year deal with TVM, the South Korean metaverse-building technology firm.
Javier Tebas, president of LaLiga, said: "At LaLiga, we understand that this partnership with Mahou San Miguel represents the natural evolution of the relationship we have been building for ten years.
"We are convinced that we are going to achieve new visibility in Spain and internationally with this partnership."
Alberto Rodríguez-Toquero, chief executive of Mahou San Miguel, added: "This agreement is much more than a sponsorship. It's a reflection of our historic ties to football.
"Having LaLiga as a partner will enable us to strengthen our ties to fans and to offer them content and unique experiences around football in Spain and outside of it."