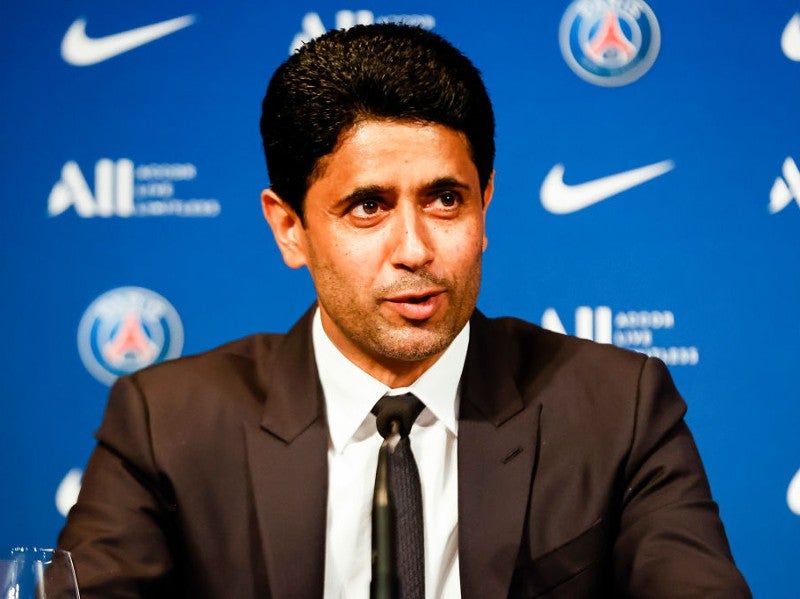 Nasser Al-Khelaifi, president of French soccer giants Paris Saint-German and the head of Qatar-controlled sports broadcaster BeIN Media Group, has today (June 24) been acquitted – for a second time – of alleged wrongdoing in a trial also involving Jerome Valcke, the former secretary-general of soccer's global governing body FIFA.
The PSG and BeIN supremo was again cleared, after an initial not guilty verdict at a first trial in September 2020, of incitement to commit aggravated criminal mismanagement, for allowing Valcke to use a holiday home in Sardinia (which belonged to Al-Khelaifi) rent-free.
Valcke, meanwhile, was up for retrial on charges unrelated to Al-Khelaifi specifically, and concerning him taking bribes during negotiations for FIFA World Cup broadcasting rights. He has already been banned from all soccer-related activity until 2032 for yet further violations of the FIFA ethics code.
He has now been found guilty, in a courthouse in the Swiss town of Bellinzona, of repeated forgery and passive corruption and has been given a longer suspended prison sentence – 11 months, up from three – than was handed out at the original 2020 trial (at which he was only found guilty of forging documents).
The third and final defendant, Greek marketing executive Dinos Deris, has now been given a 10-month suspended sentence after being acquitted in 2020.
The trial has related to allegations that Valcke and Al-Khelaifi (who is also head of the European Club Association and a member of the executive committee of European soccer's covering body UEFA) conspired in 2014 to ensure that BeIN secured the rights across the Middle East and North Africa (MENA) to both the 2026 and 2030 men's FIFA World Cups.
The retrial for the trio took place in March at the Swiss criminal court, after prosecutors appealed against the initial verdicts.
As such, they have managed to secure a longer sentence for Valcke (who was also told to pay restitution costs of $1.92 million to FIFA in 2020) and a guilty verdict for Deris but have failed to persuade a judge of Al-Khelaifi's guilt.
They had called in March for a two-year sentence for the PSG and BeIN president, and for one of three years for Valcke.
Al-Khelaifi's lawyer, Marc Bonnant, has now said: "The years of baseless allegations, fictitious charges, and constant smears have been proven to be completely and wholly unsubstantiated – twice."
It was alleged by the prosecution that Valcke received personal financial assistance from Al-Khelaifi when looking to purchase a Sardinian villa in 2013, the year before the MENA World Cup rights were allocated to BeIN in a deal valued then at $480 million and struck in April 2014.
The allegation was that Al-Khelaifi acquired the house for around $5.85 million through a holding company that then had its ownership transferred almost immediately to a close associate before the property was then made available to Valcke on an exclusive basis – with no rent charged.
The prosecution attempted to prove that this was a direct exchange – that use of the villa was a bribe for Valcke ensuring BeIN won the contract to cover the World Cup through 2026 and 2030, and that the plan was hatched by the two parties during a meeting in October 2013.
The original charge was brought against Valcke, who never reported the arrangement to FFA – as per the organization's regulations – while Al-Khelaifi was originally accused of "contempt for justice" because he did not cooperate with the investigation, and denied buying the villa (despite evidence of the purchase).
Al-Khelaifi, however, always insisted that BeIN paid what was at the time market value for the rights, which did not end up going to a tender.
Indeed, the judges at the initial case ruled the BeIN deal for the 2026 and 2030 World Cups was beneficial for FIFA, and that the governing body's interests had not been damaged.
At the time, Al-Khelaifi's legal team highlighted the fact that the final value was above FIFA's own initial target of $435 million for the region.
The PSG and BeIN president has also continued to claim that he did not in fact buy the villa and that he merely introduced Valcke to the property's owner.
These rulings from the Swiss court have been announced around two weeks after Sepp Blatter, former FIFA president, stood trial in the same Bellinzona courthouse, alongside Michel Platini, former head of UEFA.
Blatter and Platini are facing trial in Switzerland over a $2.2-million allegedly illegal payment made to Platini by FIFA in 2011 after prosecutors in that country indicted the pair in November last year.
The prosecutors have alleged that Platini was paid the $2 million by Blatter as compensation for consulting work without Blatter going through the proper payment channels, whereas both individuals say the payment was actually simply resolving Platini's backdated salary (between 1998 and 2002) eleven years ago.
Both men, who claim the payment was a legal transaction made to recompense Platini for money owed from 1999, have already served six-year bans from soccer for separate ethics violations.