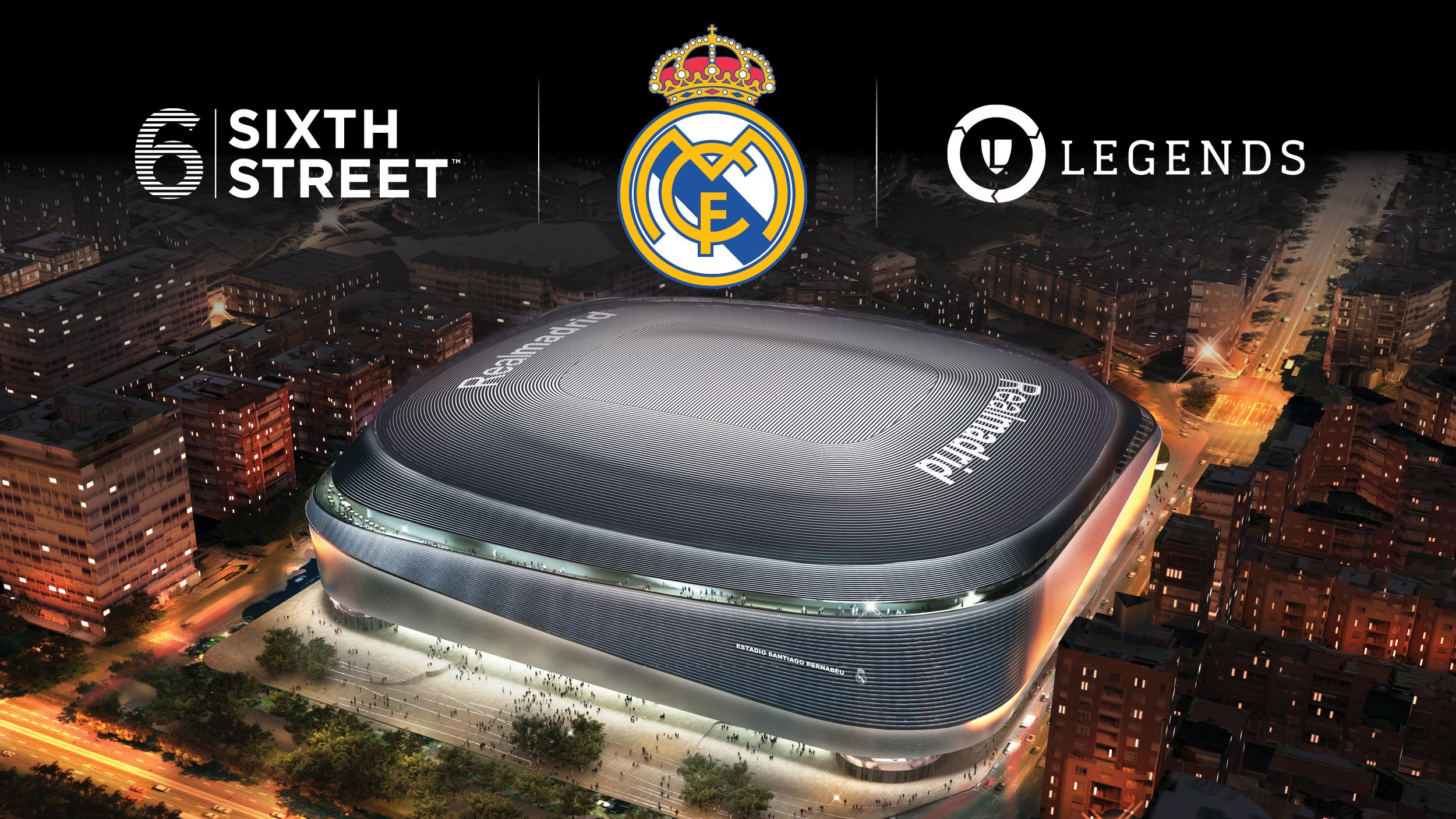 Real Madrid, the Spanish soccer giants and winners of this year's top-tier LaLiga, have ratified a partnership with investment firm Sixth Street, as well as with US sports marketing agency Legends, through which both firms will secure an input into any future activities and operations at the club's iconic Santiago Bernabeu stadium, which is in the process of redevelopment.
The partnership, through which Real will receive approximately €360 million ($381.3 million), aims to "elevate the Santiago Bernabeu as a unique venue and a worldwide benchmark for leisure and entertainment", according to a joint announcement.
Sixth Street has secured rights to participate in "the operation of certain new businesses of the Santiago Bernabeu for 20 years", while Legends (in which Sixth Street took a majority stake in January last year) will "contribute its experience in the operation of large stadiums, attractions and event spaces to optimize the management" of the 80,000-capacity arena.
The deal between Real Madrid and Legends – which has close ties to club president Florentino Perez – was first reported in late January, with the reports at that time suggesting that Key Capital, a Spain-based private equity firm, was leading the negotiations on behalf of the LaLiga champions.
The Bernabeu is currently being redeveloped in a project that the club is aiming to complete next year and is costing between €800 million and €900 million.
Real already have an existing relationship with Legends and enlisted the agency in 2020 to run their merchandising operations.
Under the terms of that partnership, Real will launch a new online store, relaunch three official club stores in the Spanish capital, and develop a flagship megastore at the Bernabeu. The new megastore is being built as part of the ongoing redevelopment of the stadium.
Legends additionally reopened three official Real stores in downtown Madrid.
The firm has worked with Real since 2018 when it was appointed to provide strategic insight and guidance into optimizing commercial opportunities in the renovation of the Bernabeu.
The deal in which Sixth Street took a majority stake in Legends last January, meanwhile, saw the investment firm snap up 51% of Legends, valuing the agency at around $1.35 billion in total.
Other investors in the Legends partnership group include co-founders YGE Holdings, an affiliate of Major League Baseball's New York Yankees, and Jones Concessions LP, an affiliate of NFL American football's Dallas Cowboys.
Perez has now said, commenting on the deal ratified yesterday: "This alliance with Sixth Street and Legends will be fundamental in providing unique experiences in a stadium where multiple events can be hosted throughout the year … This agreement strengthens the club's goal of continuing to significantly increase the stadium's revenues from both sporting and other types of events."
Real are hoping to recoup the huge outlay spent on renovating their home by staging regular events at the Bernabeu outside of soccer matches with plans for the venue to be open for use 300 days a year.
There will also be a skywalk around the stadium, with some of Spain's biggest restauranteurs invited to make proposals for those spaces, while new VIP zones will also have over 25,000 square meters to create premium hospitality spaces.
The stadium will feature a retractable roof to stage indoor events, as well as a retractable turf which means the playing surface for the club's matches will not be affected.
The redevelopment will, in addition, expand the stadium's capacity to around 100,000 for music concerts and other events with standing areas.
With these enhancements in mind, Real are projected to bring in €250 million more on an annual basis compared to the figures they were bringing in from the Bernabeu pre-pandemic.
Alan Waxman, co-founder and chief executive of Sixth Street, added: "The flexible, solutions-oriented capital and comprehensive capabilities provided by our team at Sixth Street, combined with the deep expertise Legends offers in venue and sports brand operations, will support Real Madrid in its mission to compete and remain a leader in global sports for many years to come."
Shervin Mirhashemi, Legends' chief executive, also commented on his firm's continued relationship with Real Madrid, saying that "with this long-term management relationship, Legends continues to grow its global footprint, while investing in regional expertise with best-in-class brands worldwide."
As well as the Yankees and Cowboys, Legends, launched in 2008, is a partner of the likes of soccer giants Manchester City, NBA basketball's LA Clippers and Detroit Pistons, and SoFi Stadium, the home of the NFL's Los Angeles Chargers and Los Angeles Rams.
It is also the sponsorship sales agent for the 2028 Olympic Games in Los Angeles.