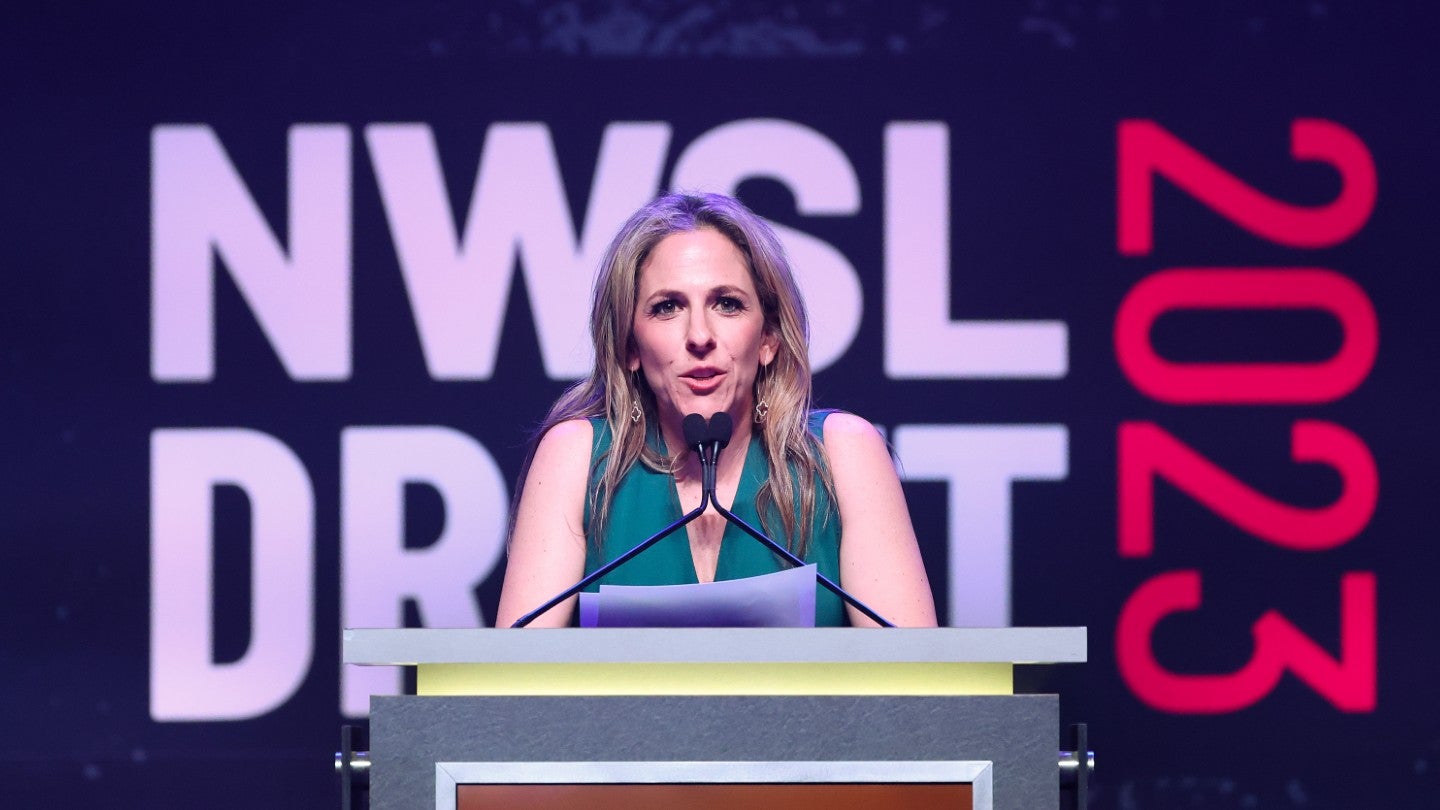 Jessica Berman, the commissioner of North America's top-tier National Women's Soccer League (NWSL), has unveiled plans to further expand the league to 16 teams for the 2026 season as it looks to capitalize on high demand from potential investors.
The NWSL is currently playing the 2023 season, which started in March with 12 teams after adding Angel FC in Los Angeles and the San Diego Wave last year.
Next year, the Utah Royals will rejoin the league after a four-year absence while another unnamed team in San Francisco will also be added, taking the league to 14 teams.
However, speaking to the Washington Post, Berman said the league has set a deadline of 2026 to add another two teams on the back of strong interest from potential investors.
She said: "We do expect for the 2026 season to add two more teams. That process will begin later this calendar year, and through the process, we ran in 2022 for this round of expansion, we have an incredible amount of interest from qualified investors who want to get in early.
"We're still really early in our process in terms of our growth and where we think the league is going to be in three-to-five-to-10 years.
"A lot of investors are recognizing that and are excited to begin that process of mutual due diligence with us."
The 2026 deadline coincides with the US hosting the men's flagship FIFA World Cup alongside Canada and Mexico, which is set to bring a new wave of interest and commercial opportunities for the domestic leagues.
Both Angel FC and San Diego Wave had commercially successful first seasons, with Angel recording the highest average home attendance and the Wave setting NWSL single-match attendance records.
The Bay Area of San Francisco and Utah Royals were awarded expansion ahead of the NWSL 2023 season, with the Bay Area paying a record $53 million fee that is part of an overall $125 million investment to launch the club.
San Francisco's bid was led by former US women's soccer players including Brandi Chastain and Aly Wagner, as well as private equity firm Sixth Street.
Utah Royals, who played in the NWSL from 2018 to 2020, paid a much lower fee of around $2 million that was in place during 2020 when it was sold by owner Dell Loy Hansen, who also owned men's Major League Soccer team Real Salt Lake, following reports of racist behavior and toxic work culture at the Royals.
The Royal's players were then transferred to the Kansas City NWSL expansion team, which joined the league in 2021.
The new Utah franchise team is owned by David Blitzer and Ryan Smith, who acquired the men's Major League Soccer team Real Salt Lake last year in a deal that included an option to acquire an NWSL expansion team.
Boston, meanwhile, has been mooted as one of the favorite cities to be granted a franchise license in the next round after reports in January said the league was in "advanced discussions" on bringing a team back to the city.
The city was the home of the Boston Breakers from 2013 to 2017.
Its bid is being led by Flybridhge's Anna Palmer and Linda Henry, wife of John Henry, whose sports group owned MLB's Boston Red Sox, English soccer giants Liverpool, and ice hockey's Pittsburgh Penguins.
While investors have shown a keen interest in potential new franchises, three established teams – OL Reign, Chicago Red Stars, and Portland Thorns – are currently up for sale.
Investment bank Raine group, who brokered the sale of English Premier League side Chelsea and are currently managing the sale of Manchester United, have been appointed by OL Regin for its sale process.
The Chicago Red Stars and Portland Thorns, meanwhile, have been put up for sale due to their current owners being embroiled in an abuse scandal of NWSL players.
Arnim Whisler, owner of the Red Stars, and Merritt Paulson, owner of the Thorns, announced their intention to sell their respective clubs in December in the wake of revelations made in a report into abuse and misconduct throughout the league.
Image: Tim Nwachukwu/Getty Images