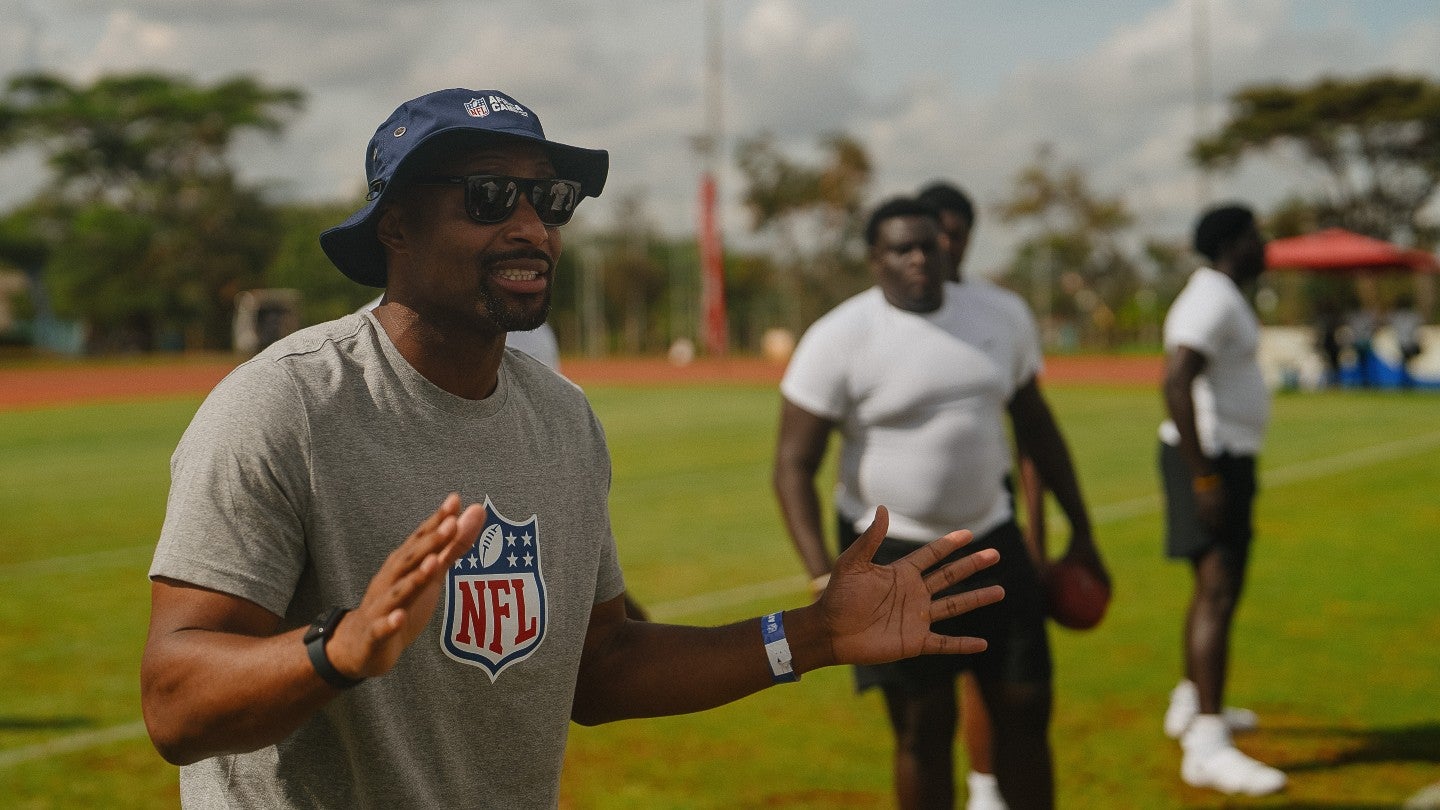 Developing a presence in Africa is an "important" part of the NFL's strategic global growth plan as the top North American football league seeks to expand into new and emerging markets, its Europe and Africa lead Brett Gosper has said.
With more than 125 players of African descent from 15 countries across the continent currently playing in the NFL, the league believes it can tap into multiple opportunities in the region.
Last week, the league expanded its NFL Africa program to Kenya "to invest in growing the game at all levels across the continent." A talent identification camp for young athletes took place in Nairobi.
Jambo!

The @NFL has touched down in Kenya 🇰🇪 for the NFL Africa Camp 2023!

Karibu NFL!
🇰🇪 🇰🇪 🇰🇪 pic.twitter.com/M6MgtMez0y

— NFL Africa (@NFLAfrica) April 10, 2023
Speaking from Nairobi, Gosper, head of NFL Europe and Africa, said: "Growing the NFL globally is a major strategic priority for the league, and developing our footprint and fandom in Africa is an important part of this vision.
"It's a huge reservoir of talent that can therefore generate further interest and we're about connecting and building a new fan base there. We're less interested in the short term on the commerciality of it, those things flow over time."
The event in Kenya and the NFL's wider activities in Africa are being spearheaded by Osi Umenyiora (pictured), a two-time Super Bowl champion who was born in the UK to Nigerian parents.
The expansion follows the delivery of programs in Ghana in 2022, including talent identification camps, NFL Flag football clinics, and fan events held across the year in Accra.
Umenyiora has ambitions to expand the league into further territories in the region including Nigeria, Senegal, South Africa, and northern Africa.
A potential game in Africa is not on the radar for the NFL but Gosper refused to rule out the possibility.
He said: "Definitely [there could be a game] if that's possible in the future. We can't put a timeline on that, it's not in our immediate planning.
"But there's a lot of emotional support from owners and players to do things in Africa and ultimately, whether it be a pre-season game, or a game at some point in time it is definitely a very high possibility."
Gosper joined the NFL in January 2021 after spending nearly nine years as chief executive of World Rugby, rugby union's international governing body.
He initially took up a role as the league's head of Europe and the UK, but his remit was widened to include Africa after Damani Leech left his position as chief operating officer of NFL International to become president of the Denver Broncos last August.
Leech had a key role in growing the game internationally as well as through business development and strategy initiatives.
Following his departure, Gosper was happy to step in and take on responsibility for the league's efforts in Africa.
He explained: "It [the role shift] was more tactical than strategic. Damani took up a new responsibility as president of the Broncos and I put my hand up and said I'm happy to partner with Osi on this during a period for as long as you like.
"But I'd like to stay involved because I've worked in this region before in other roles that I've had, so it wasn't a strategic step."
Marketing
In addition to games, the league is seeking to grow commercial activities in specific global markets after launching the International Home Marketing Areas (IHMA) initiative for teams last year.
In Africa, the Philadelphia Eagles have rights to market in Ghana, becoming the first NFL club to enter a market in the region.
In total, the program includes 19 teams granted access to 30 IHMAs across 10 different countries.
The program was launched as part of the NFL's efforts to allow clubs to "build their global brands" while also "driving NFL fan growth internationally," with clubs able to submit future IMHA proposals annually.
Super Bowl champions the Kansas City Chiefs recently unveiled Engelbert Strauss, the German workwear and safety equipment firm, as their first multi-year partner in the country as part of the scheme.
Gosper believes the close collaboration between the league and clubs is key and sees value in having a presence on the ground in major markets.
He outlined: "From a fan point of view, [the IHMA initiative] has probably doubled our visibility in those markets. There's a teamwork approach between the league and the clubs.
"Avid fans are more interested in teams than they are in the NFL itself and as you move from casual to avid fan, the club becomes more important and the players in those clubs.
"Clubs are a very important part of the fan acquisition and engagement model and it's great that they apply seriously to those markets and commit and don't just put a flag on a map, but they put some commitment into each market which is really important for us."
Europe continues to be the region outside North America where the NFL is most active and will this year stage five regular season games for the first time, with three in the UK and two in Germany, where the league debuted last year with a fixture in Munich.
Gosper expects the NFL's presence to ramp up across additional territories in Europe and ultimately see the benefits of offices in countries such as Germany and Australia.
He said: "We've got a certain amount of inventory for the moment. Not everything just flows through the games, we're marketing in these markets, and working with our broadcast partners, whether it be streaming or linear, to ensure that our storytelling, even in those markets where the games are not happening, there is that close connection with the fans and our product.
"The next markets from a European perspective that we're looking at are markets that are interesting for our clubs. We have clubs that have applied for marketing and commercial rights. France and Spain will probably be the next markets, where it will be higher focused and potentially get the inventory for games to happen at some point as well in the future."
He continued: "We've also opened an office in Australia, it has been on the radar a lot and there's some activity happening out there. We're focusing on expanding a bit more.
"We've got good infrastructure now in the UK, we've had that for a while, we've got a good office now in Germany with leadership there. Hopefully, in the not-too-distant future, we'll have people on the ground for the NFL in Africa as well and you just see things take off when that happens."
"There's a very strong appetite and understanding by ownership and leadership in the NFL that to be a global product and brand is very important.
"The NFL thinks of fans, obviously it creates revenues but very much thinks fans-first and giving them opportunities to connect. We've got core markets, about eight to 10 of those, and there are another 10 emerging markets and it's up to the ownership and the league to invest more in those markets and that's the plan."