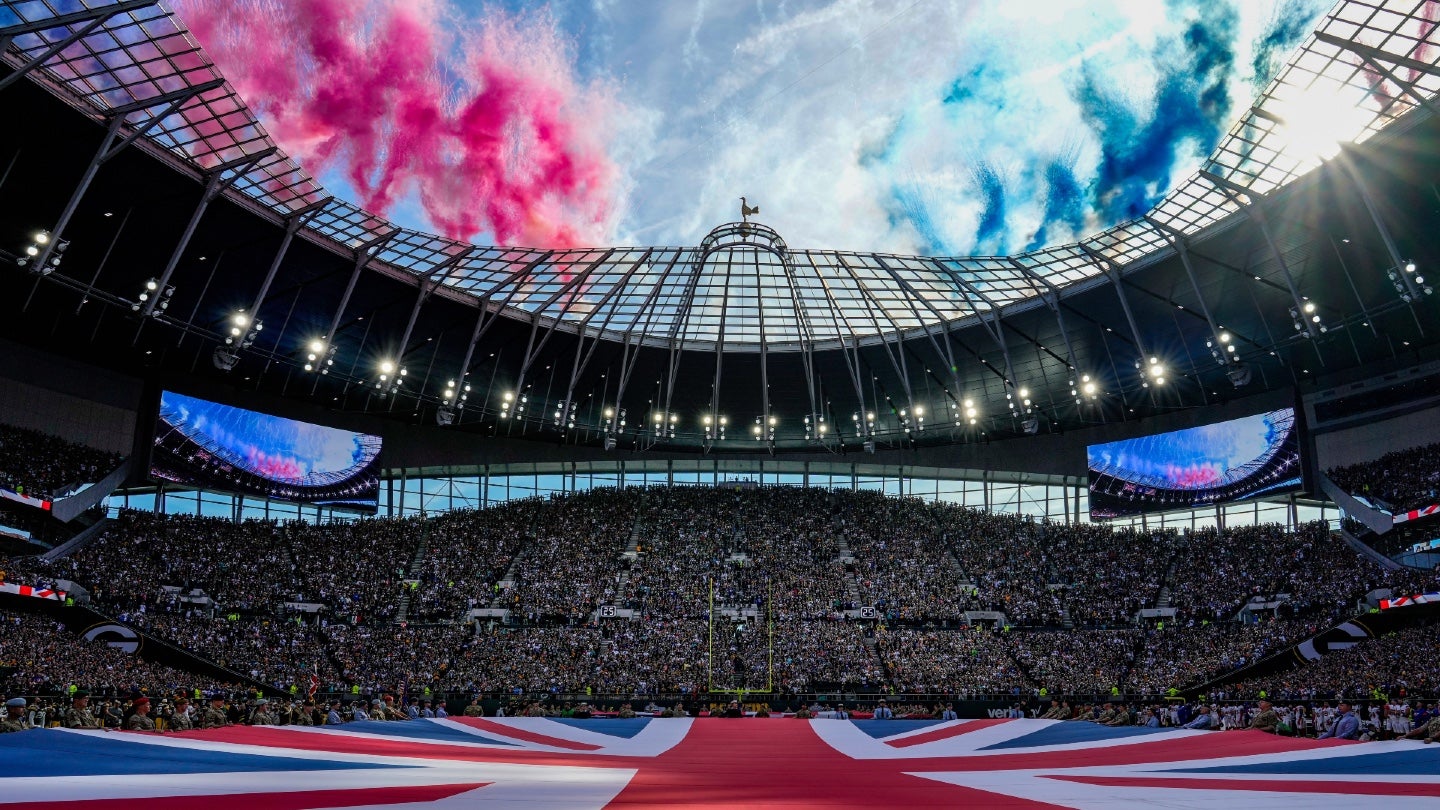 American football's NFL has confirmed full details of the five international games to take place later this year, with two fixtures in Frankfurt, Germany, and the other three to be held in London, UK.
The London swing comes first with the Jacksonville Jaguars to take on the Atlanta Falcons at Wembley Stadium on October 1 before then playing the Buffalo Bills on October 8. The Tennessee Titans will face off against the Baltimore Ravens on October 15. Those last two fixtures will take place at the Tottenham Hotspur Stadium.
Subsequently, in Frankfurt, the Kansas City Chiefs (Super Bowl champions) will play the Miami Dolphins on November 5, with a match-up between the New England Patriots and the Indianapolis Colts coming on November 12.
The designated 'home' teams for this year's NFL International Series were announced in January, with the Ravens, Falcons, Dolphins, and Colts being the sides confirmed yesterday (May 10).
The NFL has a deal in place to host games in Germany through 2025. The league's first-ever game there (between the Tampa Bay Buccaneers and the Seattle Seahawks) took place in Munich last November.
In January. it was confirmed that two games will take place there this year. Both will be held at Frankfurt Stadium, it has now been confirmed.
Both the Chiefs and Patriots have been allocated Germany as an International Home Marketing Area (IMHA) through a program that began at the end of 2021.
The Jaguars, meanwhile, have been assigned the UK as an IHMA, with a long-standing association with that country. They will play their 10th and 11th fixtures there this year. In total, 33 NFL games have been held in London so far.
The league has prioritized increasing its international presence after awarding IMHAs to 18 of its 32 franchises across eight countries to build its brand appeal and fanbase globally.
The eight IHMAs are the UK, Germany, Mexico, Canada, Brazil, Spain, China, and Australia. Franchises are not limited to just one and indeed in some cases now have access to three.
Alexander Steinforth, NFL Germany's general manager, said: "The confirmed matchups in Germany will make for two very exciting games for fans this November and we are delighted to be playing both games in Frankfurt, a city rich in NFL history and with a significant NFL fan following.
"We are excited to see Frankfurt Stadium host such iconic teams in our sport in the fall."
Peter O'Reilly, NFL executive vice president for club business, major events, and international, added: "In what promises to be a great spectacle of football for our global fans, we are thrilled to announce the five games to be played internationally in 2023, a record number of regular season games in Europe in a season.
"We are excited to bring three games to London once again, a city with a huge love for the sport and a passionate fan base across the UK."
The NFL's inaugural game in Germany last year saw a sell-out crowd of 69,811 attend Munich's Allianz Arena to watch the Buccaneers beat the Seahawks 21-16.
Such was the interest in attending, the league said it received three million ticket requests after an instant sell-out earlier this year.
German broadcaster ProSieben generated a record 2.7 million viewers, making it the most-watched NFL regular season game ever in the country.
Fanatics, the NFL's official e-commerce partner and exclusive event retail operator in Europe, said game-day merchandise sales at Allianz Arena broke records for an NFL game outside the US.
Due to renovations taking place at Estadio Azteca in Mexico City, meanwhile, there will be no Mexico game in 2023.
That venue will be able to host games once these works are complete in 2024.
In terms of timings, all 2023 international fixtures will begin at 9:30 AM Eastern Time.