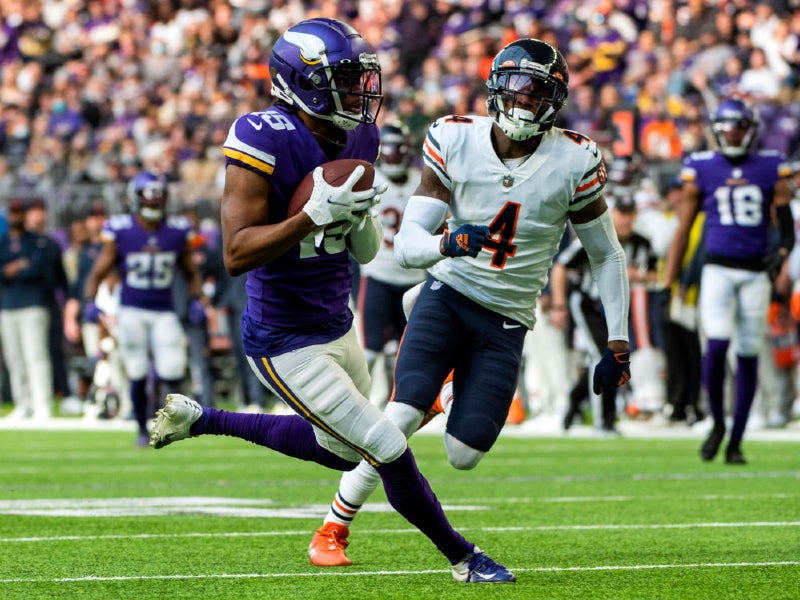 The Minnesota Vikings, of American football's NFL, have entered into an exclusive, decade-long omnichannel merchandise and retail partnership with Fanatics, the US-based online sportswear and equipment retailer.
The partnership, announced yesterday (March 30), will "create a new, best-in-class shopping experience for Vikings fans worldwide", and will see Fanatics take control of the franchise's physical, mobile, and e-commerce retail operations, the Vikings have said.
Fanatics, which is already the official NFL e-commerce partner through a partnership struck in 2018 and running until 2030, has put live the team's new online shopping hub, shop.vikings.com, which is powered by its in-house Cloud Commerce Platform.
The brand has said it will also invest significantly in renovating and upgrading all three physical Vikings stores – one at the US team's US Bank home stadium, as well as two in other locations.
Fanatics has said the integration of online and physical Vikings stores will "create a shopping experience with the ability to seamlessly shift inventory and remain readily in stock with products wherever fans choose to shop."
Products across hundreds of brands that have official Vikings licenses will now be available for fans to purchase, covering a wide range of products including lifestyle items, clothing, headwear, and replica jerseys.
The Vikings – who lost in the first stage of the 2021-22 playoffs to the Green Bay Packers – are the 27th separate franchise Fanatics has partnered with from the NFL so far, and the franchise becomes the company's 10th omnichannel merchandise partner.
Martin Nance, chief marketing officer at the Vikings, said: "As the leader in licensed sports merchandise, with a strong track record in the NFL, Fanatics will provide Vikings fans with an enhanced fan experience both online and in team stores. Fans will see a deeper selection, increased availability, and the most up-to-date trends in all Vikings gear."
Ed O'Brien, senior vice-president of business development and strategy at Fanatics, added: "Fanatics is thrilled to become the official omnichannel merchandise partner of the team … We've worked closely with the team to create a comprehensive retail offering that will provide fans everywhere with the widest assortment of on-trend, quality merchandise regardless of shopping online, on phones, at the game or at additional team stores."
The Fanatics-NFL deal, struck in May 2018 and running through until the culmination of the 2029-30 campaign, gives Fanatics Authentic exclusive consumer product licensing rights to manufacture and distribute all Nike NFL adult products.
That partnership has been estimated by GlobalData Sport to be worth between $15 million and $20 million each year.
The last major sports deal the US retailer announced, meanwhile, was a long-term tie-up with the World Wrestling Entertainment promotion earlier this week.
At last count, Fanatics was valued at $27 billion, with the company having raised $1.5 billion in a new funding round at the start of March.
The firm also has partnerships with a host of other major sporting properties, including motor racing's Formula 1, ice hockey's NHL, and European soccer giants Manchester United, Chelsea, Paris Saint-Germain, Bayern Munich, and Atletico Madrid.