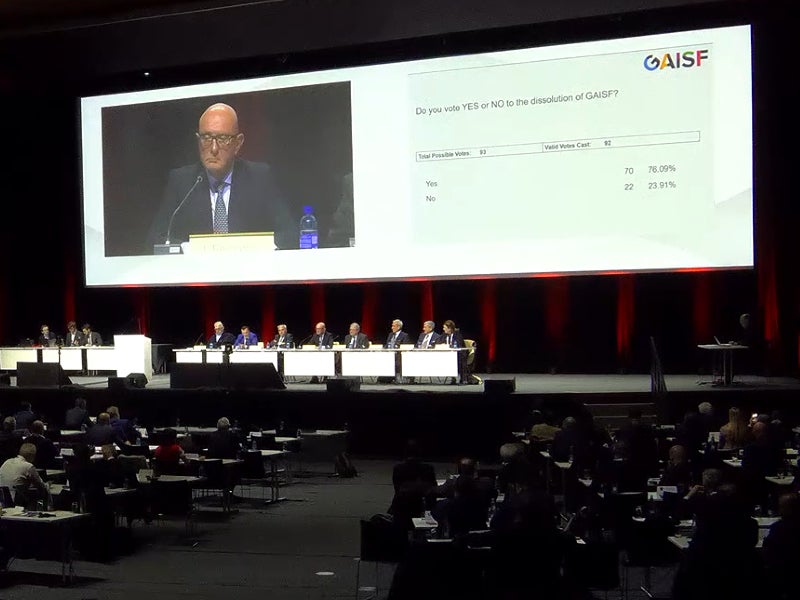 Members of the Global Association of International Sports Federations (GAISF) umbrella organization have approved its dissolution.
At an extraordinary general assembly (EGA) held in Lausanne, Switzerland, yesterday (November 29), 70 members voted in favor of dissolving the body and 22 against.
A second, separate, EGA then took place just after the first, during which members voted on the terms of the dissolution of the body.
These included the appointment of professional services firm Ernst & Young as liquidator, as well as measures concerning the distribution of assets, liabilities, and activities.
A new article has also been introduced into the relevant statutes, allowing for a virtual or hybrid general assembly to be called in the future.
The EGA was called in mid-October, after GAISF president Ivo Ferriani sent out a letter asking for this step to be taken, with international federations now expected to be given more of a stake in the running of commercial organization SportAccord instead (of which he is also the president).
Multi-sport games involving non-Olympic International Federations will pass to the Association of IOC Recognized International Sports Federations (ARISF) and the Alliance of Independent Recognized Members of Sport (AIMS).
The remaining assets will be distributed, with 40% given to the Association of Summer Olympic International Federations (ASOIF) and 20% each going to the Association of International Winter Sports Federations (AIOWF), ARISF, and AIMS.
In a letter to AIMS members written last month, that body's president Stephan Fox said: "I would like to outline again that this is not about taking down the GAISF but rather synergizing all into one in which AIMS would get shares in SportAccord."
The calls for the dissolution have reportedly been driven by the International Olympic Committee (IOC), leading to the only umbrella body for international sports federations being wound up after 55 years.
The GAISF was founded in 1967 and has 95 members consisting of international sports federations and 20 associate member organizations that manage events closely related to international sports federations.
Under its plans, members of the GAISF will be given more of a stake in the annual SportAccord sport and business summit. The organization previously announced plans to expand its remit and stage a series of multi-sport games over the next few years.
Last month, SportAccord named Martin Gibbs, former interim manager of the GAISF, as its new acting managing director to replace Nis Hatt.