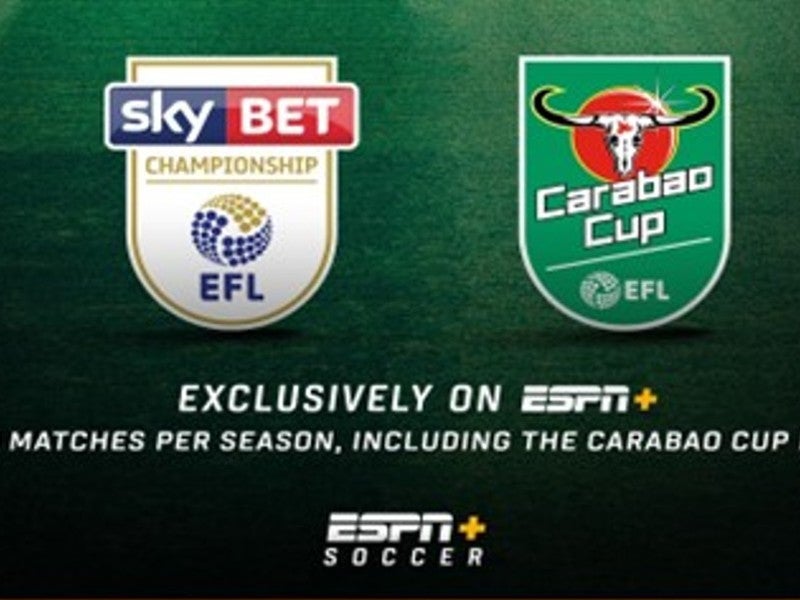 ESPN, the US sports broadcaster, has extended its rights agreements with the English Football League (EFL) and German Football Association (DFB) as it continues to bolster its burgeoning soccer portfolio for the new European soccer season.
Under its multi-year extension with the EFL, ESPN will continue to air regular season and play-off matches from the second-tier Championship, third-tier League One, and fourth-tier League Two, as well as the Carabao Cup knockout competition from the 2022-23 campaign.
As part of the deal, a minimum 182 EFL matches – around 50 matches more than in previous seasons – and at least 30 Carabao Cup matches will be shown in English and Spanish on the broadcaster's streaming platform ESPN+. Select matches will also be simulcast on ESPN linear channels.
Ben Wright, EFL chief commercial officer, said: "The increase in the number of our matches being shown on ESPN+ shows that the demand for EFL content is stronger than ever, with the league competition and Carabao Cup attracting hundreds of millions of viewers across the world.
"We are delighted that supporters throughout the US can enjoy premium coverage whilst following another exhilarating and entertaining EFL season."
The EFL's international rights are sold by sports marketing agency Pitch International as part of its distribution deal covering the 2022-23 and 2023-24 seasons.
ESPN's previous four-season agreement with the EFL ran from 2018-19 to 2021-22. ESPN replaced international pay-television operator BeIN Sports as the EFL rightsholder in the US.
US national network NBC Sports currently holds the exclusive rights in the US to the top-tier Premier league until the end of 2027-28 after signing a record-breaking deal worth £2 billion ($2.7 billion) for the six-year deal beginning with the 2022-23 season.
Sonia Gomez, ESPN senior director for programming and acquisitions, added: "The renewal of EFL and the Carabao Cup rights further demonstrates our commitment to make ESPN+ a must-have for soccer fans in the US.
"The EFL, and its storied tradition of tiered competitions, is a bedrock of association football. We are pleased to have this signature property as a part of ESPN+'s ever-expanding soccer portfolio."
Under ESPN's four-year extension with the DFB, meanwhile, a minimum of 40 DFB-Pokal cup matches will be aired each season on ESPN+ in English through 2026, with select games to be made available on ESPN networks and ESPN+ in Spanish.
Last month, the DFB agreed several new rights deals for the DFB-Pokal ahead of the 2022-23 season, including with Dubai Sports Channel, which will show the competitions across 24 countries in the Middle East and North Africa.
It also signed new deals with Chinese state broadcaster CCTV, Indonesia's Kompas TV, Coupang in South Korea, Macau's M+ (a deal separate to the CCTV tie-up), and pay-TV heavyweight Sky Italia.
It also struck several renewals, including with Hong Kong Cable Television, Measat Astro in Malaysia, Israel's Charlton, Ziggo in the Netherlands, and Premier Sports in both the UK and Ireland.
Expanded partnerships, meanwhile, include the arrangement with over-the-top subscription service DAZN being enlarged from solely covering Japan into Canada, the agreement with Eleven Sports covering Portugal as well as Belgium, and the partnership with Saran Media Group now incorporating a range of central Asian countries in addition to Turkey.
Domestically, DFB-Pokal coverage between 2022-23 and 2025-26 will be provided by a combination of pay-TV's Sky Deutschland, which will have rights to all games, and by both Germany's ARD and ZDF public-service broadcasters.
The two renewals come a day after ESPN announced it had renewed its exclusive domestic coverage of Spanish soccer's Copa del Rey and Super Cup competitions after renewing its rights deal with the RFEF, the Spanish soccer federation, for another five years.
That extension will see ESPN continue to broadcast 65 Copa del Rey matches per season exclusively on ESPN+ in English and Spanish until 2026-27.
They enhance ESPN's portfolio of soccer rights, which also include Spain's top-tier LaLiga and second-tier Segunda Division, Germany's Bundesliga and Bundesliga 2, England's FA Cup, Mexico's Liga MX, as well as the domestic United Soccer League.