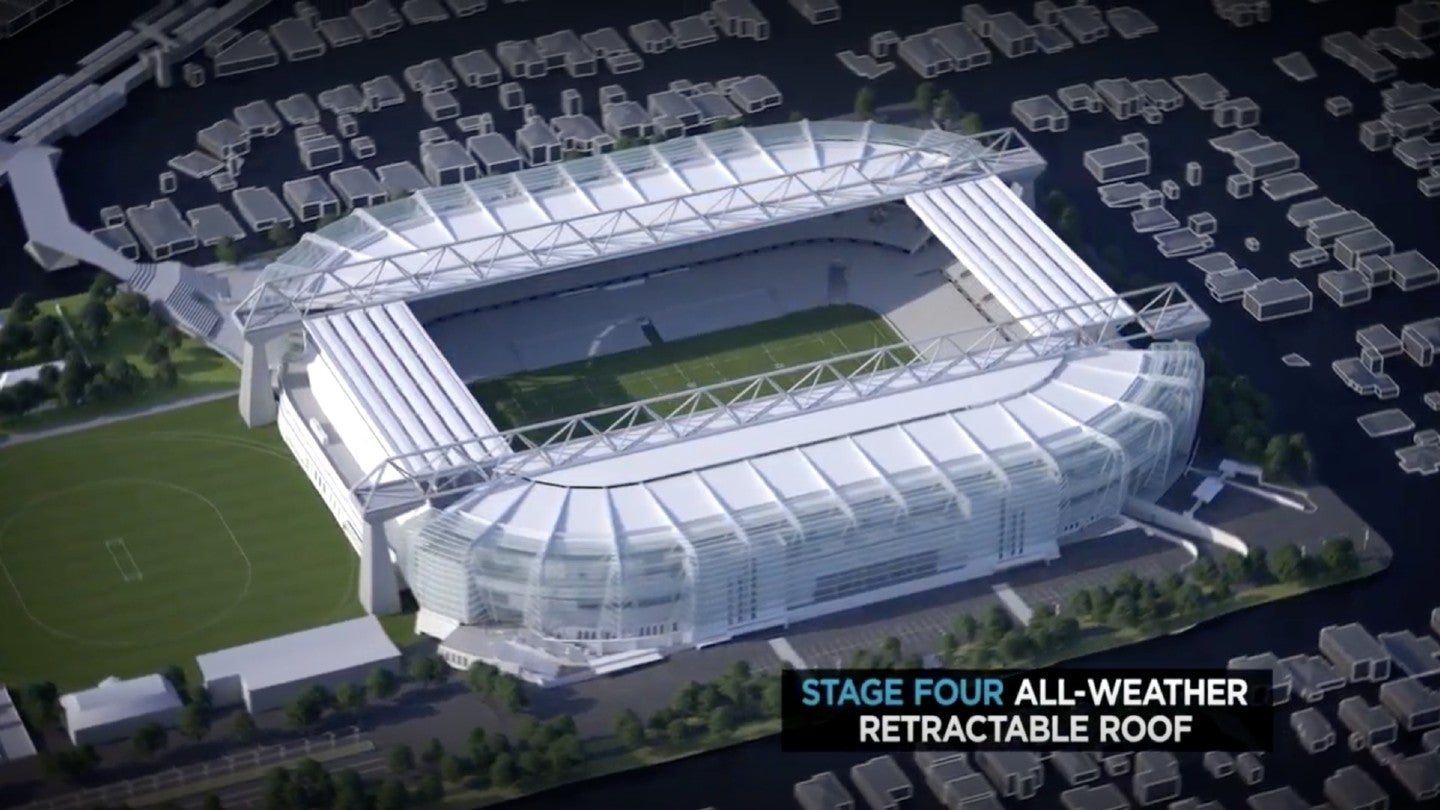 Plans for the addition of a retractable roof and a new North Stand have been revealed as part of a major redevelopment of Eden Park, New Zealand's national stadium.
There will be upgrades to the East and West Stands and to the entry promenades, while new accessible seating, restrooms, and other amenities will be constructed, as well as a new pedestrian bridge.
Elsewhere, the plans include modernization, sustainability, and connectivity upgrades at the Auckland venue, which currently hosts international rugby and cricket matches, as well as concerts.
This will allow for multiple uses of the field in rectangle and oval shapes, different crowd configurations and capacities, and new function and entertainment spaces. There will also be improved transport connections.
In terms of sustainability, new LED lights will be installed, a community refugee garden created, beehives installed, a community compost center developed, and spectator waste management practices and electric vehicle charging technologies implemented.
Eden Park Trust, the charitable body that promotes, operates, and develops the stadium, revealed the developments in its Eden Park 2.0 vision for the stadium.
Chief executive of the Trust, Nick Sautner, said: "Eden Park 2.0 delivers a world-class, multi-purpose, hybrid stadium. It's a venue where New Zealand can continue to make its mark on the world, a hub for sporting excellence, a state-of-the-art entertainment center, and a destination for fans from across the world.
"Our 2.0 vision for the future of the national stadium will not only benefit sports and entertainment fans but also contribute to the economic growth of the country. Eden Park is our place, it's been part of our past for 120 years, and it will be part of our future.
"Offering increased capacity and an enhanced experience for everyone who comes to Eden Park, 2.0 builds on our strong legacy and reputation as an iconic stadium venue, suitable for hosting a diverse range of global and domestic events.
"As a city of 1.6 million and a country of 5 million people, it is critical to have both broad national and regional stadium strategies, which are aligned and coordinated.
"This will ensure we have multi-purpose, hybrid venues capable of attracting and hosting a wide range of international and national sporting, entertainment, cultural, and community events in Aotearoa, New Zealand. The Eden Park 2.0 vision is a cost-effective solution to help achieve this goal."
Eden Park previously underwent an NZD256-million (now USD159-million) renovation ahead of rugby union's 2011 Rugby World Cup.
This year it will stage matches at the 2023 FIFA Women's World Cup.