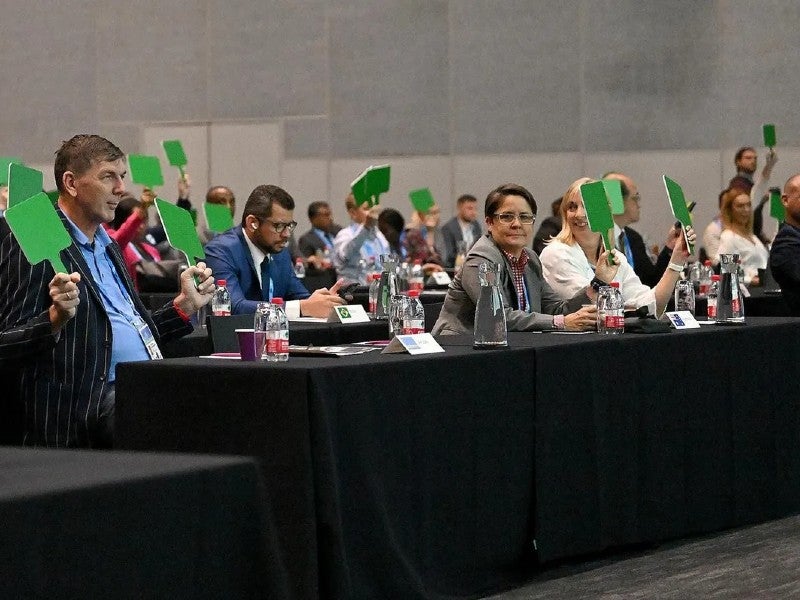 The International Swimming Federation (FINA) will be renamed World Aquatics next month after delegates voted to adopt a new constitution at the governing body's Extraordinary General Congress (EGC) in Melbourne, Australia, today (December 12).
Federation International de Natacion has been the governing body's official name since 1908 and US digital marketing firm Martin Group has been tasked with rebranding efforts, with a new logo expected to be unveiled later today.
At the EGC, FINA president Husain Al-Musallam said the rebranding will see all aquatic disciplines united for the first time under the name.
He said: "None of us can remember our international federation called anything other than FINA. It is a name that has served us well.
"We need a name that reflects the whole FINA family and a name that can be used by our artistic swimmers, divers, high divers, open water swimmers, and water polo athletes.
"Our athletes must come first so I would never make a big decision like this without consulting them. Their response has been very clear.
"More than 70% of the athletes that we have spoken to have said that they would like us to change FINA's name. Many of them could not even tell us what the letters for FINA stand for.
"We have spoken to people in every part of the FINA family including many people in this room today. It is important that you all have a voice in a decision like this.
"I can tell you that there is a strong feeling that we should change our name. FINA is our past and we should look back on much of the past with pride and affection, but our future must begin here today."
The new constitution, expected is come into force in January 2023, was overwhelmingly approved by delegates at the EGC, with 175 members voting in favor of it and only four rejecting it.
Among changes to the constitution include an age cap of 75 years old for all members of the federation's executive bureau seven years after former president Julio Maglione abandoned previous limits, allowing him to run for a third term in 2017.
Presidential term limits will match the International Olympic Committee's Olympic Charter, which has a term limit of eight years, renewable once for four years.
In a move to give athletes more power within the organization, the constitution will now allow all 20 elected members of the FINA Athletes' Committee to vote at the governing body's Congresses.
Other changes include an increase to the number of bureau members, with female representation rising to 38% – around nine members – as part of a gender equality initiative and the establishment of an independent Aquatics Integrity Unit from January next year.
The creation of the Aquatics Integrity Unit was approved at the EGC last year in Abu Dhabi, UAE, and will look to offer additional protections for athletes to ensure fair competition.
Speaking about the increase in female representation, Al-Musallam said: "I am delighted that the larger bureau will have more guaranteed places for women.
"This is a big and very significant step forward for us. Of course, there is still much more that we can do.
"Our target must be 50/50 split but today this will take us much closer to that."