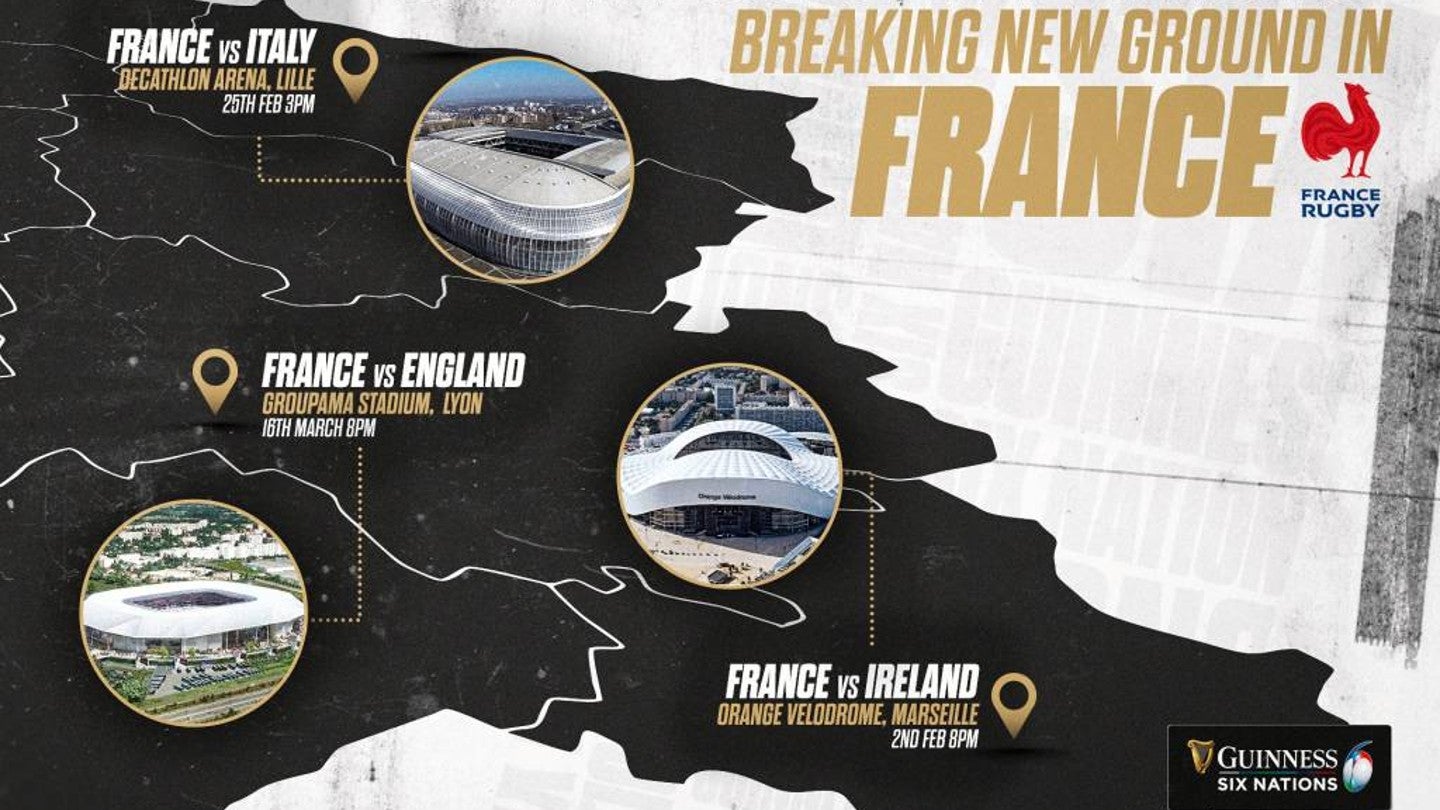 Six Nations Rugby, organizer of the international rugby union tournament, has announced France will stage its three home matches away from Paris for the first time next year, with the fixtures to be spread across Lille, Lyon, and Marseille.
France's Six Nations home matches have traditionally been played at Paris' Stade de France, but the venue is set to undergo renovation works ahead of the capital's hosting of the 2024 Olympic and Paralympic Games.
As such, the French Rugby Federation (FFR) governing body has opted to take its fixtures on tour from the capital, with France's opening match of the 2024 Six Nations against Ireland to be held on February 2 at Marseille's Stade Vélodrome.
The national team's clash against Italy will be played at Lille's Stade Pierre-Mauroy on February 25 and its last home match against England will be held in Lyon's Parc Olympique Lyonnais on March 16.
The three stadiums, which are all home venues to top-tier French soccer teams, are also host venues for this year's Rugby World Cup, taking place across France from September 8 to October 28.
The FFR has previously staged autumn international matches in Marseille's 67,394-capacity Stade Vélodrome, which is home to Olympique de Marseille. The Stade Pierre-Mauroy, home to Lille OSC, staged its first rugby union match between France and Argentina in 2012.
The Parc Olympique Lyonnais, meanwhile, is home to Olympic Lyonnais and is the newest venue of the three, having opened in January 2016.
Stade de France, which is located in the Parisian suburb of Saint-Denis, was opened ahead of France hosting the 1998 FIFA World Cup and acts as the home to France's national soccer and rugby teams. Along with the Olympics and Paralympics next year, it will host 10 matches during the upcoming Rugby World Cup, including the final.
The stadium is opened by the French government through the Consortium Stade de France, which encompasses construction firms Vinci and Bouygues. However, France's Ministry of Sport has previously announced it will not extend the contract with Bouygues and Vinci when their deal comes to an end on June 30 next year.
In March, the French government suggested it is considering bids for the stadium once the current lease expires in July 2025. That same month, it was reported FIFA president Gianni Infantino held talks with French president Emmanuel Macron over a potential deal to purchase the stadium.