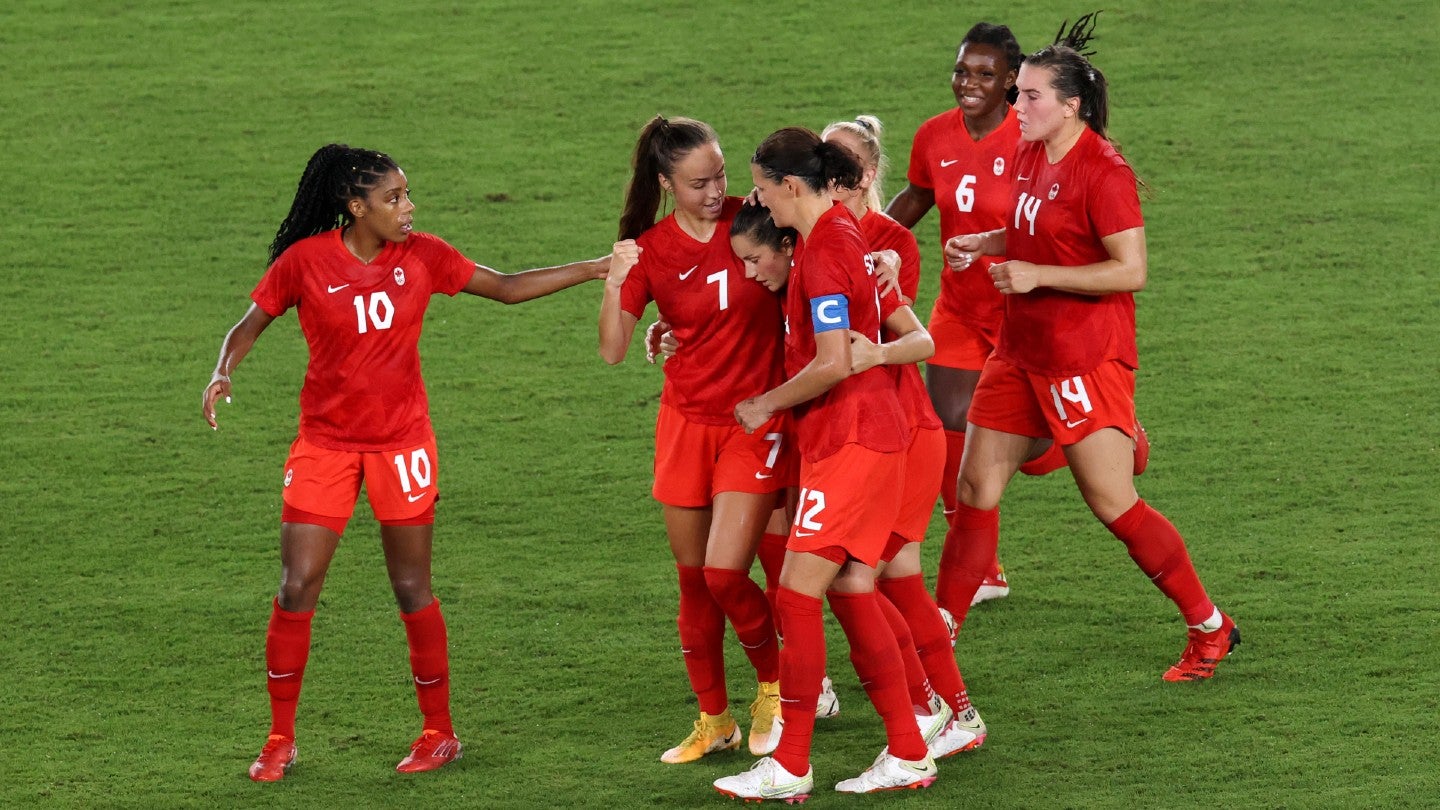 Canada's women's national soccer team (CWNST) has called off its strike and will play in the upcoming SheBelieves Cup, the annual invitational women's tournament featuring four national teams, after governing body Canada Soccer threatened to take legal action against the players.
The CWNST, who are preparing for their first match of the tournament in Orlando, Florida on Thursday (February 16), announced on Friday (February 10) they would strike due to budget cuts, equal pay issues, and an overall lack of support from Canada Soccer.
The time is now, we are taking job action. pic.twitter.com/QbVbhTcdDU

— CanadianSoccerPlayers (@PlayersCanadian) February 10, 2023
The players boycotted training on Saturday (February 11) but their strike action was cut short after Canada Soccer threatened to sue the Canadian Soccer Players' Association (CSPA) and players in the camp.
In a statement on Saturday, the CWNST and CSPA said: "Representatives of the Players' Association met with Canada Soccer this afternoon for an hours-long meeting in which the concerns of the players were discussed in detail.
"Prior to that meeting, Canada Soccer told us that they would consider our job action to be an unlawful strike. They told us that if we did not return to work – and did not commit today to playing in Thursday's game against the United States – they would not only take legal action to force us back to the pitch but would consider taking steps to collect what could be millions of dollars in damages from our players' association and from each of the individual players currently in camp.
"As individual players who have received no compensation yet for any of our work for Canada Soccer in 2022, we cannot afford the risks that personal action against us by Canada Soccer will create.
"Because of this, we have advised Canada Soccer that we will return to training tomorrow and will play in the SheBelieves Cup as scheduled."
The eighth edition of the SheBelieves will see all matches played at soccer-specific stadiums between February 16 and 22, starting with Japan against Brazil and the US against Canada at Orlando's Exploria Stadium in Florida on February 16.
The second pair of matches will be held at Geodis Park in Nashville, Tennessee, on February 19 when the US plays Japan and Brazil meet Canada.
The tournament will conclude on February 22 with Canada playing Japan and the Brazilians facing the US at Frisco's Toyota Stadium in Texas.
As part of its eight-year, $200-million domestic rights deal with US Soccer, broadcaster Warner Bros. Discovery Sports will exclusively air the matches live.
The US Women's National Team (USWNT) is seeking a fourth consecutive title and sixth overall since the tournament began.
Canada is ranked sixth in the world and won the gold medal at the rescheduled 2020 Tokyo Olympics in 2021. The team is also due to take part in the FIFA 2023 World Cup, which is being co-hosted by Australia and New Zealand from July 20 to August 20.
The CWNST added: "We continue to believe that Canada Soccer's cuts to the national team programs – especially right before our World Cup – are unacceptable.
"We continue to believe that Canada Soccer needs to do more to support our programs and our players. And we continue to believe that unless we stand up together and demand more, nothing will ever change."
In response, Canada Soccer said it has committed to a "historic comprehensive collective agreement" that would deliver change for the women's and men's teams.
A statement from the governing body said: "Canada Soccer was not prepared to jeopardize the SheBelieves Cup tournament or the preparation it would afford the women's national team for the upcoming World Cup.
"Canada Soccer, therefore, took the necessary steps to ensure that such games will be played as scheduled. Canada Soccer is heartened that the women's team will play as it committed."
Both the CWNST and the Canadian men's national soccer team (CMNST) have been embroiled in bitter labor talks for months with Canada Soccer.
Dissatisfaction over the ongoing negotiations led to the Canadian men's team to boycott a planned friendly against Panama on June 6, 2022, in Vancouver, citing "unnecessarily prolonged" talks over the contract.
At the time, players said they wanted 40% of World Cup prize money, a friends and family travel package, and an "equitable structure with our women's national team that shares the same player match fees, percentage of prize money earned at our respective FIFA World Cups, and the development of a women's domestic league."
The men's national team subsequently formed a players' association, the Canadian Men's National Soccer Team Players Association (CMNSTPA), to continue the negotiations. The new body covers players who have been called into any men's national team camp since January 2021.
The women's team is already represented by the Canadian Soccer Players Association and is working with the CMNSTPA to come up with an equal agreement like that of US Soccer.
The decision by the women's team to strike was supported by the men's team, which said in a statement: "The Canadian men's national team players are, once again, deeply disappointed by the actions of Canada Soccer, and wholeheartedly support the women's national team players' statement made this afternoon.
"Canada Soccer is claiming it does not have the funds necessary to provide the women's national team players the working conditions and games they need to prepare for the 2023 Women's World Cup. That is outrageous and calls for an immediate and urgent response."
The men's team also called for a change of leadership if "Canada Soccer is not willing to take immediate action to respond to the players' demands and concerns."