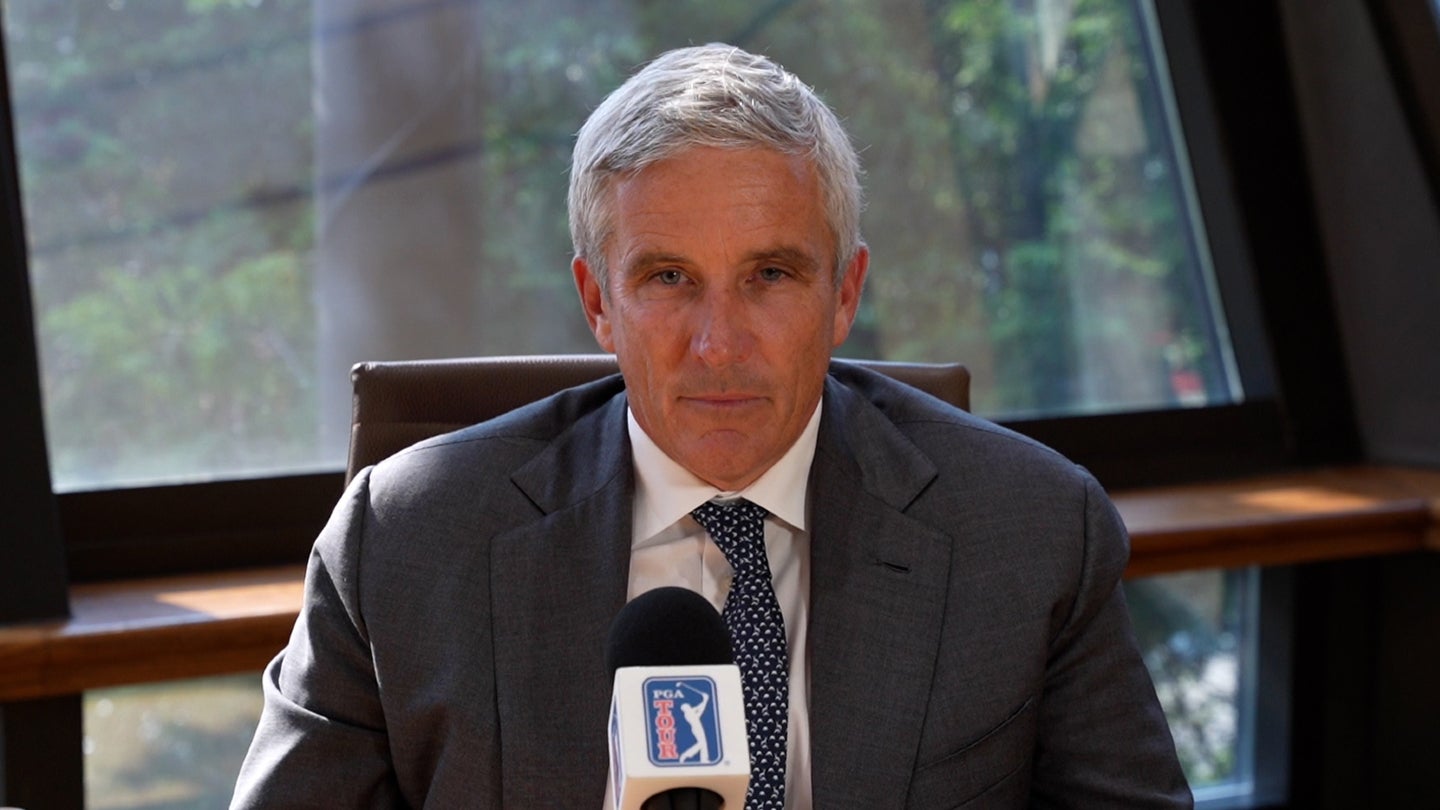 PGA Tour commissioner Jay Monahan is facing a battle to stay in his role following yesterday's (June 6) shock announcement of a deal between the US golf series and Saudi Arabia's sovereign wealth Public Investment Fund (PIF) to effectively merge their respective series.
Monahan has described the tie-up – which establishes a new joint entity combining the commercial businesses and rights of the PGA Tour and the DP World Tour (formerly the European Tour) with the commercial golf businesses of the PIF, including the LIV Golf series – as "a historic day for the game."
However, the deal stands in stark contrast to the commissioner's previous stance on LIV, including a comment last year when he said: "We welcome good, healthy competition. The LIV Saudi Golf League is not that. It's an irrational threat, one not concerned with the return on investment or true growth of the game."
In relation to accusations of sportswashing against LIV, and specifically about Saudi Arabia's involvement in the 9/11 attacks, Monahan has also previously said: "I would ask that any player that has left [the PGA Tour for LIV], or that would ever consider leaving: 'Have you ever had to apologize for being a member of the PGA Tour?'"
Of the deal, Jake Kemp, analyst at GlobalData Sport, commented: "Given the defiant stance of officials and players in the PGA Tour since LIV's inception, it seems perplexing how it has been able to strike a deal to merge the tours and unite the golfing world.
"Whilst the terms of the merger have yet to be fully realized, with many contentious issues still lingering, it appears to be a massive win for the Saudi-backed project. They have been able to so successfully disrupt the landscape, that it now finds itself with a seat at the main table, with a voice of power and influence. Its influence will now stretch across more players, countries, and tournaments than ever before."
LIV has paid vast sums of money to golfers on both the PGA Tour and the DP World Tour since it was launched in October 2021 to abandon the traditional series and join it instead.
Heavyweights such as Brooks Koepka, Dustin Johnson, and Phil Mickelson have all joined, with guaranteed contracts reportedly exceeding $100 million in some cases.
The PGA Tour and DP World Tour retaliated by banning players from competing in their events if they joined LIV and by claiming that LIV was compromising golf's integrity, while lawsuits and countersuits between the then-warring series were filed.
Human rights groups and charities, meanwhile, have criticized LIV as an exercise in sportswashing, pointing to multiple and repeated allegations of human rights abuses against Saudi Arabia.
In explaining his about-turn yesterday, Monahan said: "I recognize that people are going to call me a hypocrite. Anytime I said anything, I said it with the information that I had at that moment, and I said it based on someone that's trying to compete for the PGA Tour and our players.
"I accept those criticisms. But circumstances do change. I think that in looking at the big picture and looking at it this way, that's what got us to this point."
Monahan's prediction was right, according to PGA Tour player Geoff Ogilvy, with accusations of hypocrisy leveled at him during a heated players' meeting yesterday following the announcement.
It has been reported that around 90% of the players involved were against the merger and that multiple players called for Monahan to resign. Grievances raised are said to have included a lack of transparency around the deal, the perceived betrayal by the tour of players who had remained loyal to it, and the remaining questions about LIV as a sportswashing vehicle.
PGA Tour players have expressed their dissatisfaction publicly too, with Collin Morikawa tweeting: "I love finding out morning news on Twitter," and Mackenzie Hughes: "Nothing like finding out through Twitter that we're merging with a tour that we said we'd never do that with."
The tour's players are not the only stakeholders to have been blindsided, with media partners also having been left out of the loop.
An NBC Sports spokesperson told Front Office Sports: "We are still learning more about the PGA Tour-LIV-DP World Tour announcement and look forward to discussing the announcement and its implications with our partners."
Washington Post reporter Ben Strauss, meanwhile, quoted an executive at a TV partner of the PGA Tour as saying in response to the question of whether the network was now a partner of the Saudi government: "We're not sure."
Much of the reason for this uncertainty, and a contributing factor to the anger of some parties, is the very small group of people that were involved in the negotiations, which we now know took place over seven weeks.
"There were four in-person meetings and a number of video calls and phone conversations," Monahan has explained. "When you get into these conversations and given the complexity of what we were dealing with, it's not uncommon that the circle of information is very tight."
That will do little to assuage the feelings of betrayal among PGA Tour players who turned down huge sums of money to switch to LIV in loyalty to the tour, opposition to perceived sportswashing, or a mixture of both.
Of that, Monahan said: "This is an awful lot to ask them to digest, and this is a significant change for us in the direction that we were going down. They're going to win. They're going to continue to grow, and we're in a control position on their behalf as we move forward in this structure."
In a subsequent press conference yesterday evening, he added: "This ultimately is a decision that I think is in the best interest of all of the members of the PGA Tour, puts us in a position of control, and allows us to partner with the PIF in a constructive and productive way. We just realized that we were better off together than we were fighting or apart."
Explainer: What is Saudi Arabia's PIF and why is it linked to sportswashing?