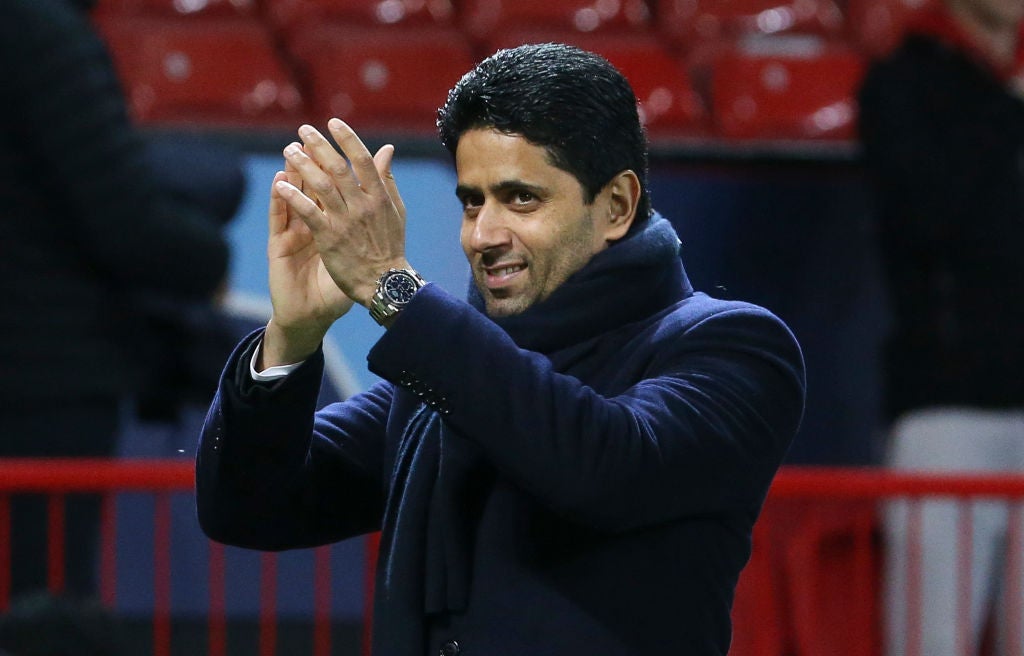 Nasser Al-Khelaifi, chairman of the European Club Association (ECA), the body that represents over 240 soccer teams across the continent, has hailed UEFA's new three-year commercial rights deal with agencies Team Marketing and Relevent Sports Group as a landmark moment for the organization.
European soccer's governing body this week formally allocated international commercial rights for its club competitions from 2024 to 2027 to incumbent Team, although, in a new shift, rights in the US were awarded to Relevent in a country-specific agreement.
The contract covers the Champions League, Europa League, Europa Conference League, Super Cup, and Youth League for the next cycle, all from the start of the 2024-25 campaign.
For the first time, the ECA was involved in the tender process and worked with UEFA on the awarding of the rights.
Representatives from Europe's top-tier clubs – through the ECA – were present at UEFA meetings during a two-day, three-round selection process.
In a letter to the 240 clubs, Al-Khelaifi outlined how this proves clubs have more influence and control over commercial and financial decisions made by UEFA thanks to its partnership with the continental body.
Al-Khelaifi said this represents "much more than the result of a tender process. It represents a tectonic shift in the role that clubs now play – thanks to ECA and in partnership with UEFA – in the decisions that shape European football."
He added that "It also represents a new dawn of financial stability and opportunity for European football clubs as the way in which our club competitions are commercialized will be transformed."
The new agreement with Team and Relevent is expected to be worth $5.5 billion in the new cycle, significantly up from $3.6 billion in the previous three-year deal solely with Team.
Al-Khelaifi, who is also the president of French Ligue 1 giants Paris Saint-Germain, believes this is the beginning of a new era following the debacle of the failed European Super League (which Spanish heavyweights Barcelona and Real Madrid and Italy's Juventus are still pursuing).
At its general assembly in September, the ECA made the strengthening of a more transparent and collaborative relationship with UEFA a priority.
The nine other clubs which originally formed the Super League – AC Milan, Arsenal, Atletico Madrid, Chelsea, Inter Milan, Manchester City, Manchester United, Liverpool, and Tottenham Hotspur – were all welcomed back as members of the ECA board last August for the 2019-23 ECA membership cycle.
In his letter to the clubs, Al-Khelaifi went on to say: "For the first time ever, UEFA and ECA have worked hand-in-hand to conduct an open and competitive tender to manage the sales process for European club competitions.
"Interest in this tender was considerable, with many of the world's leading sports rights marketers and investors presenting powerful cases to partner with us in this project.
"Ultimately, thanks to this process and joint decision-making between ECA and UEFA, we were able to achieve the highest ever commercial prospects for European club competitions. Further still, there are additional untapped revenue streams that we are actively exploring.
"In short, thanks to clubs being equal partners with UEFA in this process, we will maximize our collective value and reduce our collective costs. We have gone a long way to securing financial stability and sustainability."
The new collaboration between ECA and UEFA could potentially put Team's long-standing commercial relationship with the latter in doubt in the years to come.
Team started selling UEFA club rights with the Champions League in 1991 and has signed long-term renewals in every cycle since. UEFA notably has representation on Team's board.
However, the latest extension sees rights shared with a new agency (albeit only in the US) but is also just for one term.
This suggests that rights could possibly be further carved up and awarded to more agencies from the next tender which is likely to give much more power to the clubs and the ECA, with the lack of influence in UEFA's commercial affairs one of the main issues cited by the 12 Super League clubs.
In the latest tender process, Team and Relevant reportedly beat off competition from several rivals including IMG, Infront, and Octagon. There were originally reported to have been four or five finalists in the process.