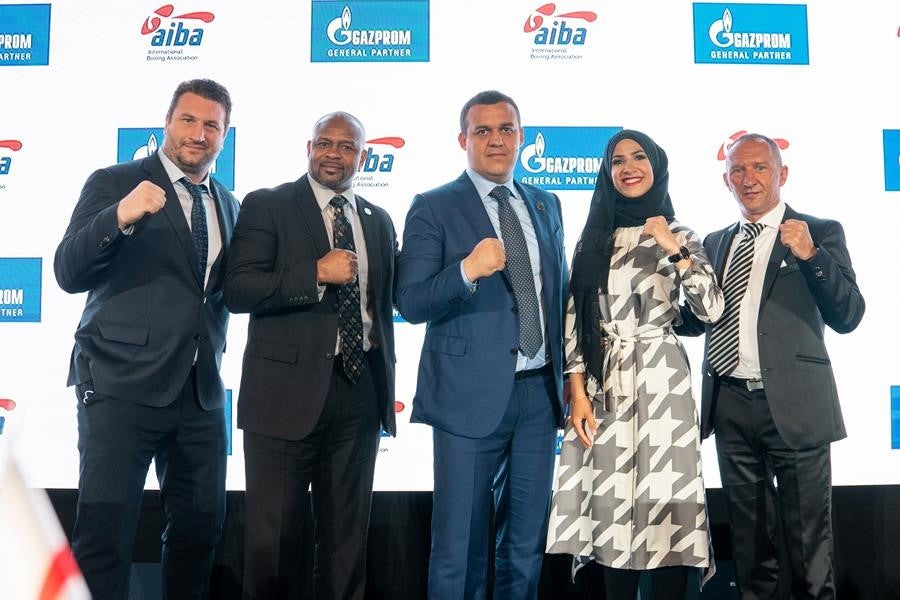 By Euan Cunningham
Umar Kremlev, the president of AIBA, the international boxing association, is confident that the governing body will be able to reassume control of competitions at the Olympic Games for Paris 2024 having taken significant steps to address internal issues.
In 2019, the International Olympic Committee stripped Switzerland-based AIBA of the right to organise boxing at the Tokyo 2020 Olympics, delayed to this year, because of concerns over governance, finances, refereeing and judging. Instead the events are to be overseen by a special taskforce.
Since the suspension, the IOC has continually called for AIBA to implement recommended reforms as quickly as possible, and the current position is that the federation's status will be reviewed after this year's Olympics.
Kremlev, who was elected as AIBA president last December, has embarked on the reform process by forming a new constitution, establishing five new committees and has himself pledged to serve without remuneration.
At a press conference yesterday marking the six-month anniversary of his election, Kremlev said in response to a question from GlobalData Sport: "The decision to exclude us was taken by the IOC, but if our federation again becomes one of the best, there will be no reason for them to exclude us from Paris.
"I want to put a full stop on what has gone before and look ahead… What happened before we took charge was a major crime – but we are doing away with the past."
He added that by the end of 2021, the recommendations laid out by the IOC as a precondition to AIBA being allowed back in "will have been implemented… Our team will be able to achieve this.
"We think by that point there will be no reason to not let us back in, but the rest is up to the IOC. I am confident that we will be back because of the steps we are taking now."
Kremlev will serve until 2022, which would have marked the end of the term of Gafur Rakhimov of Uzbekistan, the previous president, who stepped aside in March 2019 after just five months in charge, following allegations that he had been involved in various criminal activities.
Rakhimov had been on a US treasury department sanctions list during his time in charge, after it was alleged he had been a key member of an international crime syndicate.
In terms of investigating the last decade's activities, AIBA has turned to outside help to uncover the full extent of its internal issues, by hiring Richard McLaren, the renowned sports law professor who has previously led high-profile investigations into doping and corruption in Russian sport and at the International Weightlifting Federation.
Kremlev said of the McLaren's probe: "The entire boxing community should help… AIBA is prepared to cooperate 100 per cent.
"If you want to be the best, you need to hire the best people. These experts are independent and autonomous, and we cannot do it on our own. We badly need independent help… We have so many problems related to finance and governance."
He added that McLaren's report would go into detail on the last decade of AIBA structural governance, and "we will uncover the names of the people involved [in any corruption]".
McLaren promised that he would be working entirely independently, and that his report would be published in full, with the goal being "to put everything out there in the public domain…
"Our job is to wholly uncover AIBA, and help them understand what the truth is so that they can engage in the process of self-reform.
"We will focus on AIBA individuals in executive and management roles, to look at all areas of possible corruption, and recommend courses of action and punishment if necessary."
In addition to establishing a new constitution and committees, AIBA has also approved an extended collaboration agreement with the International Testing Agency for 2021, including general management of the anti-doping programme, follow-up of World Anti-Doping Agency compliance and all out-of-competition testing for the sport of boxing across the year.
The governing body has also said it will also create a new communications strategy which will include the development of digital platforms and the creation of social media accounts.
Kremlev also said attracting new sponsors would be a priority, with AIBA facing financial challenges after mismanagement by previous regimes.
Last month, the federation finally settled a debt of $10 million owed to Azerbaijan company Benkons, which dated back to a loan in 2011.
Although Russian state-owned energy giant Gazprom recently struck a deal to become an AIBA partner until the end of 2022, in what Kremlev described last month as a "significant sponsorship", the president said yesterday that more commercial income is necessary.
He said: "We have secured financial stability for our organisation with the help of sponsorship from Gazprom, with more commercial support to come… But we will not stop there."
Kremlev claimed that the governing body is close to securing an agreement with a "major accounting firm" to conduct a full-scale independent audit of the federation's much-discussed finances, and confirmed the creation of a governance reform group, separate to the McLaren investigation, which will assess AIBA's current structures and "issue concrete recommendations for further improvement".
The group will be led by Professor Ulrich Haas, who is currently conducting a similar role for the World Anti-Doping Agency.