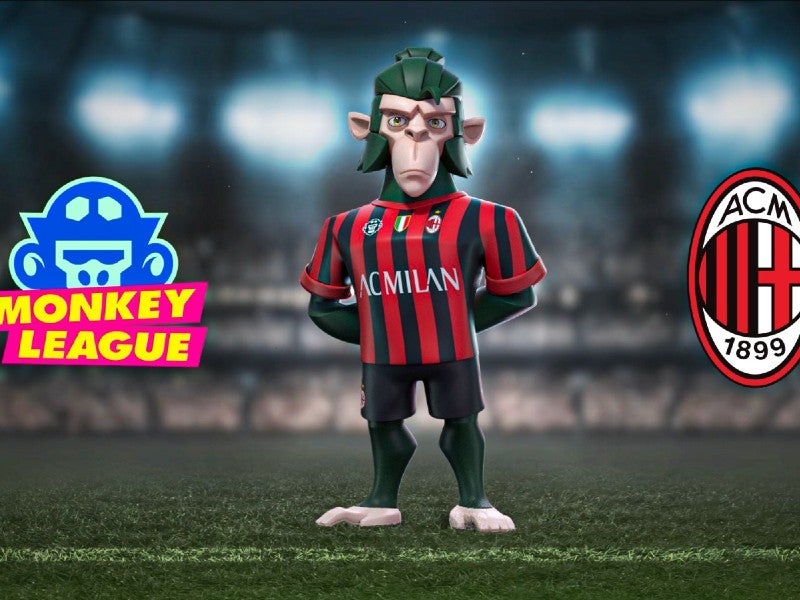 AC Milan, the top Italian soccer club, has announced a new partnership with MonkeyLeague, the blockchain-based web3 soccer game.
Through the agreement, announced today (September 23), the platform will become the Serie A club's new NFT gaming partner.
The "wide-ranging, strategic, and design" partnership includes the creation of exclusive, Milan-branded NFT game assets, wearables, special game tournaments, co-marketing events, and other initiatives, such as club players playtesting the game.
As part of the deal, MonkeyLeague will work closely with the Serie A champions to launch a new collection of branded AC Milan NFT game assets, including new MonkeyPlayers, skins, and stadiums.
The first batch will be auctioned on October 6 on the MagicEden NFT marketplace, with the NFTs going to the highest bidders.
In addition, MonkeyLeague will launch its initial MonkeyPlayer NFT breeding season in partnership with the team where AC Milan branded assets can randomly come out through the breeding process.
There will also be additional NFTs available, including in-game stadiums and land.
The partnership will also see Milan sponsoring several future MonkeyLeague esports tournaments. There will additionally be promotions, with prizes including VIP match tickets to games at Milan's San Siro stadium, and signed AC Milan shirts and other gear.
The agreement with MonkeyLeague is part of Milan's wider Web 3.0 strategy and their latest tie-up in this space.
In recent weeks, the Italian giants have partnered with blockchain-based fantasy engagement platform Sorare, which became its official NFT fantasy football game partner, and international soccer content portal OneFootball in a digital collectibles deal.
Casper Stylsvig, chief revenue officer of AC Milan, said: "We are thrilled to kick off this partnership with MonkeyLeague, a collaboration that allows us to strengthen our positioning in the field of digital innovation.
"We are particularly proud to be the first football club to partner with MonkeyLeague, bringing this game to our supporters around the world and offering them a new innovative way to engage with their favorite team."
Oren Langberg, head of marketing and partnerships at MonkeyLeague, added: "Partnering with AC Milan is another testament to what we are building and where we are headed as a game and game studio. It also represents a key step in our plans to bridge the Web2 and Web3 worlds."