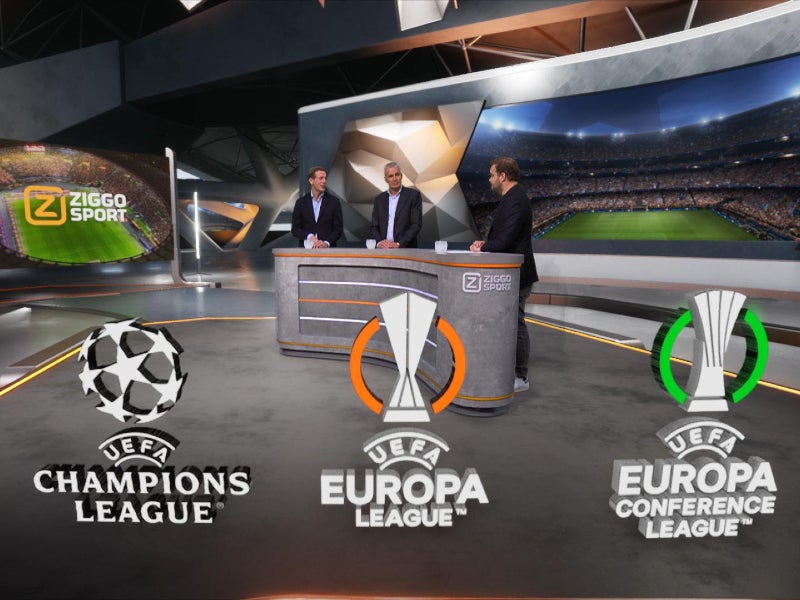 Ziggo Sport, the Dutch pay-television network owned by telecoms operator VodafoneZiggo, has secured exclusive broadcast rights to UEFA's top-tier European club soccer competitions in the Netherlands for the next three-year cycle.
The deal, running from the 2024-25 to 2026-27 seasons, includes the top-tier Champions League (UCL), second-tier Europa League, and third-tier Europa Conference League.
It is the first time all three competitions have been housed by one broadcaster in the Netherlands.
Ziggo said matches played by participating Dutch clubs will be available to watch for free via its Ziggo Go app. Ziggo customers will also gain access to the most important games on the Ziggo Sport 14 channel.
Ziggo Sport director Marcel Beerthuizen said: "This is an important step for Ziggo Sport.
"We believe the best sports content belongs on the biggest Dutch sports channel. Our track record-long-standing partnership with UEFA and love of football means that from now on, you can turn into Ziggo Sport for UEFA club football."
The deal comes after RTL, the prominent Ditch free-to-air (FTA) commercial broadcaster and current rightsholder of the UCL, confirmed earlier this week it had lost out on the bidding process to retain its rights for the next cycle.
At the time, Chris Woerts, soccer media rights negotiator for RTL's sister company Talpa Network, the Dutch media conglomerate, told the local evening talk show Today Inside he was "99.9% sure" the rights would go to Ziggo Sport.
RTL won the rights to the UCL for the 2021-22 to 2023-24 cycle in late 2020, outbidding incumbent fellow broadcaster Talpa in the process. Talpa secured the second-tier Europa League, previously shown by RTL, and the new Europa Conference League for the same period.
The two companies merged last year to create a cross-media group including television, streaming, and digital platforms.
Jeroen Hoencamp, chief executive of VodafoneZiggo, said: "Ziggo Sport has been distinguishing itself from competitors for years in the way we bring sports to every living room.
"It's only natural that international football is part of that, including UEFA club football. The sports channel is thus a vital part of our content strategy."
Ziggo Sport has an extensive portfolio of soccer rights, including Spain's LaLiga, France's Ligue 1, Italy's Serie A and Coppa Italia, Germany's DFB-Pokal cup competition, England's FA Cup, and the Belgian, Portuguese, and Scottish leagues.
The pay-TV operator also holds rights to the UEFA Nations League national teams competition and qualifiers for FIFA World Cups and UEFA European Championships.
However, Ziggo lost its rights to show the English Premier League from the ongoing 2022-23 season after it was acquired by the Viaplay streaming service, which launched in the Netherlands earlier year.
Image: Ian MacNicol/Getty Image