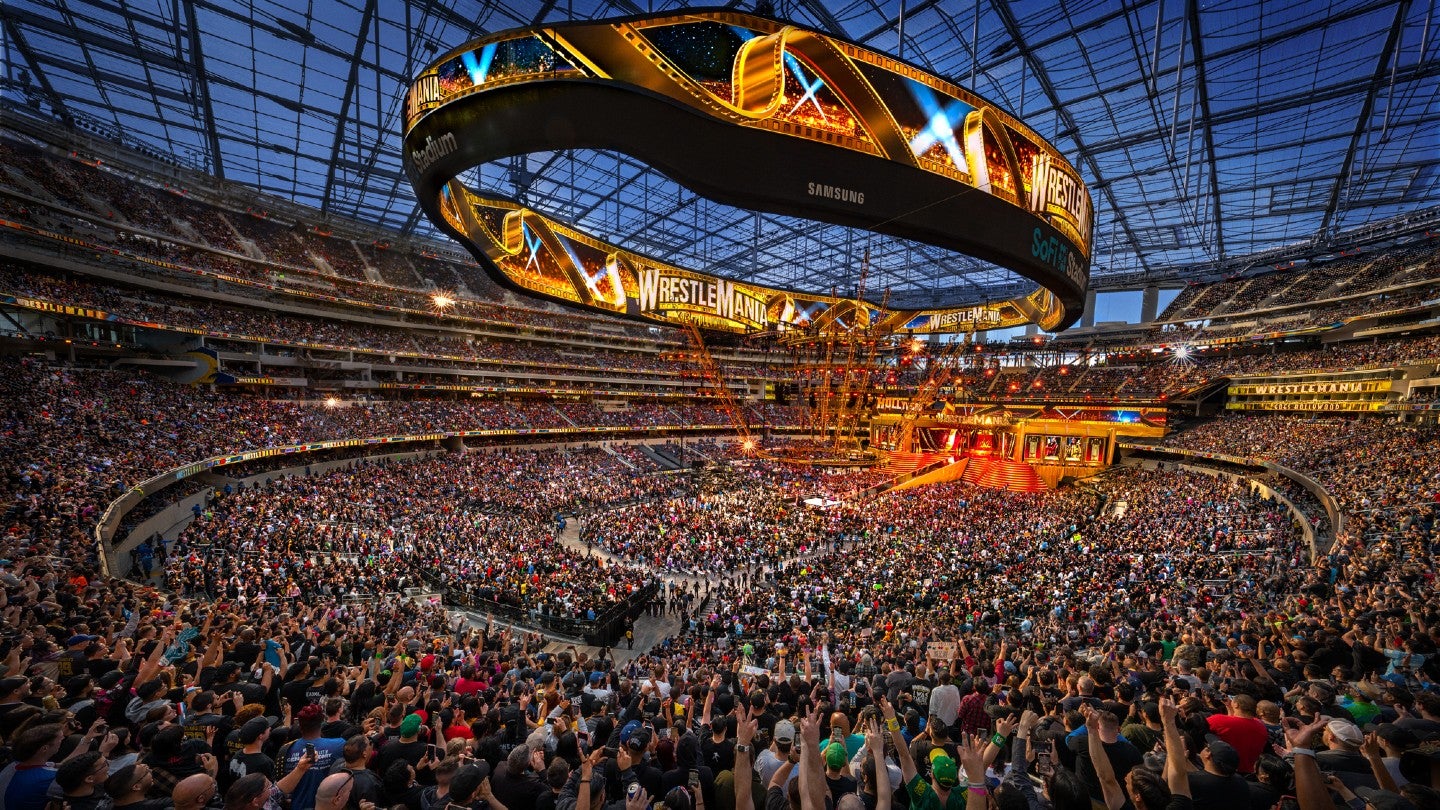 Wrestlemania 39 became the "most-successful and highest-grossing event in company history," according to the World Wrestling Entertainment (WWE) promotion.
The two-night (April 1 and 2), sold-out event held at SoFi Stadium in Los Angeles set new records for viewership, ticket sales, sponsorship, merchandise, and social media.
The second night of WWE's flagship event surpassed the existing global viewership record by 33%, immediately after the first night broke the record by 28%.
WrestleMania 39, also titled WrestleMania Goes Hollywood, generated a gate of more than $21.6 million, breaking the previous record by 27%, with 161,892 in attendance at SoFi Stadium over the two nights.
In addition, the event broke all-time sponsorship and merchandise records. Sponsorship revenue eclipsed $20 million, more than doubling the previous high. Merchandise sales were up 20% versus the mark set in 2022.
WrestleMania 39 also became the most social WrestleMania of all time, with over 500 million views and 11 million hours of video consumed over the two days, a 42% increase over last year.
In a busy start to the month for WWE, Endeavor, the international entertainment and sports giant, yesterday (April 4) announced a deal to form a new publicly listed company alongside the wrestling promotion.
The tie-up will see Endeavor merge WWE and its Ultimate Fighting Championship (UFC) mixed martial arts series, creating a sports entertainment heavyweight with a value of $21.4 billion.
Through the arrangement, Endeavor will hold a 51% controlling interest in the joint venture and existing WWE shareholders will hold the remaining 49% stake.
Meanwhile, WWE has announced its NXT Battleground event will take place live at the Tsongas Center in Lowell, Massachusetts on May 28.
This marks the first time that an NXT premium live event has taken place in Massachusetts and the second time since February 2020 that a stand-alone NXT show has taken place outside of the state of Florida.
NXT Vengeance Day was held at the Spectrum Center in Charlotte this past February.