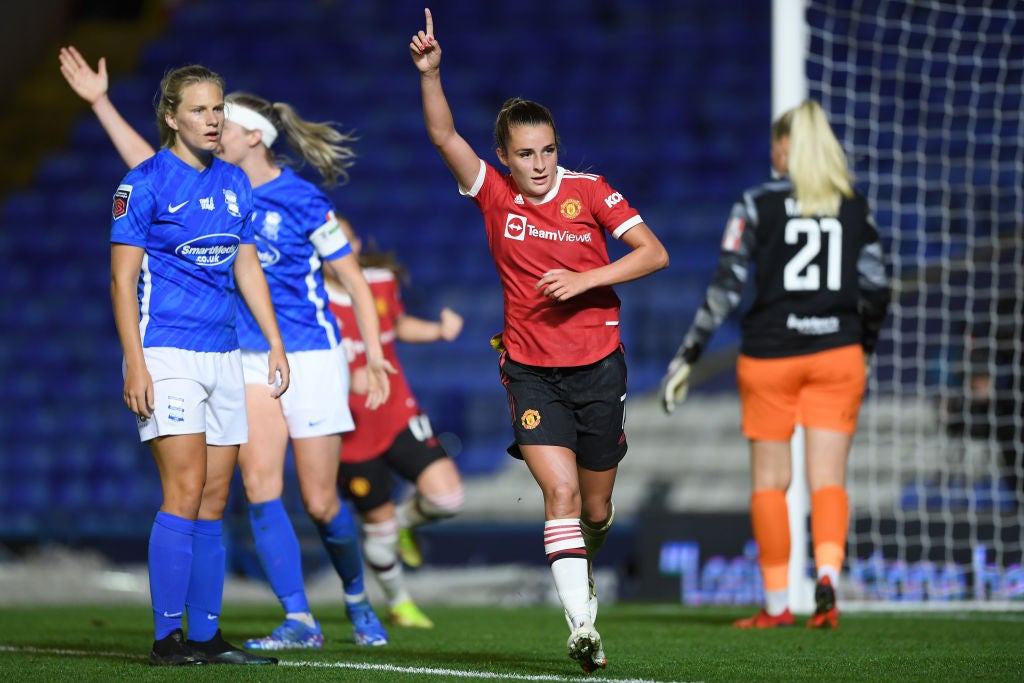 By Euan Cunningham at Leaders in London
Over the last 18 months, over a fifth of sport-watching adults in the UK have increased their consumption of women's sport, new research has found, with the rise in coverage levels of the top-tier domestic Women's Super League seen as a major contributing factor.
Discussing the research and the resulting report at the Leaders in Sport conference in London yesterday, Kelly Simmons, director of women's professional soccer at the English Football Association, and Jo Osborne, executive producer at Sky Sports in charge of the broadcaster's WSL coverage, both agreed that while the sector was hit hard by the pandemic, it is poised to bounce back predominantly thanks to the raised levels of broadcast exposure.
The research, published today by the Leaders organisation with the help of pay-TV broadcaster Sky Sports (which holds the lion's share of live domestic WSL rights, with other games shown by the public-service BCC), claims that 24 per cent of men are following more women's sport than before the coronavirus pandemic started early last year, and that 68 of all surveyed believe that the increased levels (and quality) of broadcast coverage of top-tier women's sport in the country has led to their interest and engagement being heightened.
Osborne, who has overseen the launch of the WSL coverage on Sky – it secured the rights from the start of this season in a three-year deal, following on from previous year's coverage on rival BT Sport – as well as the inaugural women's edition of The Hundred domestic franchise cricket tournament, said: "Our attitude to women's sport is to give it equal prominence where possible. We can't attempt to be Europe's premier sports broadcaster if we're discriminating between genders.
"People want to see our marketing and advertising women's sport in the same way as for men … I think we're charging ahead since coming out of the pandemic."
Simmons, meanwhile, speaking about the increase in the commercial viability of women's sport as a whole, and of the WSL in particular, said: "Not only are the traditional sponsorship metrics for the WSL and women's sport here increasing, but our partners [such as the Barclays bank and lifestyle brand Vitality] are also seeing increased recognition levels from fans who appreciate that they're sponsoring a growing league, and then think more positively about them.
"Ultimately that's our big challenge going forward – to continue to drive value, both commercially and for broadcasters.
"We have to build the value of these properties through enhanced partnerships with these types of brands."
Osborne said, on the same subject, that she thought "that brands can't be seen as a serious soccer sponsor without the women's game being involved.
"Sponsors can also get behind the scenes more with women's sport, as opposed to men's leagues and teams where access is more limited and space is very crowded."
She highlighted US women's basketball's WNBA as a success story that women's sports leagues in the UK should seek to emulate, in terms of all main factors – commercial activity, media coverage (across broadcast, digital and social media), as well as in terms of the league's social values.
Extending on that theme, she also praised the way the men's NBA "has done a lot to support their sister league. More organisations worldwide need to follow that trend."
On the subject of digital coverage of women's sport – which for many fans is a gateway, before they then turn to live coverage of matches from traditional broadcasters – the Sky Sports executive said: "Women's sport has a huge opportunity to use digital content such as social media and short-form clips to drive fans towards live matches … That way, we can almost personalise our content for what different fans want, whether that be full matches or short clips."
Almost a third (32 per cent) of those surveyed who were already watching women's sport, said they had increased their engagement and interest in the sector, and in specific athletes, through advertising and leagues such as the WSL being increasingly active on social media.
Simmons, meanwhile, said that women's soccer in the UK has relied completely on broadcasting and digital coverage to drive interest during the last 18 months, with fans not allowed into stadiums, with the over-the-top FA Player being of particular importance: "The streaming has been key for us in terms of getting coverage of other games below the top tier out there, as have our social media channels."
Of those surveyed in the report, 19 per cent said that increased news reporting on women's sport during the pandemic led to them tuning in to watch games on TV during the pandemic, or to buying tickets to games once Covid-related restrictions were lifted.
Nearly half of those surveyed (49 per cent) also said there should be parity in terms of how male and female athletes are marketed, and that both genders should receive the same levels of marketing and advertising exposure.
Meanwhile, referring back to both The Hundred and the WSL, Jonathan Licht, managing director of Sky Sports, said: "The success of [both competitions] highlight the momentum behind women's sport.
"Its recovery has been bolstered by an increased appetite from the public … and it is again prospering and overcoming challenges posed by the pandemic."
Tracey Crouch, chairperson of the ongoing fan-led UK government review into soccer in the country, commented on the report's findings, saying: "This research shows that despite the challenges of the pandemic, women's sport has great resilience and is not just surviving but thriving."