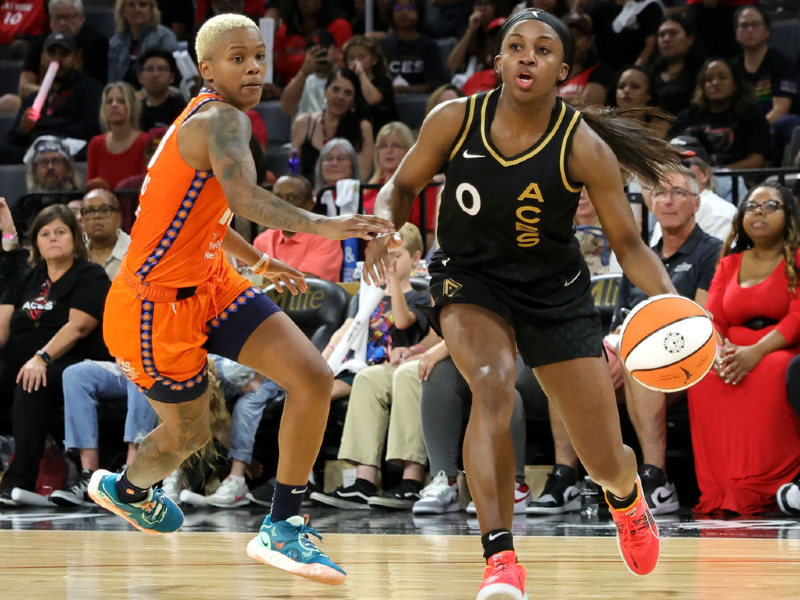 Domestic television ratings for the US' WNBA women's basketball playoffs have reached the highest mark in 20 years, according to ESPN, the heavyweight sports broadcaster and WNBA domestic rights partner.
The 19-game WNBA postseason (with the finals still to come), ESPN has said, is the most viewed playoff campaign since 2022, and these games have brought in an average of 439,000 viewers.
The semifinals, which saw a four-game series between the Seattle Storm and the Las Vegas Aces and a five-game contest between the Chicago Sky and the Connecticut Sun, averaged 488,000 viewers. This is the highest since 2010.
Of the semifinals, the third game between the Aces and Storm was the most-watched, bringing in 905,000 viewers for ABC. This made it the most-watched WNBA game since 2008, and the most-watched playoff encounter since 2003.
That audience peaked at 1.4 million.
The first game of the 2022 WNBA Finals took place on Sunday (September 11), as the Aces beat the Sun 67-64.
From the regular WNBA 2022 season, 25 games were covered across the ABC, ESPN, and ESPN2 sister channels, 40 on the CBS Television Network and CBS Sports Network, 46 on NBA TV, 17 on Amazon Prime Video, and 20 on Facebook Watch.
Fans were also able to watch 130 games live and on-demand via the WNBA League Pass.
Across the regular season, the WNBA secured a 16% rise in domestic viewing figures.
The overall viewership, combined between CBS and the Disney networks, averaged 379,000, making it the most-viewed season in 14 years.
The viewership increases highlight WNBA's rapid rise in popularity, which has also seen its social media video views increase 36% from last year, WNBA League Pass streaming service subscriptions by 10%, and merchandise sales by 50%.
The WNBA's official Twitter account has amassed nearly 790,000 followers, while its Facebook, Twitter, YouTube, TikTok, and Snapchat accounts generated 186 million video views and 821,000 hours of consumption during the regular season.
Late last week, the WNBA entered into a multi-year extension of its sportsbook and fantasy gaming partnership with US-based fantasy sports firm FanDuel.
Image: Ethan Miller/Getty Images