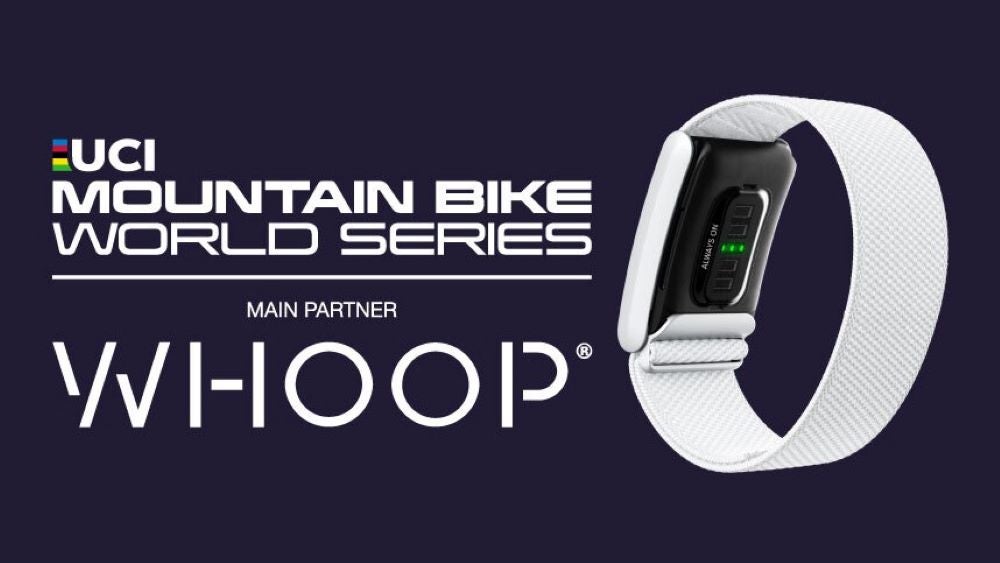 Whoop, the US-based wearable fitness tech brand, has partnered with the UCI Mountain Bike World Series competition.
The deal, struck with cycling's international governing body the UCI, will see Whoop devices used to enhance how fans experience the multi-discipline series, which debuts this year as the new home of the UCI's various Mountain Bike World Cup competitions.
Live biometric data from athletes wearing Whoop bands while competing will be integrated into coverage to be shared during racing, as well as in pre and post-show analysis and commentary.
It will be the first time data has been used in this way for coverage of Mountain Bike World Cup events.
Riders who will be wearing the devices include members of the Alpecin Deceuninck team, including Puck Pieterse and Sam Gaze.
The Mountain Bike World Series brings together the cross-country Olympic, cross-country short track, cross-country marathon, downhill, enduro, and e-enduro disciplines into a 13-meeting series, the debut season of which began in March.
Whoop has previously partnered with the UCI for the Track Champions League, the elite series run jointly by the UCI and US media giant Discovery (struck before its merger with Warner Bros.), but competitor data was not made available for broadcasts in that deal.
Whoop had a similar deal with Warner Bros. Discovery Sports for the 2022 Giro d'Italia via which the data was made available for broadcasts.
Warner Bros. Discovery Sports last year extended and expanded its existing deal with the UCI to cover the promotion and coverage of Mountain Bike World Cup events.
John Sullivan, senior vice president of marketing at Whoop, said: "This summer we're bringing Whoop Live to the international coverage of the UCI Mountain Bike World Series, supporting the sport, and providing viewers and fans with a unique viewing experience; with insights into the feat of human performance involved in mountain biking. It's our goal, together with Warner Bros. Discovery, to help elevate the broadcast, athletes, and commentators to this new era of the Mountain Bike World Series.
Our team is looking forward to being on site, to meet this community at several events this summer, and allow more people to unlock their own human performance with Whoop."
Scott Young, senior vice president of content and production at Warner Bros. Discovery Sports, added: "We're looking forward to integrating cutting-edge innovations into our broadcast coverage including partnering with Whoop for game-changing insights into rider performance.
"Not only will this help explain to spectators and our audience how an athlete is able to overcome their rival, but it will elevate the endurance and skill to a whole new level by enabling the most advanced real-time race analysis ever witnessed."