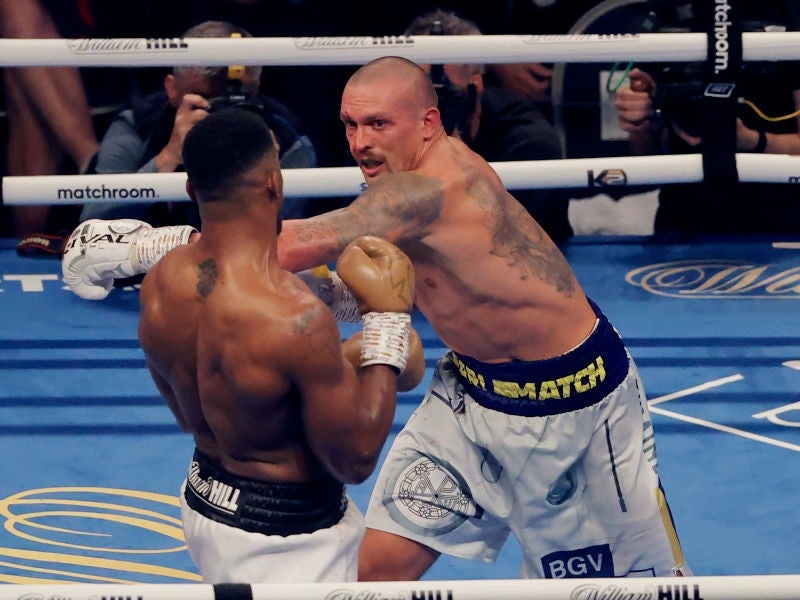 Whisper, the UK-based sports broadcasting production firm, has been awarded the contract to produce the host broadcast coverage of this month's highly-anticipated boxing rematch between heavyweights Anthony Joshua and Oleksandr Usyk.
Whisper, it was announced earlier today (August 8), will "draw on its significant host broadcast experience to deliver to box office events across the globe", and will work with a range of international network partners to distribute action from the fight, which will take place on August 20 in Jeddah, Saudi Arabia.
The firm will be working with Chapter 3 Graphics in terms of the event's production, with the collaborative effort aimed at creating "stunning audio-visual effects and an immersive, entertaining lighting experience, which will be broadcast to millions …"
The production company has already produced the two pre-fight press conferences which have taken place so far and has also delivered various promotional materials.
The delivery team for the fight itself, Whisper has said, will include members from the UK as well as local crew.
Sunil Patel, chief executive at Whisper, has said: "A heavyweight championship title remains one of the biggest prizes in sport. This is such a prestigious event and we share the ambition of Skill Challenge Entertainment [the fight's local organizers] to make 'Rage on the Red Sea' a fight night to remember globally.  We love delivering huge sporting moments that entertain the world and this is a huge moment in boxing."
The fight represents an effort by Joshua to reclaim the WBA, WBO, IBF, and IBO world titles he lost when he was beaten by Usyk last year in a unanimous judges' decision.
The rematch between Joshua and Usyk had been due to take place on July 23, but a delay was announced at the end of May due to what were described as broadcast wranglings between UK pay-TV broadcaster Sky Sports, which had UK rights for Joshua, and streaming service DAZN, which has international rights for him.
Last month (July) it was announced Sky Sports had beaten DAZN to the broadcast rights specifically for the rematch, for over $28 million. The fight will be shown as a pay-per-view event on Sky Sports Box Office when it takes place later this month.
Last week, UK-based commercial radio broadcaster TalkSport secured exclusive audio coverage rights in the UK and Ireland to the event.
The Whisper production deal, meanwhile, represents the second major rights swoop for that firm within five days.
Late last week, Whisper entered into an arrangement to produce coverage of the Paris 2024 Paralympic Games for Channel 4, the UK rights-holder.
Whisper was awarded the contract to that event "after an extensive and competitive tender process", the firm said.
Channel 4 has held official UK broadcast rights to the Paralympics – across all platforms, linear and digital – since the London 2012 edition.
Whisper held the same role for the last Paralympic Games, in Tokyo, Japan, last year.
The broadcaster's head of sport, Pete Andrews, has said: "Whisper demonstrated that they were aligned with Channel 4's aspirations for the Paralympics and we're really looking forward to working with them to shape how our coverage of the Games continues to set the global standard."
Mark Cole, Whisper's managing director, added: "Delivering the 2020 Tokyo Paralympics was truly a stand-out moment for us and, to have the chance to do it again, this time with less Covid restrictions and even more opportunity for creativity and ambition, is something very exciting.
"So many values of both the Paralympics and Channel 4 align with ours; it really is an honor to be delivering this again and a huge thank you to Channel 4 for their support."
Aside from boxing and Paralympic sport, Whisper currently produces broadcast coverage of action from motorsport's prestigious Formula 1, top-tier international cricket and rugby, and international women's soccer.
It is currently the host broadcaster for clients including mixed martial arts' Bellator, W Series Racing, West Indies Cricket, and New Zealand Cricket.
It will also act in that capacity for the Rugby League World Cup in England later this year.