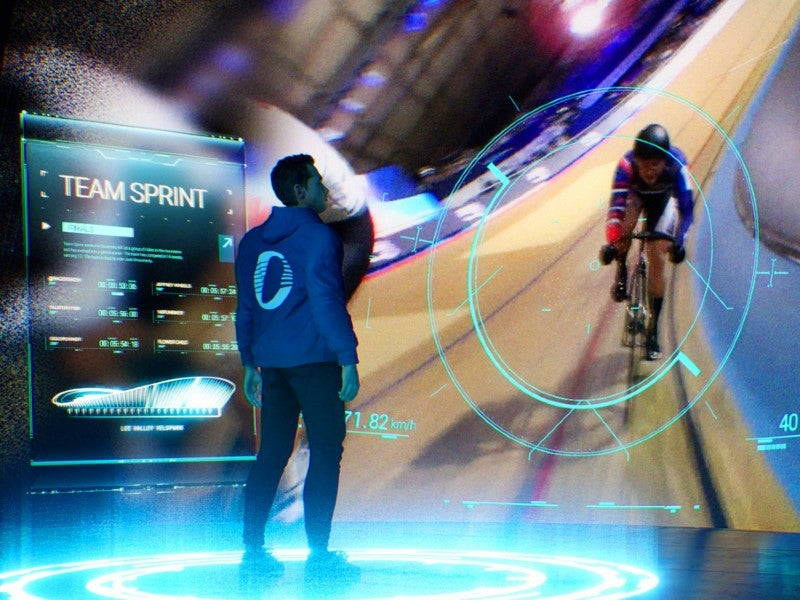 Warner Bros. Discovery Sports (WBDS), the sports division of the multinational media and entertainment giant, is planning to launch a new metaverse dedicated to motorcycling's FIM Speedway Grand Prix series next year after unveiling its first project at cycling's UCI Track Champions League (TCL) event in London this weekend.
On Friday (December 5) at Lee Valley VeloPark in London's Olympic Park, Discovery Sports Event (DSE), the promotional arm of WBD, gave an exclusive preview of its first online virtual experience centered around the pro cycling circuit alongside metaverse service firm Infinite Reality – the pair's first project since announcing their multi-year deal in October.
Speaking at the event, François Ribeiro, head of DSE, said WBDS and Infinite Reality's four-year partnership would see them develop one new metaverse per year on four different assets promoted by the media giant, starting with the TCL this year and Speedway Grand Prix (SGP) next year.
He said: "We've obviously started with the TCL because it felt very natural to us, firstly because of the look and feel of the event. The in-stadium already looks very modern, and the timing was perfect since we met only met a few months ago it felt perfect to launch our first metaverse in the first year of our partnership. But then we will launch another metaverse next year which will be around FIM SGP – the second 100% in-stadium property that we promote.
"Then we will be more properties in 2024 and 2025, so at the end of the day you will have a kind of ecosystem, environment, or constellation of four different metaverses sitting in the same environment and if you see the schedule of our events, it means we will be able to engage with fans almost on a weekly basis, which is exactly what we are after to keep fans engage, attract them to the sport, tell them stories, give them the opportunity to meet together from the beginning to the end of our sporting year."
The TCL was launched in March 2020 as a joint initiative between DSE and the UCI, cycling's international governing body, under an eight-year partnership to build the global profile of track cycling beyond the four-year Olympic cycle.
DSE, meanwhile, oversees all operational and commercial aspects of motorcycling's speedway, across broadcast and sponsorship sectors, as well as hospitality opportunities, as part of a decade-long partnership with motorcycling's governing body the FIM agreed in October 2020.
Ribeiro said that, as the global promoter of the UCI Track Champions League (and the SGP), WBDS is in a unique position to create comprehensive Web3 fan engagement experiences that can provide access to all live and non-live content in one place.
He explained: "We are the organizer, the producer, the broadcaster, the commercial rightsholder, and the distributor but we did not realize how strong that position was on the market in the Web3 world and when we did realize, we said we have to take a risk and be a pioneer in the sport to create the metaverse."
WBDS' TCL metaverse not only features 10 live television feeds, including cameras on the UCI referee, live director, and on riders' bikes, that users can switch between during races, but also data points such as speed and angle when rounding banked turns.
The virtual experience also contains areas dedicated to social interaction and non-live content including rider interviews, previous races, and documentary series that the media giant hopes will keep fans engaged between live events.
Ribeiro confirmed DSE would look to launch a virtual training and racing product on the metaverse next year where users can compete with others around the world, similar to Zwift.
He said: "Ultimately, the point of this exercise to create the ultimate digital fan experience, yes we are absolutely are dreaming to give the opportunity to fans to compete from their house, from their home trainer, compete in the metaverse against their friends but also benchmark their own performance against the professionals.
"Because we have that data, we should be in a position to create something really engaging and really cool."
Asked by GlobalData Sport about the possible commercial opportunities the metaverses could create for DSE, Ribeiro said the TCL metaverse would be free to use as it looks to broaden its audience.
He said: "The TCL will be free, but we haven't decided yet for speedway – we've only just started to work on it for next year refining the user experience.
"The whole point of the TCL is to enlarge the audience, so we want to make the product available to as many people as possible … The preview version is available on invitation, but next year we will be promoting that thing in everything we are doing from media, press releases, to tv products – using the power of the WBD network – digital, linear, cable, OTT to promote it because we don't think of [the metaverse] as being in competition with television.
"We own the rights, and we think that this is really an amazing way to promote our property to a larger audience. Frankly, I have an 11-year-old son and he's not necessarily watching Eurosport as a linear property, but when he sees [the metaverse] on my computer at home … I can get his attention.
"That is the whole purpose of that product, so the TCL has to be connectable to the larger audience."
However, he added there would be opportunities in the future within the metaverse for sponsorship activations and product launches that could take place within the virtual space.
The preview experience is currently accessible on desktop and through web browsers, but development work is ongoing to allow the experience to be available on a mobile app, as well as virtual reality headsets and similar technology in the future.
Ribeiro said with only three months of development time, DSE and Infinite Reality would look to improve the user experiences and will react and adjust features as and when it is necessary, adding: "This is a new technology we are talking about. We have decided along with WBD that DSE would be a kind of laboratory to learn about this area and the only way to learn about it is to do it.
"We decided to stop scratching our heads and wondering what to do with the metaverse. The reality is that we will learn, and people will get into it and we will find out how they will use it, what they think of it, and I think the importance there is to stay very humble, be prepared to change some functionalities across over the course of our partnership and see what works and what has to be changed.
"We are fully prepared with Infinite Reality – they are the experts – and the reality lies in between both sides of the partnership but for sure we do not expect everything we do to be a success.
"We are probably the first ones in the sports industry to go that high and that deep into the metaverse in terms of giving a 360-degree experience, and, yes, there is a risk factor for us and we have to accept that TCL [metaverse] season two might be a bit different to season one and we are fine with that."