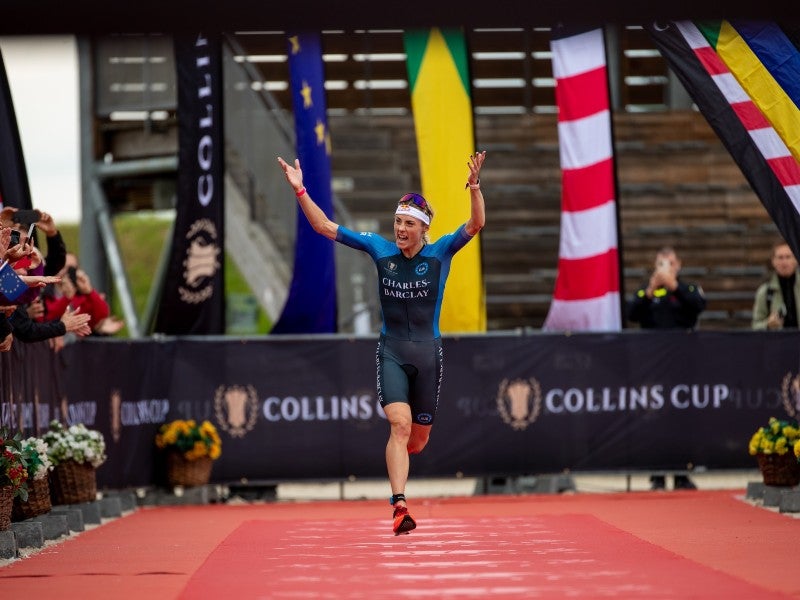 Warner Bros. Discovery (WBD), the multinational media and entertainment giant, has today (July 13) announced that it has secured media rights across Europe, Asia-Pacific, and the Indian subcontinent to triathlon's new PTO Tour.
The tour, organized by the Professional Triathletes Organisation (PTO), will be covered exclusively in over 50 European countries, as well as non-exclusively across 11 APAC markets and eight countries in the subcontinent.
The agreement between the PTO and WBD will see both live and on-demand coverage of the PTO Tour being provided in those territories, both on WBD's linear channels, as well as via the Discovery+ streaming service, the Eurosport mobile app, and its Global Cycling Network (GCN) platform.
WBD has said that the deal builds on its coverage of the inaugural Collins Cup triathlon event last year, the PTO competition which sees three teams – Europe, USA, and International – take part.
Each PTO Tour event will have commentary options in 20 languages, while shoulder programming (such as features, count-down shows, and athlete interviews) will be included in the coverage.
There will also be race highlights available on-demand.
Trojan Paillot, vice-president of sports rights acquisitions and syndication at WBD Sports Europe, said: "The new PTO Tour is a fantastic proposition, as we saw first-hand from the Collins Cup last year. We are hugely excited to provide the scale and expertise of Warner Bros. Discovery Sports, using the reach of our broadcast network and engagement at scale of our digital platforms to support the growth of the PTO Tour.
"We have a unique ability to reach audiences wherever they are choosing to consume support – whether on TV, streaming, or online. Alongside the breadth of coverage, content, and programming we will present, this ensures we will engage existing and new fans of triathlon across Europe and beyond."
Tim Godfrey, the PTO's chief marketing officer, added: "The global broadcast viewing figures for the Collins Cup in 2021 surpassed all expectations and demonstrated that there is an appetite for compelling live broadcasts of Triathlon events …
"That success … helped shape our thinking on how to build this new partnership, which includes more standout events and an exciting combination of live, shoulder programming and editorial content across Warner Bros. Discovery's impressive broadcast, digital and social platforms. This partnership around the PTO Tour is primed to take the sport and its superhuman athletes to the next level."
The 2022 PTO Tour will comprise the Canadian Open (Edmonton, Canada, July 23-24), the second-ever Collins Cup teams event (Samorin, Slovakia, August 20), and the US Open (Dallas, Texas, September 17-18).
Across next year and 2024, there are plans for the PTO Tour to be expanded by adding a European Open and an Asian Open.
The European countries in which PTO Tour action will be covered by WBD platforms are as follows: Albania, Andorra, Armenia, Austria, Azerbaijan, Belarus, Belgium, Bosnia-Herzegovina, Bulgaria, Croatia, Czech Republic, Cyprus, Denmark, Estonia, Finland, France, Georgia, Germany, Greece, Hungary, Iceland, Ireland, Israel, Italy, Kosovo, Kazakhstan, Kyrgyzstan, Latvia, Liechtenstein, Lithuania, Luxembourg, Macedonia, Malta, Moldova, Monaco, Montenegro, Netherlands, Norway, Portugal, Poland, Romania, San Marino, Serbia, Slovakia, Slovenia, Spain, Sweden, Switzerland, Tajikistan, Turkmenistan, Turkey, United Kingdom, Ukraine, Uzbekistan, and Vatican State.
In APAC, the list covers Cambodia, Hong Kong, Indonesia, Malaysia, Mongolia, Myanmar, Papua New Guinea, Philippines, South Korea, Taiwan, and Thailand, while in the Indian subcontinent it extends across India, Afghanistan, Bangladesh, Bhutan, Maldives, Nepal, Pakistan, and Sri Lanka.