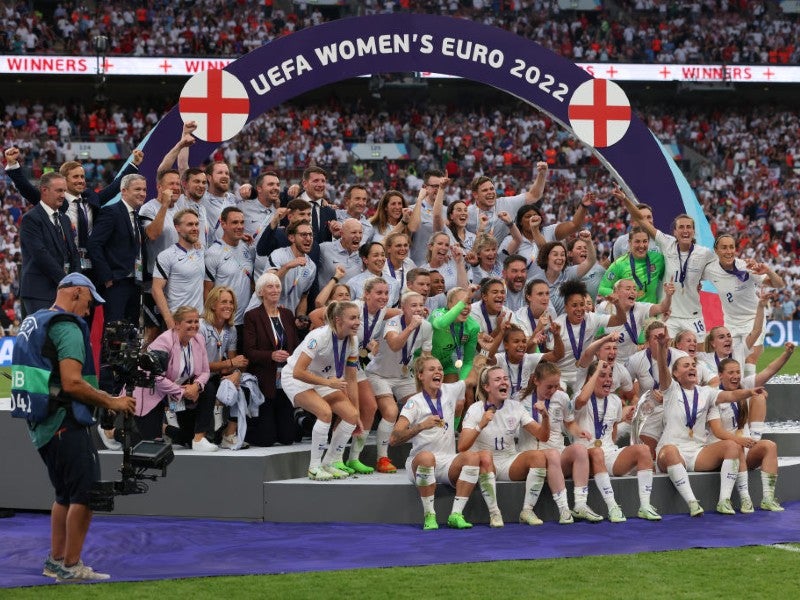 This year's UEFA Women's Euro, the continental national teams competition, delivered an economic boost of £81 million ($89.4 million) for the host cities in England and generated an increase of almost 300% in media rights value from the previous edition.
The figures were revealed in a post-tournament flash impact report released on Tuesday (October 4) by European soccer's governing body UEFA and England's Football Association (FA) that outlined the key initial impacts measured from the event.
The report, produced by international consultants Ernst and Young (EY), analyzed data across six categories: operational success, growth of the professional game, physical exercise, sport and grassroots football participation, economic impact, social impact, and enhanced international reach.
The £81 million delivered in economic activity to the nine English cities is significantly higher than the £54 million EY projected in its pre-tournament impact report released in May.
Matches at the Women's Euro, which took place between July 6 and 31, were held in Brighton and Hove, London, Manchester, Milton Keynes, Rotherham, Sheffield, Southampton, Trafford, and Wigan and Leigh.
The study showed that there was £44 million in total spectator spending around matchdays and trips across England, while domestic and international visitors made over 552,000 day and overnight trips to host cities.
As previously revealed, the tournament also broke several attendance, broadcast, and social media engagement records.
EY's report revealed that the 2022 Women's Euro achieved a 289% increase in media rights values from the 2017 edition in the Netherlands.
Across the tournament, the total match attendance was 574,875, including 110,555 international spectators from 104 countries.
The final, in which England won by beating Germany 2-1 at Wembley Stadium, drew a record 87,192 attendees, while there was an average match attendance of 18,544 across the competition.
The tournament, which was delayed for a year due to the Covid-19 pandemic, proved to be the most-watched Women's Euro ever with a projected global live viewership of 365 million across 195 territories.
Globally, UEFA Women's Euro 2022 generated 453 million cumulative social interactions, with TikTok (39%) and Twitter (21%) contributing the most.
Other key figures from EY's report showed that 85% of spectators are likely to attend professional international and domestic women's football events again in the future, while 88% are likely to watch on TV.
In addition, 84% said the tournament has improved their perception of women's soccer.
Nadine Kessler, UEFA's chief of women's football, said: "This report confirms the positive impact UEFA Women's Euro 2022 is still having long after the final whistle and the historic legacy of this tournament.
"We must now capitalize on these successes to continue advancing our game for girls and women, to secure further commitments to women's football, as well as to showcase the benefits of hosting this tournament as the bidding process for UEFA Women's Euro 2025 is underway."
Sue Campbell, UEFA Women's Euro 2022 board member and director of women's football at The FA, added: "Our aim for this tournament was twofold: to deliver a record-breaking tournament and to leave a tangible legacy to grow the women's game.
"We saw records tumble over the summer and this report not only confirms that but importantly highlights its incredible short-term legacy on growing the game.
"Fans have been inspired to play and support, with record attendances witnessed in our domestic leagues and a sold-out Wembley Stadium to look forward to in a few days' time (when England face the US on Friday). Our work certainly does not stop here, we will continue to use this tournament to inspire positive change, not only in our host cities but across the country."
UEFA will release a full post-event impact study in the summer of 2023, one year after the tournament.