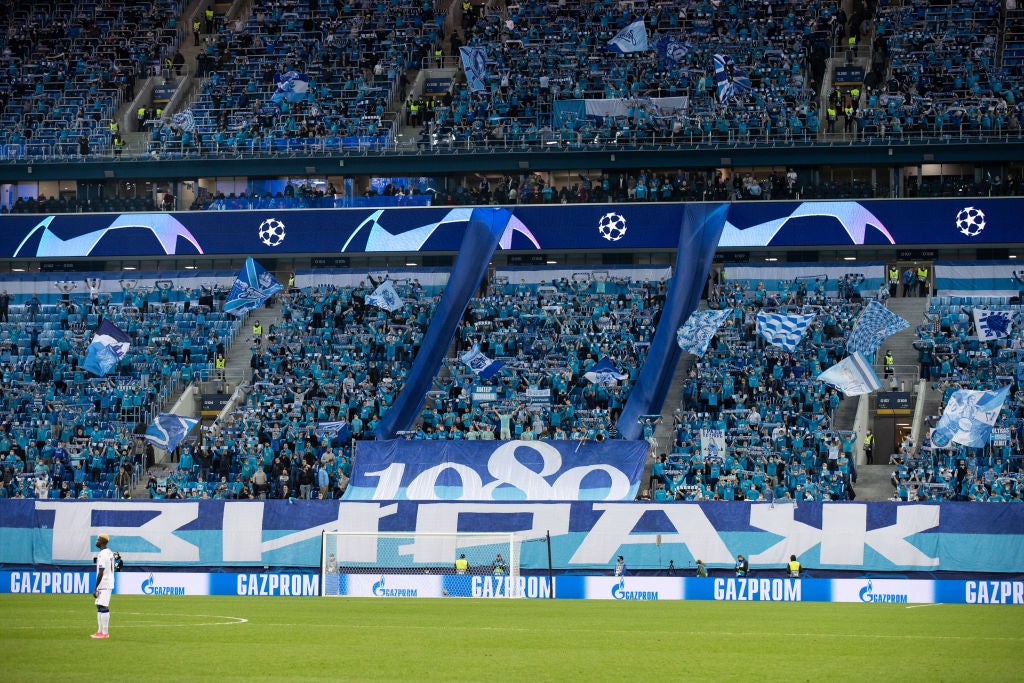 UEFA, European soccer's governing body, has called an emergency extraordinary meeting for tomorrow (February 25) after which it is expected to announce the final of its elite Champions League clubs competition will be moved from Russia following the escalation of the situation between the country and Ukraine in the last 24 hours.
After Russia's invasion of Ukraine today (February 24), the continental body has been forced to act as it is due to stage the final at the Krestovsky Stadium – known as the Gazprom Arena through sponsorship by the majority state-owned Russian oil and gas giant – in Saint Petersburg on May 28.
UEFA said president Aleksander Čeferin has decided to call an extraordinary meeting of the executive committee tomorrow (February 25) at 10am CET "in order to evaluate the situation and take all necessary decisions."
In a more detailed statement released this afternoon, the federation said: "UEFA shares the international community's significant concern for the security situation developing in Europe and strongly condemns the ongoing Russian military invasion in Ukraine.
"As the governing body of European football, UEFA is working tirelessly to develop and promote football according to common European values such as peace and respect for human rights, in the spirit of the Olympic Charter. We remain resolute in our solidarity with the football community in Ukraine and stand ready to extend our hand to the Ukrainian people.
"We are dealing with this situation with the utmost seriousness and urgency. Decisions will be taken by the UEFA executive committee and announced tomorrow."
UEFA has this week faced strong calls to relocate this season's Champions League final from St. Petersburg and is now set to do so after the country launched an attack on Ukraine.
Earlier this week, the organization stated that it is "closely monitoring the situation" but stressed that "at present, there are no plans to change the venue".
The US, the UK, and the EU are among those that have announced economic sanctions on Russia, with others set to follow suit.
Against this backdrop, it appears highly unlikely that a pan-European body such as UEFA could feasibly attempt to hold a final of its showpiece club competition in a Russian city.
Other major events due to take place in Russia this year include the FIVB Volleyball Men's World Championship (August 26 to September 11) and the FINA World Swimming Championships (25m) (December 17 to 22).
Conrad Wiacek, head of sport analysis at GlobalData, commented: "Given the political uncertainty in the region and threats of sanctions from the UK, the EU, and the US, UEFA will be under tremendous pressure to move the final.
"While UEFA will likely try to claim that sport and politics should not mix, one UEFA member infringing on the sovereignty of another will likely add even greater pressure on the governing body to award the final to another city …
"However, with Gazprom's sponsorship agreement with UEFA worth €40 million ($45.4 million) annually, moving the final away from St. Petersburg could put one of UEFA's highest-grossing (but most controversial) partnerships under threat.
"With the threat of clubs still looking at a super league, UEFA can't afford to see a high-profile sponsor walk away."
Despite that, UEFA is also coming under mounting pressure to terminate its lucrative sponsorship agreement with Gazprom.
Champions League broadcasters are permitted to show Gazprom commercials as part of their rights deals and have continued to do so this week despite concerns from viewers that the spots are inappropriate given the situation in Ukraine.
Pay-TV broadcaster BT Sport, which holds rights to the Champions League in the UK, and sports streaming service DAZN, a rightsholder in Austria, Germany, and Canada, yesterday (Wednesday) stated that they had no choice but to allow the promotions under the terms of their deals with UEFA.
The ads were shown as normal during Atletico Madrid's 1-1 draw against Manchester United and Benfica's 2-2 draw with Ajax last night.
In a statement to Bloomberg, BT Sport said: "As part of our UEFA contract we are obliged to show the UEFA Champions League bumpers, which are provided to us by UEFA to include in our broadcast."
DAZN added: "Commercials from various UEFA sponsors are shown as part of our UEFA Champions League broadcasts. DAZN has no control over these."
Gazprom's deal with the continental body is worth €40 million per season and has been a sponsor of the Champions League competition since 2012.
In May 2021, the energy giant extended its Champions League sponsorship until 2024 and enhanced its partnership with UEFA to become a partner of two editions of the European Championships (Euro 2020 and Euro 2024).
Following Russia's mass invasion of breakaway territories in Ukraine, broadcasters are now understood to be seeking guidance from UEFA on whether to continue showing Gazprom advertising during their live coverage amid growing concerns from viewers.
In a statement, UEFA said: "Regarding Gazprom, UEFA will continue to closely monitor the situation. We have no further comments to make on the topic at this stage."