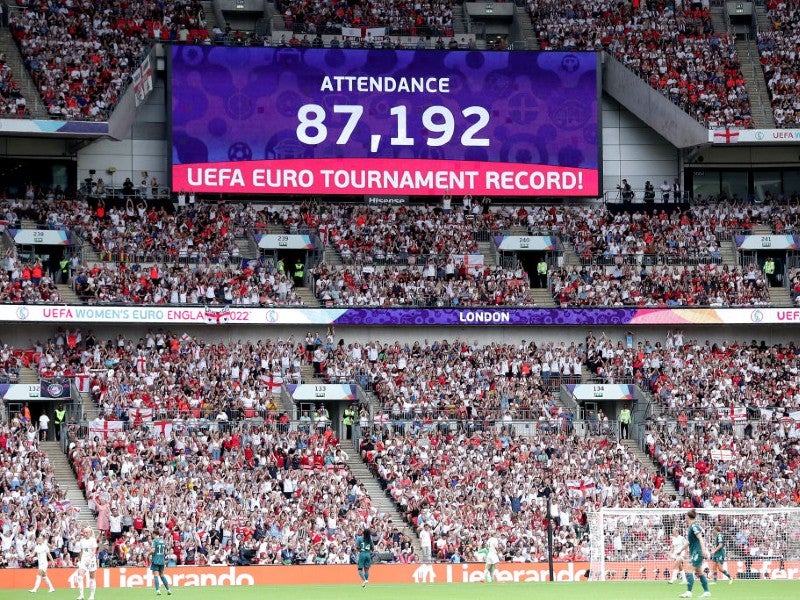 This summer's UEFA Euro 2022 generated a record cumulative global live audience of more than 365 million and ranked as the most attended edition of the major soccer tournament.
The pan-continental competition, which was staged across England, ran from July 6 to 31 after being postponed by a year due to the coronavirus pandemic and was shown worldwide via more than 60 broadcast partners and via UEFA's streaming platform UEFA.tv in selected territories.
Tournament organizer and European governing body UEFA said the audience numbers were more than double that for the previous women's Euros in 2017, which drew 178 million, and 214% higher than the 2013 edition (115 million).
The final, which was won by hosts England after they defeated Germany 2-1 in extra time to win their first European title, attracted a cumulative live viewership of 50 million worldwide, which was over three times more than the 2017 final.
UEFA said the viewership figures were made up of "TV, out-of-home viewing, and streaming."
The 365-million worldwide audience includes the 280 million viewers secured by members of the European Broadcasting Union (EBU), announced earlier this month.
The EBU said member broadcasters of the public service network showed a cumulative total of over 1,200 hours of live coverage from the 16-side national teams' tournament.
Aside from the record audiences secured in both countries involved in the showpiece final, substantial viewing figures were recorded in other countries across the tournament for that game, including the Netherlands, Norway, Sweden, Finland, Austria, and Iceland.
Domestically, the final was watched by a peak television audience of 17.4 million on public broadcaster BBC, making it the most watched women's football game on UK television. There were a further 5.9 million streams of the game on the BBC streaming platform BBC iPlayer and through the BBC Sport website.
German free-to-air rightsholders ARD and ZDF drew an average audience of 17.9 million for the final – a market share of 64.8%, according to German audience research firm AGF.
In addition, this year's tournament generated 453.3 million cumulative social media interactions, with TikTok (38.7%) and Twitter (21.1%) having the most. UEFA secured 590,000 new followers across its women's social media accounts during the tournament.
The tournament also broke records for crowd attendance, breaking record average attendance (18,544) and record aggregate attendance (574,875) for the tournament, while a record crowd of 87,192 watched the game at London's Wembley Stadium.
Last year's men's Euro 2020 generated a cumulative global live audience of more than 5 billion, while the final between England and Italy at Wembley, which was broadcast on both the BBC and commercial broadcaster ITV peaked at 30.95 million viewers.
Image: Richard Sellers/Getty Images