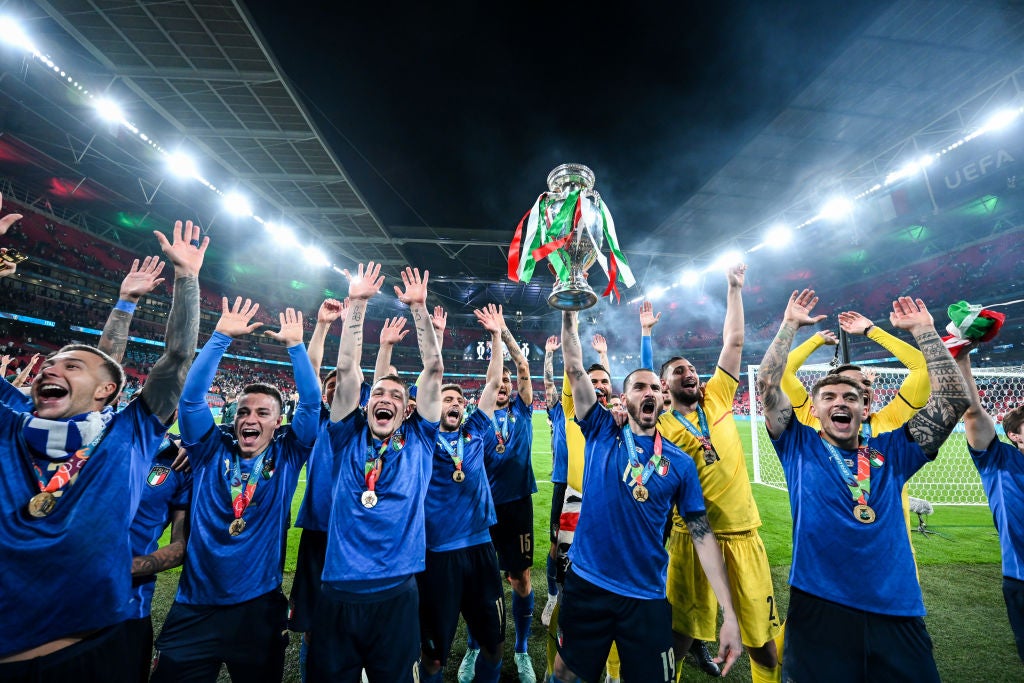 Uefa, European soccer's governing body, has put rights to its premium men's national team competitions up for tender in Italy.
Uefa and the CAA Eleven agency, its marketing and rights distribution partner for national team events, have put rights to the following competitions out to market: the European Championships in 2024 and 2028; the qualifying campaigns for those two tournaments; the European qualifiers for the Fifa World Cup; the next three editions of the Uefa Nations League; and other international fixtures in that time period organised by the continental body.
The deadline for the tender, which first went live on 27 October, is 24 November, at 14:00 Central European Time, and all inquiries from interested networks should be directed to info@caa11.com.
Rights to major Uefa national team competitions, including 27 out of 51 games at the 2020 men's Euros (which Italy won earlier this summer after beating England in the final), are currently held by public-service broadcaster Rai, in a deal which started in September 2018 and March 2022.
Rai is also covering the ongoing qualifying campaign for the 2022 Fifa World Cup in Qatar, and also showed the most recent edition of the Nations League.
Uefa has already struck agreements for these 2022-28 competitions in 17 European countries, with the deadline for bid submissions coming up on 16 November in another nine countries – including in Ukraine, Croatia, Serbia, Slovenia and Albania.
Outside Europe, the bid process concluded last month in Oceania and in the Indian sub-continent.
Bids have already been sent in and are being reviewed in markets such as sub-Saharan Africa and Indonesia.
Last week, Fox Sports, an arm of the US national network, secured six-year rights to these national team competitions between 2022-28, one of the first non-European broadcasters to cement an agreement with Uefa.
Rights to the men's Euros in the US (alongside other Uefa national team competitions) were previously held by international sports broadcaster ESPN, which first secured the property in advance of the 2008 edition in Austria and Switzerland but saw its most recent deal run out earlier this year.
ESPN's package cost in the region of $115 million and ran out after the recently completed Euro 2020 tournament (which was delayed until this summer from its original slot due to the coronavirus pandemic).