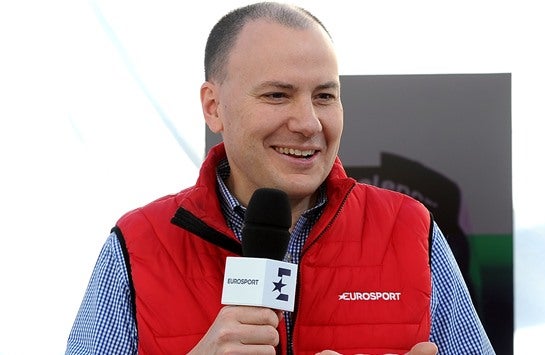 Any new sports property that Discovery would consider acquiring global rights for, in the same way that it acquired the international rights for golf's PGA Tour, must first pass through a series of 'filters', says Jean-Briac Perrette. And those filters, on the face of it, would seem to rule out
soccer's top leagues.
We're speaking at Discovery's international headquarters in a high-tech business park located off Chiswick High Road in London. It's about two weeks after the announcement of the PGA Tour deal and I've asked Perrette, the 47-year-old president and chief executive of Discovery Networks International, to describe the process by which Discovery identified the PGA Tour as what he calls a "vertical" justifying that $2-billion outlay in rights fees and services over 12 years.
The deal represents Discovery's biggest international sports
media rights investment since it agreed a €1.3-billion ($1.5-billion) deal in
2015 to broadcast the Olympic Games in Europe from 2018 to 2024, having
completed its acquisition of a majority stake in Eurosport, the pan-European
sports broadcaster, the year before.
By a 'vertical', Perrette means: a property that will
support distribution via a range of traditional and digital platforms
worldwide, both pay and free-to-air, and which belong both to Discovery and to
third parties; and also one that comprises a variety of content from live
rights to news to 'how-to' programmes.
This is what Perrette calls the "future model" for the
consumption of sport. "Right now the focus is on sports 'broadcast'," he says. "I
use the word purposefully. Not only are we and others distributing one to many,
but also it's caught up in the 'buffet' of sports. Our thesis is not to say
that won't continue to exist: lots of people still want to consume sport this
way. It's not either/or; this is an 'and'."
Then, perhaps surprisingly, Perrette draws an analogy with
that oldest of communication media, print, to illustrate his vision for the
future model, saying: "We also see that there was a model that existed very
successfully, and was executed by publishing groups. If you're a golf fan, look
at the [magazine] racks at the airport. Today, what has become a challenge for
these groups is an advertising and business model challenge. People don't
necessarily want print [any more].
"No one has used the great power of the internet to do more
than just serve articles online, to nurture that community. But it hasn't
disappeared. These people have not evaporated. If anything, they've become more
interested and fanatical. Just look at the blogs around the [recent] US Open,
there's an astonishing fervour and energy."
Perhaps contentiously, Perrette adds that while both TV and
the internet began with content that was free-to-view, "people want a trusted
guide; someone who can curate for them. We see across so many different
businesses that only free or ad-supported is offered. But now pay is much more
tolerated. For quality curation we think there is a sizeable group of people
who are increasingly willing to pay something."
There are plenty of rights-holders that have had their fingers burned trying to persuade consumers to pay for online content. But still… What are the filters that Discovery applied when identifying the PGA Tour as a vertical worth investing in? The first, says Perrette, was whether a long-term deal was available. As in the case of the Olympics deal, Discovery was seeking "rights and partners where we felt we could get a very long-term relationship to actually build a future model that will take time, and will require evolution and learning. The time frame is important."
Second was "a sport and right that was strong enough, big
enough, high-volume enough and frequent enough to serve as an anchor tenant to
an offering. If I was looking at another vertical, if there was a lot of fragmentation,
to get enough volume and frequency from, say, four deals, it's hard. Here one
deal provided 42 weeks of programming, with great events, and the opportunity
to amplify around that marquee content. The anchor tenant is super strong."
Next, Discovery was seeking "a sport that not only has a passionate
fanbase as its viewership, but is also a lifestyle that people don't just watch,
but participate in: not just a passive view, but an active, participatory sport.
It's a lifestyle, and that's very attractive."
Then there was "the ability to get the global rights, and do
a global deal: not carving up the world based on old geographies, but based on the
new reality of the consumer," plus "a like-minded partner, and that's true of
any partnership: a feel for what both sides wanted to get done and how they saw
the future."
---
We're not interested in trying to sell sport that is all-American. We want to sell sport that represents its audience
---
Finally, Perrette says, "we looked at the composition of the
athlete base, and that's important. We understand the importance of locally
relevant heroes. We're not interested in trying to sell sport that is
all-American. We want to sell sport that represents its audience."
At the time the deal was announced, David Zaslav,
Discovery's chief executive, said: "We think the PGA Tour is the most
compelling international sports IP in the world," adding that, with 85 players
from 25 countries, and half of the world's top 50 golfers coming from outside
USA, the tour has strong international appeal.
As well as over 40 of the PGA Tour's own events annually, the deal covers five other tours operating under the PGA Tour umbrella (PGA Tour Champions, Web.com Tour, PGA Tour Latinoamérica, Mackenzie Tour-PGA Tour Canada, and PGA Tour Series-China), making up nearly 150 tournaments a year in all.
The properties total nearly 2,000 hours of content a year,
Discovery said, adding: "In addition to live linear rights in 220 markets and
territories, the alliance will include the creation of a dedicated, PGA Tour-branded,
OTT video streaming service that will capitalize on Discovery's direct-to-consumer
product and platform expertise as home to the Eurosport Player.
What other golf rights could Discovery seek to help create
this vertical, I ask Perrette? The European Tour? "There are only a handful
that matter," he replies. "The majors, the regional tours, and that's it. We're
going to be selective. I'm not sure we need much more. We're not necessarily
trying to show every match here. That's to me one slice of it."
Then, moving smoothly into sales mode, he adds: "It may
prove that when we do have that, some other rights-holders, if they think about
trying to understand the consumer, will conclude that if you're left out, if
you're not in this product, you're not maximising your touch points with the golf
audience. We're going to build the most sizeable touch points with golf fans,
from the most passionate to those that want to compare tee times and backswings.
We're going to do it better than anybody, so I would say I hope that other
rights-holders would want to be part of this."
What other sports would pass through those same filters to create another vertical for Discovery? Tennis? Although hesitant to commit himself on this one (earlier he's told me he won't set out the entirety of Discovery's strategy in a media interview), Perrette nevertheless offers: "Start with what [rights] we have: cycling, tennis… [Eurosport broadcasts all four of tennis' Grand Slams – Wimbledon, and the French, US and Australian Open tournaments – in at least some European territories each year, plus all three of cycling's Grand Tours – the Tour de France, Giro d'Italia and Vuelta a España]. It's not one size fits all, but there are definitely markets where tennis qualifies."
And that brings us to soccer. It's not as if Discovery has no soccer rights. For example, it acquired a package of live German Bundesliga rights, in Germany, costing €85 million ($100.7 million) a season for three seasons. It also acquired rights to broadcast Swedish soccer's top-tier Allsvenskan, in an exclusive deal reported to be worth SKr540 million ($61.5 million) per season, plus Norwegian soccer's top-tier Eliteserien, in an exclusive six-year agreement worth around NKr2.4 billion ($283 million) in total, the largest-ever rights agreement in Norwegian sport. So how about a future global bid for a genuinely marquee property, such as the Premier League's international rights, which came on the market for the 2019-20 to 2021-22 seasons earlier this year?
Discovery has showcased the Bundesliga games in Germany on
the Eurosport Player over-the-top subscription service, but Zaslav, the
company's president and chief executive, was recently sceptical about repeating
the Bundesliga rights swoop in the future, given competition from bidders that
he claimed were willing to lose money on their deals.
Speaking as Discovery delivered its first-quarter results
last month, Zaslav said: "For us, I think it's unlikely that you'll see us
competing in these three-year cycles of football. To the extent that we do, it
will be because we get – we have some unique opportunity."
Expanding on the theme, Perrette says: "Go back to the filters. With most premium football, you can't do long-term deals. In a lot of markets, it has to go into a public tender and they're generally capped at three to four years. With the Eliteserien we got the rights for six years. The term is a big deal. You've got to have enough runway to make the content work.
"The second filter that challenges is, it's obvious we are fans of football in a variety of markets, but it's less clear to say that football is as much of a lifestyle play. Beyond the sub-25s, it's less of a participatory sport than tennis, golf or cycling. Also, it has to be locally relevant. With the English Premier League, for example, what local stories are there to tell in Japan?"
Turning to the Olympics, I ask Perrette what Discovery
learned from this year's winter Olympics in PyeongChang, the first games
broadcast by Eurosport (and other channels, both Discovery- and third-party-owned)
under its four-games European deal? "We learned what we always knew," Perrette
replies: "That there's a tendency to predict that with winning platforms, it's
winner take all: 'OTT will kill TV; digital will kill pay-TV'. We're much less
macabre. One thing we learned was that multi-platform distribution, when done
well in an eco-system and with some differentiation of what's there, can make
all boats rise. That's lesson one, which helped us get almost two-thirds of the
European population engaging [with the games]. It's partly what made the PGA Tour
think, 'This is not the old Eurosport'.
"This is about maximising audiences, either on our own
footprint or with partners. Not surprisingly, in markets where we controlled everything,
like Norway and Sweden [where the games were broadcast on Discovery's TVNorge
and Kanal 5 channels] we benefited from the power of managing the whole thing
within our four walls. Consumer feedback was incredibly positive.
"The rest of it is modification learnings. Public broadcasters
do a great job of casting a big net. But on pay-TV, we don't want to out-BBC
the BBC. We focus on, how can we offer something differentiated? One big differentiating
factor is the quality of commentators and insights, the talent, and the use of
technology to enhance the storyline, not just for gadgetry's sake. The Cube
helps people understand the sport better. At Roland Garros [the French Open],
we used 4K video quality. For big events, people want to see them on the biggest
screen and in the best quality available."
Eurosport's Cube offered augmented reality coverage of the games, enabling expert presenters to, for example, appear to freeze the action and 'walk around' competitors in order to explain better their actions and positioning. The Cube was championed, in particular, by Peter Hutton, Eurosport's former chief executive, who had a background in TV production, but who left Eurosport after the games to oversee the acquisition of sports rights at Facebook, the social media giant (a Sportcal Insight interview with Hutton can be found here).
The process to replace Hutton is well under way, Perrette
says, adding: "There are a lot of strong candidates for the Eurosport CEO role.
It's a unique and fascinating role." However, don't expect the person appointed
to be a clone of Hutton, who had been everywhere in sports media, and done
everything: Europe and Asia; agencies and broadcasters; buying and selling;
producing and directing; reporting and presenting. "We're not necessarily looking
to fill the post with someone with a traditional sports profile," Perrette
continues. "The remit now involves sports production, rights knowledge, business
development, brand marketing, digital… There might be no one out there who
meets all those criteria."
In March, two other key figures, Géraldine Filiol and Arnaud Simon, left Eurosport, having been with the broadcaster since the mid 1990s. Two appointments have recently been made, albeit not as direct replacements. Emir Osmanbegovic, who led production of Discovery's PyeongChang 2018 coverage in Sweden, has been appointed senior vice-president, sports content & production and will oversee Eurosport's international sport production. Meanwhile, Dave Schafer, who directed the complex planning and delivery of Eurosport's inaugural Olympic Games, has been appointed senior vice president sports operations & planning and will lead all Eurosport operations.
"One of the things internally we learned [from the PyeongChang games] was, we had it more split out from our core, but a lot of sports we cover were fully integrated into the Olympics," Perrette says. "So, rather than have it on an island, we want to integrate it. So Arnaud's role [Simon was senior vice-president for content and production] won't be replaced. Géraldine's role, which was working on post-Olympic sales business, is now folded under Laurent Prud'homme [Eurosport's senior vice-president of rights acquisition and syndication]. I'm more directly involved and more in a direct line of conversation with functional leaders."
Perrette ('JB' to his colleagues) was born in New York in
1971, albeit his father is French, and Perrette is a French speaker – a bonus,
given that Eurosport is headquartered in Paris. Growing up, he played a variety
of sports including soccer, basketball, tennis and lacrosse, before attending
Hamilton College, New York, and moving into investment banking with Credit
Suisse First Boston in London and Tokyo.
At the end of two years, he was faced with a decision about
whether to go to business school, but instead, he says, "I wanted to be in the operating
business." So he opted for a role with General Electric, the venerable US
utilities company (and top-tier 'TOP' Olympic Games sponsor) because, he says,
it had a "financial services and industrial base." The role was based in London
and involved working on different projects every four months, along with
"100-per-cent travel," and Perrette says: "I probably learned more about change
management and the process of getting up to speed on a business I knew nothing
about [than at any other time]: getting buy-in, implementing change and moving
on. By the end of four years I had worked on 13 or 14 different projects."
At the time, GE owned NBC, the US TV network, and, encouraged
by his wife, who is a journalist, Perrette landed a job working in business
development at NBC, which wanted to invest in media. During his time there, NBC
acquired Bravo, Telemundo and Universal, and Perrette "got to work with David Zaslav,
who was running the distribution business at NBC. Then we started doing digital
things. Then, when Comcast bought NBC I came over to Discovery, initially in a digital
role, in 2011. Then, four years ago, I took this role."
One side-effect of the proliferation of distribution platforms is that sports fans are increasingly being forced either to choose which sports they want to watch, or to take out subscriptions to several different services. In the UK, for example, it could be argued that the dedicated fan now has to subscribe to five different providers to receive a full range of sport: Sky, BT, Eleven Sports, Premier Sports and Amazon. Don't Discovery's plans simply exacerbate that problem? And isn't it true that, from the point of view of the consumer, a single, monopoly supplier would be, in some ways, a better – certainly a simpler – option?
---
Football is taking up a lot of oxygen and money and premium outlets will not give as much oxygen to other sports. If you're a rights-holder, do you want to be sixth, seventh, eighth or 10th on the list, or be in the top three?
---
"We can't unilaterally control" that situation, Perrette argues, adding: "But where we do want to be helpful and can play a role is in the sports areas we're focused on, and others we want to take on. Football [soccer] is taking up a lot of oxygen and money and premium outlets will not give as much oxygen to other sports. If you're a rights-holder, do you want to be sixth, seventh, eighth or 10th on the list, or be in the top three? I would argue, if you're trying to build awareness you should be interested in being one to three, and that's what we can provide.
"Secondly, you want to be where your fans are. If you're a
rights-holder in golf, and we're building this platform to have and know more
about golf fans than anyone else, and we're ready to share and tell you things
about your base, you have to decide if you want to be on an island, even if there's
a bigger cheque on offer, or want to be where your fans are. That's an
increasing dialogue we want to have with federations and rights-holders. If
everyone keeps thinking every man for himself or herself, the consumer is more
challenged and everyone loses: the consumer, the rights-holder, the sport. Competition
for time right now is crazy. If you want to break through as a sport and rights-holder,
how do you align with people wanting to make that proposition super-simple?"
Perrette leaves that question hanging, but I think we know
what his answer would be.
So finally, I ask him, what is his long-term vision for Discovery and its role in sport? "When we say we're the global leaders in real-life entertainment," he replies, "it's not just about the content type. It's about delivering global products for linear and non-linear platforms focused on targeted verticals that have passionate fans and nurturing those communities.
"Right now, we're a video content company with a smattering of digital products. I think the future for Discovery is to be a leading digital products company with great video content and IP – but that great video content and IP will only be one part of what we have overall.
Sportcal