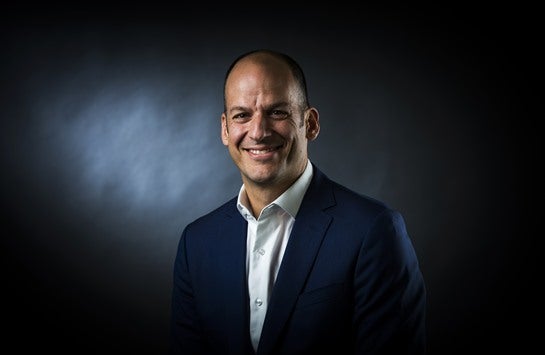 I meet Andrew Georgiou at Sportcal's offices in Wimbledon (he lives nearby), with Lagardère Sports on a roll.
In the previous days, the agency has been appointed by
Formula 1 to seek new commercial opportunities in China and by World Wrestling
Entertainment, the USA-based wrestling entertainment series, to handle
sponsorship sales.
In the days that follow, Lagardère Sports lands the jobs of helping rejuvenate the Commonwealth Games and extends its agreement with the Kontinental Hockey League, the top European ice hockey competition, to distribute its media rights globally for the next four seasons.
Those deals are capped by Jordan Spieth, the US golfer who is perhaps the highest-profile athlete represented by the agency, winning the Open Championship last weekend.
Lagardère Sports has come a long way since it was viewed as a near-dysfunctional mish-mash of parts, riven by serious culture clashes between its French and German components. But, says Georgiou, there's still much to do. "We need to achieve a lot," he says. "We spent almost three years taking what was many different agencies accumulated over time and rebranding and reshaping how those businesses operate. It was a huge effort, a big job, pulling them apart and putting them back together.
---
Three or four years ago we were well and truly out of the game. We needed to figure out what kind of agency we want to be
---
"We were losing money in 2013; now we're making money. We can all be very proud. But it's only just got us to the starting line. Three or four years ago we were well and truly out of the game. We needed to figure out what kind of agency we want to be, to know what we are, what we're good at and what we want to be when we grow up."
Previously, Georgiou has said that Lagardère Sports was seeking minority investors to assist its growth in various parts of the world, especially China. However, there have been signs of the Chinese sports industry bubble bursting, with LeSports, for example, the previously ambitious sports arm of LeEco, now cutting back on some its spending after missing rights payments.
Nevertheless, Georgiou remains bullish about the long-term prospects for the market, saying: "We would welcome opportunities in certain key markets to accelerate growth, but there's no deadline. If you look at the fundamentals of China, they have not changed, despite short-term trends and variances. By 2022, it will have 550 million middle class people. They're going to drive demand, and have disposable income which allows consumer lifestyle opportunities, including sport."
So what does Lagardère Sports want to be when it grows up? Georgiou defines its role primarily in terms of lessening its dependency on trading media rights.
"Thematically, we have an answer," he says. "We see a lot of
changes in the industry. Certain things are not going to stay the same, for
example the media rights business. If I had described us two or three years ago
I'd have said we were predominantly a trading business. Moving forward, we need
to change, because we're not able to continue to operate as a trading business.
We're moving away from trading to create a business that creates value through
knowledge and insight."
So it's a little ironic that probably the agency's two
biggest deals (Georgiou describes them as "two significant relationships") with
the Asian Football Confederation and the Confederation of African Football both
involve media rights trading.
In the case of the AFC, the agency came close to renewing
its existing deal, running from 2013 to 2020 and thought to be worth at least
$1 billion to the AFC, in 2015, but the confederation "got sidetracked,"
according to Georgiou, by "internal AFC political issues" related to elections.
It is now believed to be in the process of planning a formal
invitation to tender process which was expected to launch in the fourth quarter
of this year. However, Georgiou says, "it probably will be delayed with
political issues in the Middle East. I'll be surprised if it's in the fourth
quarter.
"From our perspective, running a process is good not bad. We're
in the best position to renew, given our knowledge of the market. It's a good
sign when governing bodies take it seriously. Our ability to raise capital is
strong regardless. The group turns over €7 billion ($8.1 billion) per annum. We
have a strong ability to leverage our balance sheet. We see it as an area of
strength. Partners know we're a public company, and we're not trying to sell or
list. They know what they're getting for the long term."
---
We can offer the AFC something that no other agency can offer: experience across three continents. No other has that unrivalled football knowledge
---
Asked what else the agency can offer the AFC that its rivals
cannot, Georgiou smiles and says: "I think I'll save that answer for the tender
process. Suffice to say we can offer the AFC something that no other agency can
offer: experience across three continents. No other has that unrivalled
football knowledge."
As for CAF, there is uncertainty also around the agency's
long-running media rights and sponsorship deal which was renewed in 2015, in a
12-year extension also involving a minimum guarantee sum of $1 billion.
In April, Ahmad Ahmad, CAF's new president, vowed to review
the deal, expressing concerns over the length of the agreement. An
investigation into the agreement has escalated in Egypt, where CAF is based,
with a probe by the Egyptian Competition Authority prompting the country's
public prosecutor for financial and commercial affairs to refer CAF, plus
former CAF officials, to the Egyptian Economic Court.
To understand the legal threat, Georgiou claims, "You need to look at the timing. Before the election of the current president, the Egyptian competition authority has challenged CAF with abusing a dominant market position in awarding the rights." There are, he says, "a number of fundamental flaws" in this position. "Our legal advice is unequivocal. We're pretty relaxed about the legality and the process we went through."
At the time, Ahmad was quoted as saying: "Everyone is
completely agreed that it is not a good contract, and is not good for African
football. Right now, I can guarantee you that I will never sign any long
contract regarding CAF."
However, Georgiou says: "I only read that. All you can say is the length of the contract is commensurate with the value. In some ways, you maximise value [through a longer contract]. CAF agreed to give us a 12-year opportunity to raise revenue. It's not a buyout [of the rights]. We are representing CAF in the market and have given a guarantee above which there is a revenue share.
"You've got to understand again the context of the claims
just before the election. There's a fair bit that related to the timing of
those two things. Form was more important than substance."
So does he expect the furore to simply die away, now that
the elections are over? "I don't know," he admits.
I think I'm beginning to understand a bit better why he's so
keen to move the agency away from a reliance on rights trading.
As is well-known, Sportfive, the former subsidiary that has now been amalgamated into Lagardère Sports, also got its fingers badly burned over a deal to market media rights for the International Olympic Committee in certain territories in Europe, with Lagardère Sports having to book a €20-million provision for loss on the sale of rights to the 2014 winter Olympics and 2016 Olympics.
In the event, Georgiou says, the loss was "less than that
€20 million. That's good, but it was not a successful financial deal for us,
even if reputationally the IOC thought we did a fabulous job in selling the
rights and helping broadcasters exploit them, helping maximise coverage. We
paid too much. It was maybe a misjudgement of valuation."
Is this the kind of thing Arnaud Lagardère, the group's chief executive, meant when he told shareholders at Lagardère's AGM in May that the group "will not do anything crazy in sport"? "It's no secret that there was some real uncertainty by the financial markets around what Lagardère Sports was as part of the group," Georgiou replies. "[Investors] queried the level of investment and return. That's why what we've done subsequently has given them confidence that we can better understand and manage the business. Arnaud was saying we're in control of what we're doing and we're not going to pay outlandish fees that jeopardise the business."
That doesn't mean that Lagardère Sports will seek to avoid risk completely. "It's not just about safer areas," Georgiou says, "it's about managing risk. Everything we do is risk. It's about discipline around responding to tenders, taking a disciplined approach to all of the business. If you know what you're doing you can manage risks cleverly. That's what we're doing. By reorganising and making tough decisions [a succession of senior executives departed or were fired over the last three years], you can run profitably and take out silly risks."
That Franco-German axis does still exist within the agency.
"Between the two they represent half of the workforce," Georgiou says, but
claims that the agency's "number-one achievement" under his leadership "is that
we created the most positive collaborative culture in the organisation. Whether
German or French, we brought them together under a new organisational structure
that allows us to play to our strengths. None of the historical baggage is
left."
So how can risk be managed? By creating and owning events, instead of by being appointed (and discarded) at the whim of rights-holders? "Yes, in part," says Georgiou, "but it's more important communicating to rights-holders how they can create value. As we move increasingly away from buying rights, we need to be clear about why a rights-holder would appoint us. It's more than the highest price – that's a very negative space. Premium rights-holders don't need financial security; they don't need a guarantee.
---
We're looking at opportunities for sport and entertainment to come together in a more collaborative way
---
"Entertainment is increasingly part of sport: anything that
works to enhance the fan experience. We're looking at opportunities for sport
and entertainment to come together in a more collaborative way."
The role of agencies is changing, according to Georgiou,
with rights-holders "looking for more control of their rights and looking for
people that can provide value. The industry is consolidating. The way we approach
it is about value creation, rather than buying and selling. The other thing is
rights-holders are looking for expansion opportunities. How do they grow their
brand, especially outside core domestic markets? For instance, we're working
for the NFL in Germany to create an entire digital social platform. Good market
knowledge and a good digital team helps."
Doomsayers have been predicting that the TV rights bubble
will burst for most of the last decade, yet values for top properties have
continued to rise. Does Georgiou nevertheless believe that values are set to
plateau or even fall, as a new generation of consumers finds different (often
free) ways of engaging with sport – or even forsakes traditional organised
sports competitions completely?
"Depending on the market, possibly yes," he says. "It
depends on what you call TV rights. Look at ESPN in USA. It's gone from a subscription
base of 100 million in 2012 to a current subscription base of 88 million.
That's a 12-per-cent drop. I think that means they're not as capable of paying
as much for rights. I'll be very interested to see what happens with the next
generation of rights. In other markets, I'm not so sure. Rights values in China
will continue to increase. How and why they're consolidating is changing. We're
trying to research and work to develop insights and opportunities for the
future."
So does the erosion of the traditional shared sports television
experience represent a major threat to top rights-holders, and if so, how can
they mitigate that threat? On this one, Georgiou (as perhaps he has to be in
his position) is bullish. "You'll find new models emerging," he says firmly. "Why
is Amazon Prime buying content? There are businesses out there that see content
as a real driver for their core business, not as a direct financial return on the
cost of content."
In the context of the merging of sport and entertainment, Georgiou
is, perhaps unsurprisingly, critical of rival agency WME-IMG's $4-billion acquisition
of mixed martial arts promoter UFC last year, saying: "I wouldn't do the UFC
deal in way it was done. The risk I'm speaking about is the pressure it puts on
the next TV deal to justify the valuation, which is significant. UFC, which represents
a significantly larger valuation [than IMG itself] is culturally very different."
The deal compares with Lagardère Sports' recent appointment by WWE to provide global sponsorship support and analysis, devising an international sales strategy and leading sales on the ground in all territories except USA and China, where there is already an established agency.
Lagardère Sports was chosen after WWE went to the market seeking the best partner to capitalise on the opportunities presented by a series which stages 500 global events per year and offers programming available in more than 650 million homes in 20 languages.
So would Lagardère Sports consider a direct investment in a series of the kind that WME-IMG performed with UFC? "Yes, we would invest," says Georgiou. "We would look to develop our own events; there's no reason why we wouldn't." Sensing some hesitation, I ask whether a series like UFC, with its reputation for brutality, might represent a step too far for Lagardère Sports, which has its own reputation to consider. "Yes, there are some lines we wouldn't cross," Georgiou replies. "If UFC crosses that line is a different question.
"WWE is not physically harmful to participants. Personally,
I do worry about events like UFC, and where it leads. There are better ways to
spend time than watching people hurting each other. We have no combat sports [on
the agency's books], and maybe that's subconsciously deliberate."
Georgiou is relatively unusual among sports industry
executives in having nursed an ambition from an early age to be, not a
professional sportsman, but a sports business executive. Born in Canberra,
Australia in 1974, he took part in various sports, including cricket, to a reasonable
level, but says his imagination was fired by a television documentary he saw
aged about 14 on (ironically) Mark McCormack, the legendary creator of IMG and,
arguably, of the entire sports marketing industry.
Having qualified from law school and joined a corporate law
practice he was approached by golf's Australasian PGA Tour, becoming chief
executive of that organisation. "Working for a federation [the Australasian
Tour] meant you touched all areas of the industry," Georgiou says. "One thing that's
lost on a lot of agency executives is how to deal with members of federations.
It was a good education in a small market: rolling up your sleeves and dealing
with members and what drives membership of a sports body."
Georgiou left the tour to join the World Sport Group agency based in Singapore in 2006, which was acquired by Lagardère in 2008. Regarded initially as the right-hand man of Seamus O'Brien, WSG's founder, he rose to become WSG's chief executive before moving to Europe in 2014. He now lives in London.
However, working for WSG gave him "almost 10 years of invaluable experience in Asia. It's a dynamic part of the world a lot of people don't understand," he says. So he has a strong vision of the future for Formula 1 in China and how Lagardère Sports can help achieve the series' aims in the world's most populous country. Could those aims include a second grand prix in the country (in addition to the existing Chinese Grand Prix)?
"Formula 1 is certainly open to the opportunity of another
race," says Georgiou, "and we've encouraged them to consider it. It's important
not only to localise content, but also the product. Having more Chinese product
or even a Chinese-backed or owned team or driver will certainly drive product.
"But localising content is more immediate. Through our
understanding of the market through many years we know that taking a western
website and translating it into Chinese is not effective. It has to be
localised. Last time I looked, Facebook and Twitter are not available in China.
But Formula 1 doesn't have a Weibo platform. They need to use local platforms to
allow them to communicate their message to Chinese audiences."
As for Chinese sponsors, Georgiou says that Formula 1 has "accepted
the need to find the right local partners, and needs someone to help them go
through the process. Having foot soldiers is part of finding brands in China.
There are significant opportunities for Formula 1 to improve its communications
programme. But to do that, we have to build fan platforms that were underinvested
in. If we get the digital platforms right there's an opportunity to engage
millions of fans. For a sponsor, it's one of the biggest global annual
marketing opportunities on the planet. The difference with, say, the [Uefa] Champions League is that it has events in over 20 different markets. It gives
an opportunity to fans to engage in a way that is second to none."
Asked which geographical areas of the world have the most growth potential for Lagardère Sports, Georgiou replies: "Asia and Africa are always key for us. South-east Asia has 10 countries, none of which on their own are large economies, but put together they have a GDP of $2.5 trillion. What challenges it is political instability. They're trying to do more together as a region to create a common trading bloc.
"Africa will take longer. Africa, unlike Asia, doesn't have the
same economic drivers: no Japan, Korea, China, India. Nigeria has 200 million
people but like South Africa it's economically challenged. There are no major
drivers of the economy. I see Africa taking a lot longer, but there's more
genuine cultural empathy for sport, especially football. There's more grassroots
dedication, so you see a lot of athletes playing in Europe. In Asia, a lot of the
athletes will stay there."
Speaking of challenges, the various corruption and doping
scandals of the last couple of years "have damaged the reputation of sport,"
Georgiou admits. "The scandals have had a negative effect. Certainly, on the brand
side brands are asking more questions about governance. It's a fundamental
topic for sport."
But even more worrying than the corruption scandals is
match-fixing "because it goes to the core of the product, not just the
administration," he says, citing a range of sports that have been hit,
including tennis and cricket. "This is stuff that goes to the core of the credibility
of the on-field product. You've got to make sure the public's perception of the
credibility of the on-field action is not tarnished. We're seeing cracks and
that's more worrying than administrative scandals."
Asked, finally, what sport is for, the lawyer in Georgiou forces
him to apologise for his answer, saying: "This is going to sound really trite.
Mission statements were never really my thing. But there's something about sport
that unites people. Shared passion is a basic part of human life. As a community,
shared passion is an important part of what we do. It's crucial to human
existence. That's what we are as humans, it's those experiences that drive us
to what we love.
"Sorry if that's a bit kitsch."
• This year's Africa Cup of Nations and Asian qualifying matches for the 2018 Fifa World Cup helped Lagardère Sports and Entertainment to report significantly improved recurring Ebit (earnings before interest and taxes) in the first half of 2017.
The group's sports and entertainment arm posted €35 million ($41 million) in recurring Ebit, a sizeable jump on the figure of €5 million reported in the first six months of last year.
For more details, click
here
.