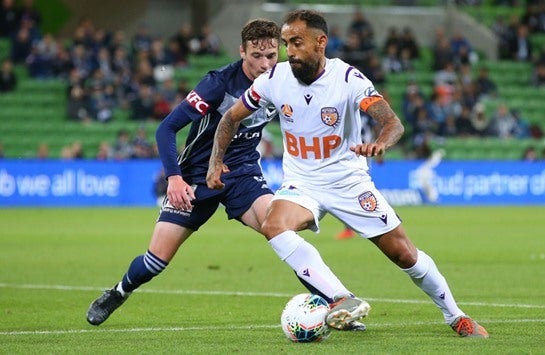 Australian soccer's top-tier A-League has entered into a live broadcast rights deal with a free-to-air network for the first time, having earlier today announced a landmark five-year partnership with Network Ten, the commercial free-to-air broadcaster owned by ViacomCBS, which will start next season.
Ten's partnership with the Australian Professional League (APL) governing body – the newly-created organisation responsible for negotiating Australian club soccer's broadcast tenders – encompasses both the men's A-League and the women's W-League, and is worth A$200 million ($155 million) in cash and contra, according to local media reports.
Previously, both men's and women's leagues had only been available to watch live on pay-TV's Fox Sports, which has been the live broadcast partner of the A-League since the competition's launch in 2005. Fox's current contract expires at the end of June.
The A-League and W-League rights for the next five years have been negotiated independently of Football Australia, the national federation for the first time, with the APL having been set up late last year to handle the leagues' commercial and broadcasting rights arrangements.
The Sydney Morning Herald has reported that the Ten deal also involves a small equity stake, around 2.5 per cent, in the APL being sold to ViacomCBS, and that provision has been made for a three-year extension after the initial five-year deal.
The agreement involves one A-League match being shown on Ten's main linear channel every Saturday night during the season, preceded by a magazine-style feature show.
The other five A-League games per round from the 12-team league will be behind a paywall on Paramount+, ViacomCBS' main over-the-top streaming site which plans to launch in Australia on 11 August, priced at A$8.99 per month.
This represents the first local rights deal struck by Ten for the Paramount+ service, which already has rights in the US to several premium soccer properties, including the pan-European Uefa Champions League and Italy's top-flight Serie A.
In terms of the W-League, one match per week will be shown on Ten's secondary free-to-air channel 10Bold.
Earlier this month, it was reported that Ten, which has been quiet on the sporting front since losing major domestic cricket rights to Fox in 2018, and rival commercial broadcaster Nine Network were going head-to-head in a battle for the A-League and W-League rights.
The free-to-air games will be simulcast on 10Play, the Australian network's own free streaming service, which is separate to Paramount+.
The APL has also agreed to share responsibility for broadcast production with Ten.
In the first year of the deal, the payments made will total A$32 million in cash and A$11 million in contra.
Beverley McGarvey, chief content officer and vice-president of ViacomCBS Australia and New Zealand, said: "Ensuring broad reach on free-to-air, as well as extensive access on Paramount+, we are committed to showcasing the sport in innovative ways and exposing it to a plethora of programming opportunities across all our platforms."
This is not the first time Ten has made advances towards the A-League – it launched a bid in 2019 for the competition's free-to-air rights, but was ultimately unable to secure an agreement.
Danny Townsend, the APL's managing director, added: "This agreement… gives the game unprecedented reach and the backing of an absolutely iconic and globally renowned broadcaster."
Foxtel initially ended its six-year pay-TV deal with FFA to cover top-tier soccer in Australia last June, due to its subsidiary Fox Sports having a force majeure clause, which it exercised because of the Covid-19 pandemic.
After terminating its initial contract, the pay-TV operator instead signed a new one-year deal with FFA on reduced financial terms, until the end of June 2021.
The deal was worth around A$32 million, compared with the A$57.7 million average annual fee that Foxtel was paying under its original long-term contract, which was due to run until the end of the 2022-23 season.
The domestic rights tender for the top Australian men's and women's leagues has been one of four in the market, alongside those for the Champions League, Australia men's and women's national team matches, and the 2023 Women's World Cup.
The tender for national team matches was issued last month, and TV Blackbox has reported that Nine and Ten are also two frontrunners there, alongside US internet giant Amazon through its Amazon Prime Video service.
That tender includes rights to all men's and women's national team games outside of World Cup tournament fixtures – friendlies, Asian Cup qualifiers, and World Cup qualifiers.
ViacomCBS would be likely to include Paramount+ as a large part of its coverage of the Australian national teams, while Nine is reportedly looking to secure the rights in large part for its own Stan streaming platform.
However, due to the Australian government's anti-siphoning regulations for top-tier sporting events, the broadcaster selected will need to ensure that matches are placed on free-to-air TV, and made widely available through streaming.